As many of you know, I completely favour Asian food, and tend to eat it as often as possible. Though not completely in the same genre as what one typically considers "Asian cuisine," Indian food is also some of the tastiest to me. Since moving to North Carolina, I have looked and looked for the best Indian restaurant in the area, and I found it. After having been there once a week for the past few months, I can safely say that their food is consistently fantastic, always nicely prepared, and that the service is wonderful. That restaurant is Sitar Indian Cuisine.
Indian buffets are essentially the only types of buffet that I like, and I like them because of the myriad flavours of Indian cuisine; each dish tastes radically different than every other one. In contrast, I've found that most Asian buffets have a central theme around which each dish centres, and subsequently, there is a complete lack of variance between the choices. Sitar offers a very nice variety of dishes, ranging from the classic chicken tikka masala, to Saag paneer, to aloo gobi. They also have the traditional sides like naan, and dosa, as well as one of my all-time favourites, idli, (which is rather uncommon for Indian restaurants within the United States). Idli, by the way, are incredible with any sweet chutney, and I especially love them dipped in tamarind chutney.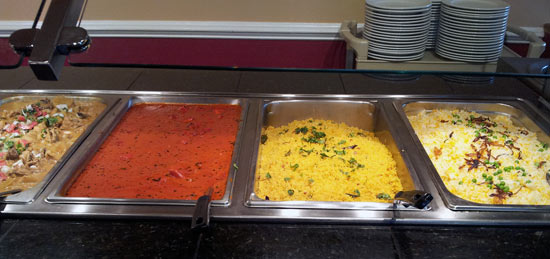 Click to enlarge
The weekend lunch buffet is very reasonably priced as well. At the time of this writing, it is $11.99 USD (~ €10), which is a great deal for essentially as much comfort food as one can possibly consume. The only items that I think could be better on their buffet are the desserts. Every week, they feature kheer, and gulab jamun. To me, their kheer is not the correct consistency. It should be somewhat thin, quite sweet (because of the coconut milk), and have some rice in it. This is much more like a standard American or English rice pudding. Not that it is bad at all, it is just not exactly what I think of when I think of kheer. The gulab jamun are essentially warm dough balls sitting in a very sweet syrup. While they aren't bad either, they are not my favourite. However, sometimes they have bread pudding, which is phenomenal. Unfortunately, it's not there every week.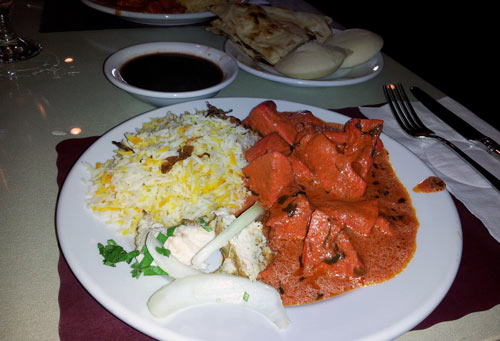 Click to enlarge
By the way, in the photo above, you can see the chicken tikka masala, a chicken kabob, some rice, their plain naan, and their amazing idlis (with the tamarind chutney in the small dish next to them). If you are ever in the Durham, NC area, I strongly suggest that you make your way to Sitar Indian Restaurant. I have been to several other places in the Triangle region, but they don't come close to the quality or the consistency of Sitar.
Cheers,
Zach