You might remember that recently it was National Doughnut Day, and that I was pretty excited about it (simply because I love doughnuts). You might also remember that I was longing to be in Saint Louis, MO, USA for it, as they have three incredible doughnut shops. As of this morning, I have now found a place in Durham, NC, USA that might offer some competition to those wonderful bakers in Saint Louis.
Rise Biscuits and Donuts is the new project of Chef Tom Ferguson of Durham Catering Company. Though the new store won't be open until sometime in early August, Chef Ferguson was generous enough to showcase some of his new creations this morning for free. On the menu were some modified versions of classics (traditional glazed with white icing, but now with Froot Loops), and some completely new and zany ideas (like a maple-glazed doughnut with a piece of thick-slab bacon atop it). Some of these new creations make me think of the style of Voodoo Doughnut in Seattle, WA, USA.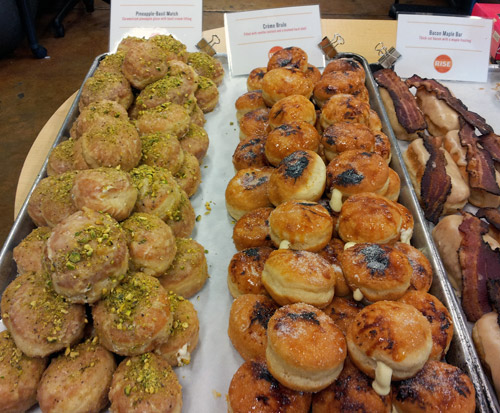 As you can see from the picture above (click it for a larger version), I've shown the Maple Bacon concoction, but also two of the others that greatly interested me; a Crème brûlèe doughnut and a Basil Cream doughnut. The Crème brûlèe was exactly that–a custard-filled pocket with a hard caramel shell on top. The Basil Cream was similarly a pocket, but glistened with a mild, tropical pineapple glaze, dusted with pistachio crumbles, and filled with an exquisitely fluffy basil cream. I'm willing to bet that you can guess the one that I chose for my sample. The Basil Cream was an incredible mix of flavours that reminded me of several Thai deserts, combining sweet and savoury.
I feel certain that I will be visiting Rise once their new location opens later this summer. Until then, it seems that they don't have an official website (only a splash page). Maybe that is something that I can propose to Chef Ferguson in exchange for some of his wonderful creations. 🙂
Cheers,
Zach