Almost exactly two months ago, you might remember that I posted about having a great doughnut from Rise, which is an upcoming speciality doughnut and biscuit shop in Durham, NC. The new shop is the creation Chef Tom Ferguson of Durham Catering Company. Well yesterday, he decided to have another free sampling of some of his newest creations: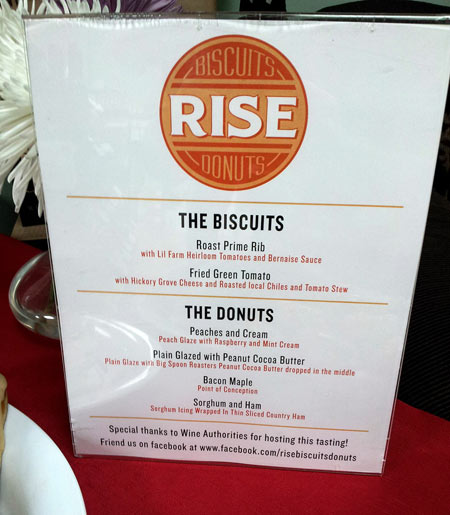 Click to enlarge
As you can see from the menu above, he not only had some of his newest doughnuts (like a glazed with peanut cocoa butter, and a ham-wrapped doughnut with sorghum glaze), but he also brought two of his biscuits. Unfortunately, I didn't get to try either of the two biscuits, and I actually didn't even get a photo of them. However, the doughnuts this time were even more of a sight than the ones from the previous tasting.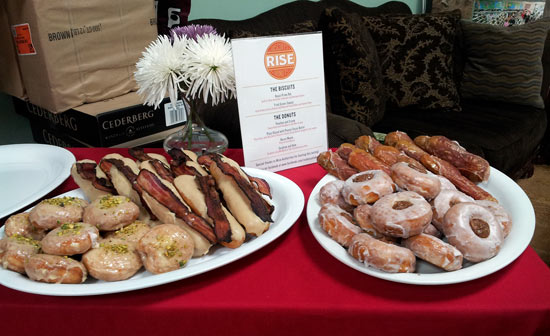 Click to enlarge
Starting with the far left, you will see the "Peaches and Cream," which was a beignet-style pocket with peach glaze and filled with a raspberry-mint cream (and crumbled pistachios on top). Next to it was Chef Ferguson's infamous maple-bacon bars, which can only be described as a full breakfast in a single doughnut. On the right-hand plate, the ones in the foreground are the glazed with peanut cocoa butter in the centre. Lastly, behind them are the Long Johns wrapped in thinly-sliced ham and covered in a sorghum glaze.
You may notice that the "Peaches and Cream" doughnuts look similar to the one that I tasted at the first sampling a couple months ago, and you'd be correct. That one was a similar style doughnut, except that the cream inside was basil, and the glaze on the outside was pineapple instead of peach. I thought that last doughnut was great, because it reminded me of the flavours of Thailand, but this remake took it from great to perfect. It was an excellent representation of the East Coast of the United States, representing the peaches from Georgia and South Carolina, and the amazing "peaches and cream" ice cream from the Newport Creamery, that I used to love so much as a kid.
Unfortunately for me, that was the last doughnut from Rise that I will get to taste, as I'm moving at the end of the month. However, I'm sure that my job will bring me back to the Triangle from time to time, and I will certainly have to stop in to see what new and exciting flavours Chef Ferguson has on the table.
Cheers,
Zach