Now that I have been to my first wine class ("From Vine to Wine: Wine 101," about which I am planning several posts to share the information that I learned), I have started taking tasting sessions more seriously. There are two great wine merchants in The Triangle, and they each have tastings on Saturdays. So, each Saturday that I attend, I'm going to take notes and share them here. Today, I started out with the one at Wine Authorities, which focused on French wines from a few different areas: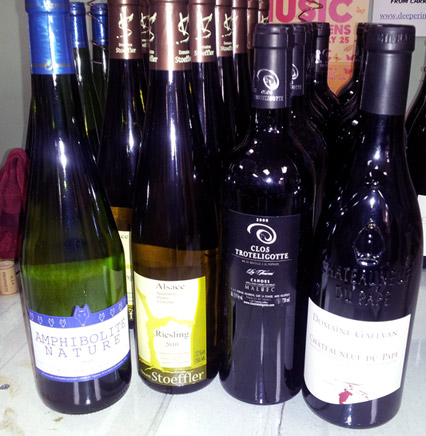 The first one (from left to right) was a 2010 white from the western coast of the Loire Valley in France. The only grape that is allowed to go into this type of wine (known as Muscadet) is the Melon de Bourgogne. The Amphibolite Nature was very light in colour, and had a faint scent of citrus. It was a little salty but crisp, and had nice acidity.
The second one was a 2010 Riesling from the Alsace region in north-eastern France, near the German border. Produced by Vincent Stoeffler, it was deeper in colour (more like a light gold) than the Muscadet, and had a sweet and lightly floral aroma. After swirling, it left medium-light legs. Though it was slightly sweeter, it had fantastic acidity, and a bright front taste.
The third bottle was a 2008 Malbec produced by Clos Troteligotte in the Cahors region of south-western France. It had a deep red centre, with light but bright purple hues at the outside ring. There was a mild, yet obvious raspberry aroma. As Malbecs generally have higher tannens, it was very dry, but this particular vintage was fruity as well… too fruity for my liking.
The last bottle was a 2009 blend of 90% Grenache and 10% Mourvèdre. It was produced by Chateauneut de Pape, and had a deep red centre that barely faded to the outer ring. It had a significantly higher viscosity, and corresponding higher alcohol content. It had an earthy aroma, but not even a hint thereof in flavour. It was very fruity, and I didn't find it personally appealing either.
After this tasting, I went to this week's event at HV Bottle Shop. In contrast to the previous tasting, they were sampling wines hailing from Spain: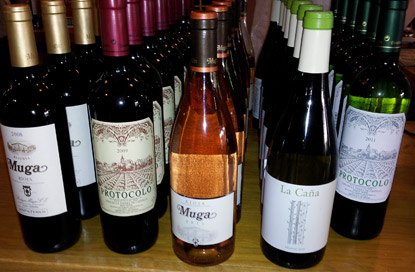 The first offering (this time from right to left) was a 2010 white from producer Protocolo in La Mancha. It was made from the Airen grape, which is one of the most widely planted white grapes in the world. It was almost clear in colour, and had a somewhat tropical aroma. That aroma was fulfilled by its pineapple flavour. It had a low viscosity, and was fermented in 100% stainless steel barrels. While it was refreshing, and had an interesting flavour component, it wasn't my favourite of this session.
The second white was a Albariño, which translates to "White Rhine" (as in the river in Germany). It was a Riesling from the Rias Baixas region, and was vibrantly golden in colour. Interestingly, it was aged 80% in stainless steel and 20% in large oak barrels. It was mid-weight, mineral-driven, and had an excellent preserved lemon flavour. It actually ended up being the bottle that I purchased today, which is unusual given that I normally prefer deep reds. I believe that this wine will go beautifully with shellfish (especially scallops).
The third was a 2011 Rosé from the producers Bodegas Muga. This varietal, when produced in the old world, comes from grapes that are picked much earlier. Therefore, there is more brightness and acidity than in a new-world Rosé. It was almost peach or salmon coloured, and had very mild flavours of wild strawberry. It would be enjoyable on a very hot summer day.
The fourth was a red offering from Protocolo, and was 100% tempranillo. It had a low viscosity, and was very fruit-forward (especially with the corresponding black cherry aroma). Personally, I didn't like the taste, and I didn't think that it was even nicely produced, but it was a good value at under $10 USD.
The last wine was also from Bodegas Muga, and was a Reserva from Rioja. It was a deep purple-ish red throughout, with a negligible viscosity. Though there were earthy, woodsy aromas, the taste was more of pepper, clove, and spice. It was very bright in the front, and had high acidity. It was primarily (70%) tempranillo, but also had a bit (20%) of Grenache, with a remainder of other blends. I also was not particularly fond of the fruity flavours of this wine.
Overall, it was nice to taste a bunch of different wines that I generally wouldn't purchase or drink. I've always enjoyed wine, but now I'm starting to get a better understanding of various aspects thereof. I'm certainly nowhere near an expert, but I have a better understanding with each tasting that I attend.
Cheers,
Zach