Last week I received an unexpected but great email that my new car had arrived way ahead of schedule. I had ordered a 2017 Honda Civic EX-T back in November, but it wasn't slated to come in until February 2017. I had to order one from the factory because I wanted to get one that perfectly matched my needs and wants, and apparently, that's rare. When the 2016 came out, I was uninspired because I wanted the 1.5L turbocharged engine instead of the 2.0L naturally aspirated one, and I also wanted some of the bells and whistles (like the larger display, more speakers, et cetera), but above all else, I wanted a manual transmission. For 2017, Honda came through in that I could get the manual transmission a trim higher than the base model. The EX-T had everything I wanted, and I picked it up on Friday, 30 December 2016.
As with all of my previous vehicles, there are things that I want to change about this car, but far fewer than ever before. I'm quite happy with the performance, the smooth ride, and the niceties that come with the higher trim level. Not even a week later, though, and I took on my first modification to the car (albeit a minor one). Though it wasn't something as involved as swapping a JDM K20a / Y2M3 (from the ITR), it did make a noticeable difference with the car (just a cosmetic one this time). 🙂
Though I love the looks of the 2017 Civic, I think that the "Civic" emblem/badge makes the car look asymmetrical and a little less classy. So, I thought it best to remove it completely.

The process was relatively straightforward, but I understand that it can be a little unnerving to remove a badge on a brand new car. What happens if I scratch the paint? What if the adhesive is really strong and leaves a full residue? Those are legitimate concerns, but this little project turned out to be pretty easy. Here's what I did:
Used a hair dryer to heat the adhesive behind each letter for ~60-90 seconds
Used a piece of floss in a seesaw motion behind each letter until they came off
Used an old credit card to remove some of the excess adhesive
Applied Goo Gone Automative Spray Gel to the remaining residue
Held a rag under the letters to catch the excess Goo Gone that would otherwise drip
Used my handy-dandy AmazonBasic microfiber cloth to get rid of the remaining residue
Washed the spot with some soap and water
Dried the spot with another microfiber cloth
Basked in the glory of having a much cleaner look to the rear of the car 🙂
I think that the results were well worth the minimal amount of time and effort: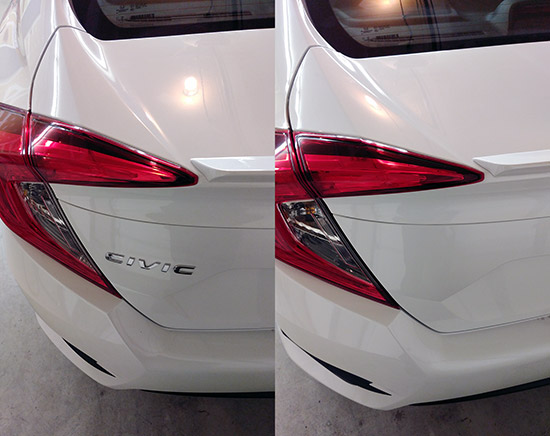 Click each image to enlarge
The only thing that I would note is that I did need to apply a good amount of pressure when getting rid of the excessive adhesive with the old credit card, and especially when using the microfiber cloth & Goo Gone to clean the remaining residue. I was a bit nervous to press that hard at first, but soon realised that it was necessary, and as long as I was careful, it wouldn't damage the clearcoat or the paint. I thought that it would take about 10 minutes, and it ended up taking about 45 to do it in my OCD manner. That being said, it could have been a lot worse. My friend Mike always used to say that "to estimate the time needed for a project—especially one involving a car—take your initial guess, multiply it by 2, and go up one unit of measure." In that case, I'm glad that it didn't take 20 hours. 😛
Cheers,
Zach