At the end of August—I know that it's now November, but time seems to get away from me more often these days—I got the honour of trying the new 2015 vintage of Syncopation red blend (read about the 2014 vintage here) from Mike Ward on Wine! This is the second year that Mike has produced the incredible blend that changed my perspective on Missouri wines, and this year, it was joined by the new Acoustic white blend. Before getting into the new white blend, let's take a look at the changes for this 2015 release of Syncopation Rhythmic red blend.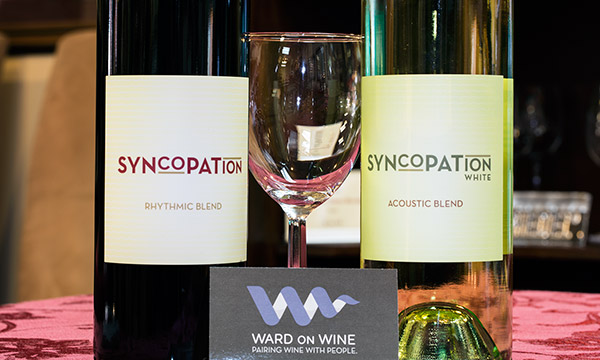 Unlike the 2014 vintage—which was a blend of Chambourcin, Vidal blanc, Seyval blanc, and Traminette—this year was a cuvée of Chambourcin, Vignoles, Norton, and Traminette. So, the primary varietal is still Chambourcin, and the Traminette remains (though is slightly more prominent than last year). The Vidal blanc and Seyval blanc, though, were replaced by Vignoles and Norton. The breakdown in varietals is 70% Chambourcin, and 10% of the remaining three grapes.
Seeing as the Vidal blanc and Seyval blanc, which are both white grapes, were replaced by Vignoles (a complex hybrid) and Norton (a very deep purple grape, somewhat resembling Concords), I didn't really have any idea what to expect from this new blend. Below are my impressions:
2015 Syncopation Rhythmic Red blend – tasting notes:
With its beautiful ruby-to-garnet colour, this wine shows wonderfully when backlit in the glass. Subdued purples shine through the burgundy in the centre, and it is encompassed by a dark pink ring at the edges. A bouquet of red plum and blueberries is evident, but completely unassuming and lovely in its simplicity. Interestingly, though, those fruits didn't come through for me in taste. Instead, I found raspberry, strawberry, and forest underbrush (akin to some Pinot noirs from Oregon's Willamette Valley) to be much more prominent on the palate. Those flavours were further complimented by slight hints of clove and white pepper. Fascinatingly, though this is not a sparkling wine in any way, there was a slight effervescent feel upfront. Like the previous vintage, I found that this Syncopation red blend is best enjoyed with a slight chill on it (14-16°C / 57-61°F).
| | |
| --- | --- |
| Mike and his 2015 Syncopation wines | Syncopation Rhythmic Red |
I was quite confident that I would enjoy this new vintage of Syncopation red, but I wasn't sure how I would feel about the new Acoustic white blend since this year was its debut. Once again, Mike Ward challenged what I thought I knew about my taste preferences by creating an absolutely outstanding white wine that is sure to please a wide array of tastes! Syncopation Acoustic White is a blend of 70% Vignoles, 20% Vidal Blanc, and 10% Traminette.
2015 Syncopation Acoustic White blend – tasting notes:
A light but vivid yellow in the glass, this brilliant blend demands your attention due to its dazzling vibrancy! On the nose, there is an elegant mix of less pronounced, almost musky fruits like apricot and the mellow sweetness of Bosc pears. There is an ever-so-faint hint of ginger and lemon zest that adds to the wine's elusive profile. It has a crisp yet completely approachable acidity. The lemon starts to come through, but is almost immediately thwarted off by the more rounded flavours of nectarine and apricot.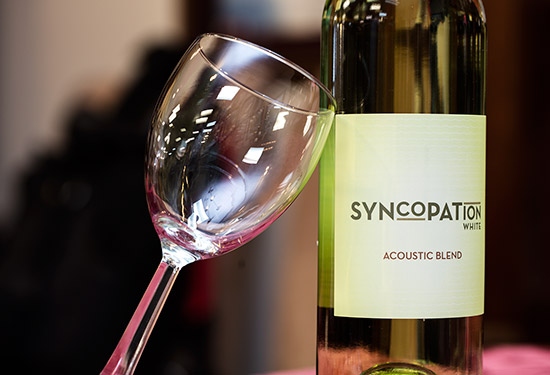 Overall, I enjoyed both of these wines, chiefly seeing as Missouri wines are not usually my favourites. Having tasted the 2014 and 2015 Syncopation Rhythmic Red blends side-by-side, I slightly prefer the 2014. That could be caused by any number of factors, but I am willing to bet that it is due to my strong preference for Vidal blanc. Changing out two white grapes (the Vidal blanc and Seyval blanc) for another red grape (the Norton) significantly changed the flavour profile, especially given the almost mordant forwardness of big fruits exhibited by Norton. We are splitting hairs here though, because both years have shown me the intricacies that Missouri wines are capable of producing. Further, I was taken aback by the Acoustic White blend, and find it to rank amongst my favourites of Missouri whites. I am sure that I will enjoy many bottles of these two wines over the upcoming year, and am excited to experience the next incantation of Mike Ward's Syncopation!
So, I encourage you to pick up at least a bottle of each and experience them for yourself—even if you were like me in thinking that Missouri wines didn't hold their own. You can purchase them at several Saint Louis area Schnucks grocery stores, or by stopping in at The Wine Barrel on Lindbergh near Watson. At The Wine Barrel, you can also choose to try Syncopation by the glass, and if you're lucky, Mike may even be there when you stop by. 🙂
Cheers,
Zach