UPDATE: See my review on the new 2015 vintage of Syncopation, including the Acoustic White blend.
This past weekend, I was visiting my good friends at The Wine Barrel for their weekly wine tasting, and I got a neat surprise when I was there. Certified Sommelier, Mike Ward of Ward on Wine was there with a new project of his called Syncopation. Syncopation is a private-label red wine blend produced in Augusta, MO, which, if you didn't know, was the first AVA recognised by the United States Federal Government in 1980 (beating out Napa).
Having been to some of Mike's classes (including ones about two of my favourite countries for wine [Italy and Spain]), I was confident that any wine he would stand behind would be a worthwhile investment. Though I'm not usually partial to wines from Missouri, the way that he described Syncopation as being "medium bodied with some nice red fruits and a little spice" was enticing to me. Before getting to my personal impressions and review of Syncopation Rhythmic Red blend, here are some interesting notes about it:
It is a blend of Chambourcin, Vidal blanc, Seyval blanc, and Traminette

Chambourcin is really a red grape, whilst the other three are white grapes
Chambourcin can be made so that it is dry or semi-sweet
Vidal blanc is related to Trebbiano, which is a grape noted for wines from Italy and France (where it is more commonly known as Ugni blanc)
Mike indicated to me that this particular wine is best enjoyed at a slightly chilled temperature (16-18°C / 60-65°F), but that I should try it right out of the bottle beforehand, and make my own assessments. I will agree with him that it is better with a light chill on it, and after it has decanted for 20-30 minutes. Since I did try it both ways, I will separate my tasting notes into two corresponding sections.
Right out of the bottle
When I first tried Syncopation, I noticed a slight sweetness to it, which is the signature of some of the white blends from St. James Winery and others in Missouri. It was forward with a burst of freshly picked strawberries, and had delicate notes of Victoria plums in the mid-palate. It was light-to-medium bodied, and had an almost effervescent mouthfeel, though there were no bubbles at all.
Chilled accordingly
After my bottle of Syncopation had chilled to the recommended temperature, I tried it again. To me, the differences were night and day! As expected, the slight chill intensified the flavours of strawberry and plum that I had originally noted, making them more bold and readily recognisable. The effervescence that I mentioned was no longer present, and the mouthfeel had tightened to a more medium-body. Most impressive to me was how the chilling and decanting brought some underlying subtleties to the surface. I really enjoyed some notes of cherry cola, white pepper, and most prominently, coastal sage scrub.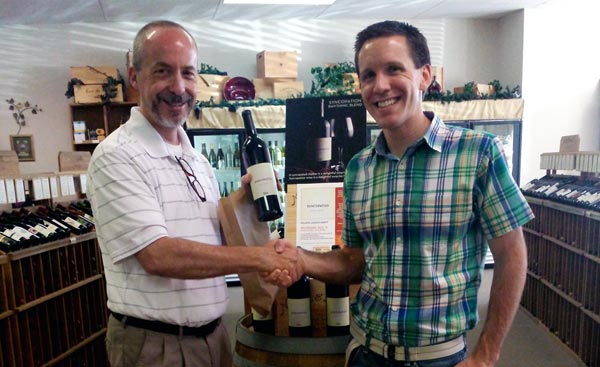 Mike Ward and Zach – First sale of Syncopation Red Wine
Click to enlarge
Overall impressions
As someone who enjoys the intense wines of Priorat, Spain and yet the subtleties of a Brunello di Montelcino, I found Sycnopation to be a bit light for my preference. That being said, it is an approachable red wine for sweet and semi-sweet white wine lovers, yet tannic enough to appease staunch red drinkers. To me, Syncopation lives up to its name in that it is rhythmic and flowing. It also captures the joys of summer, and is able to—with its beautiful notes of strawberry and white-fleshed plum—cut through the ofttimes oppressive humidity that can accompany a Saint Louis August. If you think you know what Missouri wines are "all about," or if you just would like an unassuming light-to-medium red blend that is new and exciting, I urge you to give Syncopation a try!
Cheers,
Zach