Today is Saturday, 14 July 2012, which means it is French National Day (known as Bastille Day in many English-speaking countries). That also means that it is only appropriate to celebrate with a selection of French wines at the weekly tasting. Also, the tasting was led by Rich Haynes of Dionysus Wine Distributors, LLC, who eagerly shared his amazing depth of understanding about these wines, which greatly contributed to the experience. So without further adieu, let's discuss today's featured pours.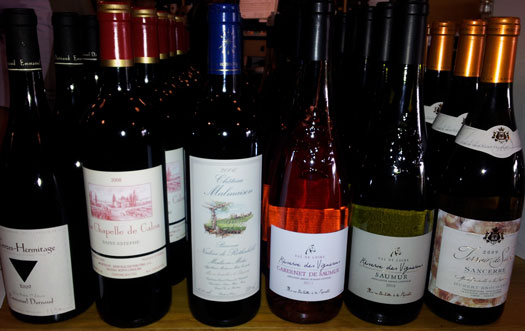 Wines are discussed from right to left
The first wine of the day was a 2009 Sauvignon Blanc from producer Hubert Brochard in a western section of the Loire Valley. This Terroir de Silex comes from vines that are approximately 30 years old, and planted in very flint-saturated soil (that also has some limestone), which lends a strong minerality to the taste. As a Sauvignon Blanc (or, more specifically, Sancerre Blanc), it is very fruit-forward with highly floral aromas, dry, and has a bright acidity. It was very lightly golden in colour, and had virtually no legs at all. It would pair nicely with just about any seafood, but particularly a white fish such as Tilapia.
The second offering was a 2010 Chenin Blanc (Réserve de Vignerons) from the producer Cave de Saumur in the town of, none other than, Saumur. It was very light yellow–indeed, almost clear at a tilt–and, though it had no legs, left a ring of medium thickness. Residing in stainless steel barrels, it was clean, crisp, and had a vibrant acidity. The melon and honeysuckle flavours prevailed in this delicate wine, and the finish was a combination of the melon and, to me, a slight apricot taste. Overall, this was a wonderful wine, and as such, the one that I purchased today. At under $10 USD (~ €8), this is a beautiful wine that illustrates how price does not determine quality.
The third pour was a 2011 Rosé of Cabernet Franc from the same producer as the previous. The maceration process (during which the juice is left in contact with the skins) was only two days. Visually, this wine was stunning as it had a light pink centre with a virtually clear edge. It had medium, slightly viscous legs, and beautiful aromas of raspberry and strawberry. It had a very thin mouth-feel, light flavour, and great finish of strawberry, a hint of cherry, and some herbal crispness.
The fourth wine was a 2006 red blend (80% merlot / 20% Cabernet Sauvignon) from producer Château Malmaison Moulis in the Bordeaux region. It had a lovely garnet-coloured centre and ruby edge on tilt, with medium, slow-moving legs. There were very earthy aromas mixed with forest fruits, and even a slight cigar smell. Unfortunately, that earthiness didn't come through in the flavour, which focused more on the blackberries and currants. It was quite dry, and had a heavy mouth-feel to me, but that may have been partly because of the ambient heat. I feel that this wine needed more time for the flavours to round.
The fifth tasting of the day was a 2008 second-label (younger vines) red Bordeaux blend (~60% Cabernet Sauvignon / the rest a mix of Merlot and Cabernet Franc) from Producer La Chapelle de Calon. It was a light ruby colour throughout with very low contrast between the centre and edge. It featured a smoky aroma, and taste predominantly of berries (with a hint of chocolate at the back). It was medium-bodied, but a little underwhelming.
The last offering of the day was a 2009 Syrah from producer Emmanuel Darnaud. The vineyard is located in the Crozes-Hermitage region of the Rhône Valley, which is a significantly larger region than the more prestigious Hermitage region. This particular producer uses very old-fashioned methods for making his wines (including foot-stomping, and small batches). This particular vintage had a deep red centre with a vibrant purple edge, and aromas of dark berries. The flavour very much followed the aroma of dark berry. It was very fruit-forward, with a light-to-medium mouth feel. To me, it was a little too juicy, and the finish was somewhat anticlimactic.
Cheers,
Zach