I had a surprise in my inbox the other day, stating that there would be a special wine tasting this evening at HV Bottle Shop. Generally the tastings are on Saturdays–and there will still be one tomorrow–but this week, they also had a tribute to wines from Bennett Valley. Bennett Valley is a very small area in Sonoma County, California, that just became recognised as an AVA in late 2003.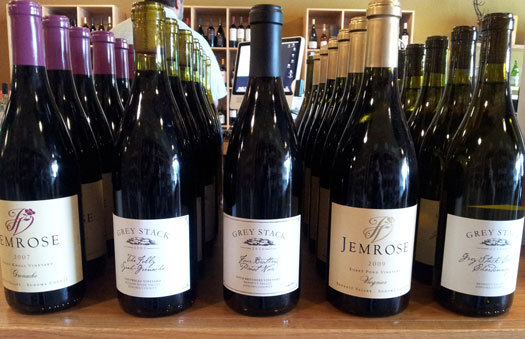 Wines are discussed from right to left
The first pour of the evening was a 2010 Chardonnay from Grey Stack Cellars, which, according to the producer, may be the last vintage of this spectacular wine. With only 230 cases produced, I recommend that you try to secure one for yourself before they're completely gone. It had a light yellow edge, and was very faint when viewed straight on. Fermented in stainless steel and aged in 50% Oak once-or-twice-used barrels, it showed no signs of legs or a ring. It had a beautiful citrus aroma, with subtle hints of various floral undertones and honeysuckle, all of which came through in taste. Coupled with the amazing nose on this wine, the finish was crisp, light, and bright! Ultimately, it was the one that I couldn't leave without today.
The second wine was a Viognier from Jemrose Wines. It had a darker yellow colour when viewed straight on, and very thick, slow-running legs. I wasn't able to pick up much in terms of aromas, other than the generic "citrus," but the flavours were predominantly orange and some tropical fruits. I found this particular vintage to be highly acidic, and almost astringent. It was my introduction to the varietal, and after only one tasting, I'm not comfortable judging it.
The third offering today was the 2010 'Four Brothers' Pinot Noir from Grey Stack. It had a lighter garnet colour than some other Pinots that I've had, with medium legs (both in width and in speed). Featuring a wonderful combination of strawberry and raspberry scents, the berries were also prominent in the taste (especially in the mid-palate). It had a somewhat thin mouth feel to me, but I think that it will be fantastic in a few years, after having time to mellow.
The fourth wine was not actually from Bennett Valley, but rather, the Russian River Valley, which is farther west than Bennett (but still near Santa Rosa). Having a beautiful deep red (nearly purple) colour, 'The Folly' 2009 Syrah-Grenache from Grey Stack had a scent of black pepper and smelly socks (Grenache is a musty-smelling grape, so that's somewhat expected). It had a medium mouth feel, but in terms of flavours, didn't leave any lasting impression with me.
The last pour of the day was a 2007 Grenache from Jemrose, and was aged 18 months in 20% new French Oak barrels. IT had a medium ruby colour with thin/medium legs. I picked up a very mild cherry scent with more prominent herbs. It had a great medium mouth fell, but I felt that the finish was a little anticlimactic.
Overall, it was a nice change from the norm to get to experience some great wines on a Friday evening. Also, the presentation this week was from Rich Haynes from Dionysus Wines, and he consistently shares his wealth of knowledge about the pours of the day. For that, I'm really grateful, as it adds a lot to the experience.
Cheers,
Zach