Well, I was going to post a review of a new CD today, but when something jam-packed with failure (and subsequently, humour) arrives in my inbox, I simply can't let it go to waste. This morning during my typical routine, I checked my email, and had to see what Amazon's Deal of the Day would be today. At first, I didn't think anything of it being a battery-powered toothbrush (and really I have no desire to own one), but Amazon's title for the product was a bit… errrmmm… unusual: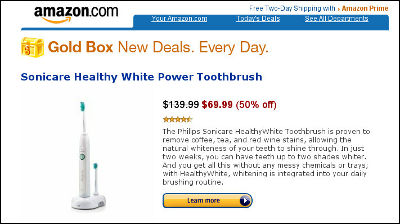 Click to enlarge
The White Power toothbrush?! I'll bet that that product doesn't go over well in certain markets, and with particular demographics. I will also bet that Philips didn't approve of the new description of their product, which they refer to as the HealthyWhite Rechargeable Sonic Toothbrush.
Apparently, Amazon realised their poor wording, and quickly changed the title of the product to the Philips Sonicare HealthyWhite Toothbrush: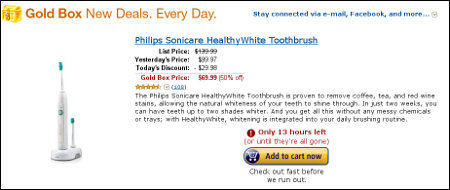 Click to enlarge
but it was far too late, as many people commented on the Deal of the Day discussion today (which by the way, is Friday the 13th). My personal favourite comment is the one from DigitalBug, which can be found here. I have also excerpted it below, just in case it disappears at some point:
Posted on Jul 13, 2012 12:39:01 AM PDT
Last edited by the author 9 hours ago
DigitalBug says:

I wonder if this is a big seller in Harlem?

The "White Power" toothbrush has to be one of the all-time worst product names in history.

EDIT:
The title of the product when I wrote this was "Sonicare Healthy White Power Toothbrush".

This seems to be an Amazon mistake. The official name of the toothbrush is the "Sonicare's HealthyWhite Rechargeable Sonic Toothbrush". Amazon is trying to be descriptive in calling it a power toothbrush, which is a term Sonicare does not use for this, or any other model they make. Also, Amazon added a space to "HealthyWhite" further compounding the problem and allowing the title to read "White Power".

Hopefully it is corrected before you even read my post, but it would make an interesting poster that Bill Maher's dentist might hang in his/her office: White Power — Good for Teeth, Bad for Society!
What have we learned today? Repeat after me, "word order is important for conveying the intended meaning." 🙂
Cheers,
Zach