Overall, I've been quite happy with my 2017 Honda Civic EX-T. However, there are some cosmetic changes that I personally think make a world of difference. One of them is debadging it (or removing the "Civic" emblem from the back). Another area for improvement is to swap out the side markers, which by default (and according to law in most of the United States), is amber in colour. As it is the only area on the car that is that gross yellow/orange colour, I thought that it could be vastly improved by swapping it to either clear or some smoked black look. Initially, I ordered the ASEAN market OEM Honda clear side markers on eBay. However, I decided that on my White Orchid Pearl Civic, "smoked black" may look better, so I ordered them instead. Here's a before-and-after of it:

Following the great instructions provided by a CivicX forum member, I got started. Though his instructions are spot-on, the procedure for swapping to the non-OEM smoked markers was actually a little easier. Basically, step 4 (cutting the tabs on the socket) was unnecessary. So, a simplified and concise list of the steps required for my particular swap is:
Turn the wheels inward to give you more room to access the wheel liner
Remove the three screws holding the wheel liner
Press on the side marker clip that holds it to the body, whilst simultaneously pushing the marker itself outward away from the body
Use a very small flat head screwdriver to depress the tab holding the bulb socket to the harness
Swap in a new bulb (if you have one, and I can recommend the Philips 194/T10 white LED bulbs, but realise that since they are white, they will not be "street legal" in many municipalities)
Test the polarity once you have inserted the bulb by simply turning on your headlights
Place the harness/new bulb/socket into the new side marker (noting that one notch is larger than the rest, which may require rotation of the side marker)
Align the new side marker accordingly, and make sure that it snaps into place
The only caveat I found is that the marker on the passenger's side did not seem to want to snap into place as easily as did the one on the driver's side. It took a little wiggling, and ultimately required me to press more firmly on the marker itself in order to get it to stay put.
For a process that only took approximately 30 minutes, though, I think that the swap made a world of difference to the overall appearance of the car. I also am happy with my choice to use the white LED bulb, as it shows quite nicely through the smoked lens: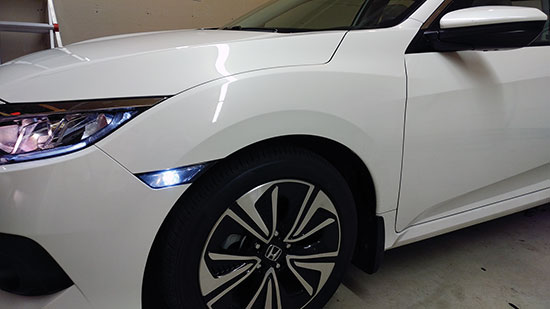 Cheers,
Zach