Now that I am back in Saint Louis, I have been trying a bunch of different restaurants than the ones that I had frequented when I lived here before. Seeing as Indian food is one of my favourites, I have been to several different places in the area in search of good ones. There are a few really outstanding Indian restaurants in the greater Saint Louis area, and they are all great for different reasons. In particular, there are several Indian places on Manchester Road near motorway 270. One such place is Saffron.
Saffron, like many of the others in the area, offers a lunch buffet throughout the week, and on the weekends. A friend of mine and I decided to try it on Sunday afternoon, and we were pleased with it overall. They had many of the "traditional" Americanised Indian dishes (like Chicken Tikka Masala, and curry chicken), but also had a few lesser-known items on the menu. For instance, one of my favourite sides–which is traditionally eaten as a breakfast food–is idly (or idli). They are wonderful with some of the sweeter chutneys like Tamarind/Date or coconut.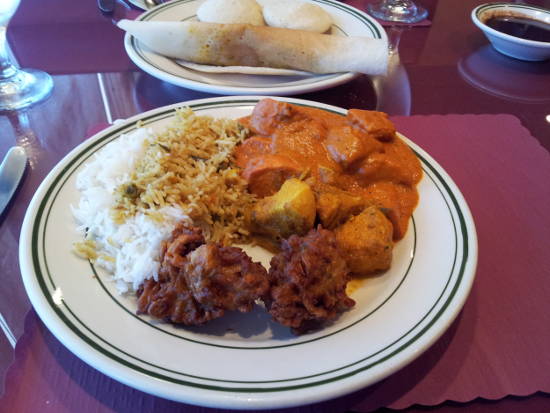 Click to enlarge
Though they had idlis, I didn't find them to be all that appealing due to their rough texture. I'm used to idly having a very doughy texture, and being very soft (almost squishy). These were more porous and firm. Not to say that they were bad; they were just different than I was used to. One very nice aspect of the buffet was that they offered plenty of fresh fruits, which are lovely when eating some spicier dishes. This is one of the few Indian buffets that I've seen with fresh fruit readily available, and would be one of the reasons to go back.
Overall, whilst not my favourite Indian buffet around, Saffron is definitely worth a visit. As everyone's tastes and preferences are different, you may find that you really enjoy it. If you do, great; if you don't, keep trying until you find the place that you love. 🙂
Cheers,
Zach