Several months ago, Amazon had a "Deal of the Day" for the four-pack of Disney Nature's films, which included the Blu-Rays for Earth, Oceans, Crimson Wing, and African Cats. At the time I didn't have a Blu-Ray player–heck, I didn't own a television–but I thought that the price was far too good to pass. Now that I have a television and Blu-Ray player, I decided to use African Cats as the first viewing, and I was completely blown away!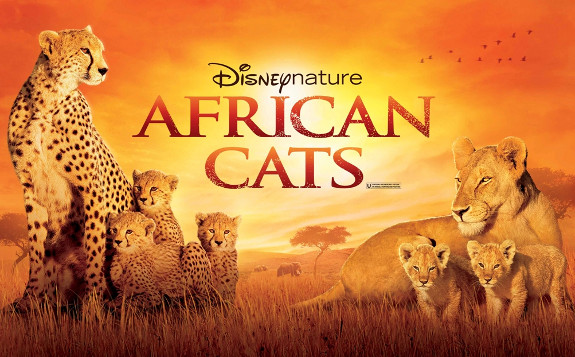 The picture quality (commonly known as PQ on fora about Blu-Ray and AV equipment) was absolutely incredibly on this release from Disney Nature. The audio quality is not really something that I can adequately judge, as I am just using the built-in speakers on the television. Though they are decent enough, I'll leave audio quality reviews to those with appropriate sound systems.
African Cats, which is narrated by the fantastic Samuel L. Jackson, follows two different cat families–a pride of lions, and a family of cheetahs. The portion revolving around the lions focuses on a particular pride led by Fang, and their constant territorial battle against Kali and his sons for the land that they call home. The other consecutive storyline follows Sita, a single mother of five cubs, and their struggle to survive in an environment where threats are present at every turn.
Like the other offerings from Disney Nature, African Cats tries to balance information and entertainment value, and I think that it does so quite nicely. There are informative narrative blurbs, panoramic views of the savannah, cute shots of the cheetah cubs play-fighting with one another, and some scenes that tug at the heartstrings as Layla (the mother figure of the lion pride) recognises that her health is quickly fading. Overall, I found this film to be one of the best yet from Disney Nature. Though there are some violent scenes, they are to be expected in a documentary about wildlife, and should not deter you from watching it with the family.










Cheers,
Zach