If you keep up with my blog, you know that I really like to find new healthy snacks that taste good at the same time. Also, you've probably noticed that I tend to like a lot of the Kashi products, especially the snack bars. One of my absolute favourite varieties is the Cherry Dark Chocolate Chewy Granola Bar. Unfortunately, a lot of the other granola bars have too much fat in them based on their overall weight for me to justify them. The Cherry Dark Chocolate ones, though, have very little fat by comparison to overall weight, and other nutritional value:

As you can see, for only 120 calories and 2g total fat (of which 0.5g saturates), these bars have 4g of fibre and 5g of protein (meaning that ~14% of the weight of the bar is protein, and ~11.5% of the weight is fibre). With 24g of carbs, these bars are great for me to eat a little bit before going on a run. The carbs provide immediate energy, and the little bit of protein adds me along the way. Obviously, 5g of protein is not a huge amount, but it is helpful in adding to one's overall dietary intake.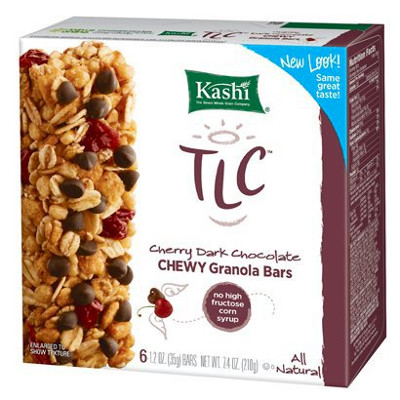 The bars have a very good taste as well. I love the combination of the slightly tart cherry and the dark chocolate. The oats are similar in taste to just about any other granola bar (except not as sweet as many of the ones from Quaker). The texture is pretty good as well. Calling the bars "chewy" doesn't really seem right to me. I find them to be a little more firm than chewy, but at the same time, they are not like some of the bars that I've had which are hard enough that one has to worry about cracking a tooth.
Overall, I find these granola bars to be satisfying. Not only do they take the edge off when I'm feeling a bit hungry, but not enough so to eat a meal, but they also give me just a little fuel for some of the longer runs that I go on in the evenings after work.
Cheers,
Zach