After having gone through many pairs of headphones (for use when exercising) over the past couple years, I've finally found a pair that can withstand a beating whilst making music sound like it should! I've tried using "earbuds" and other inside-the-ear headphones, but I find that they not only get to be really uncomfortable after a short period, but also that they don't stay in my ears during high-impact workouts (like running). So instead, I've focused on finding the right pair of over-the-head headphones (you know, the ones that spawned the term originally ;-)). I have purchased many different brands in a couple price ranges, but one of the primary goals is to keep the cost low since they're for working out.
I stumbled upon the Panasonic RP-HT21s on Amazon one day, and was shocked at the number of positive reviews, especially since the headphones were under $5.00 USD. For that price, what's the harm of ordering a pair, right? Since I had to order another portable music player anyway, I threw the pair of headphones onto the order.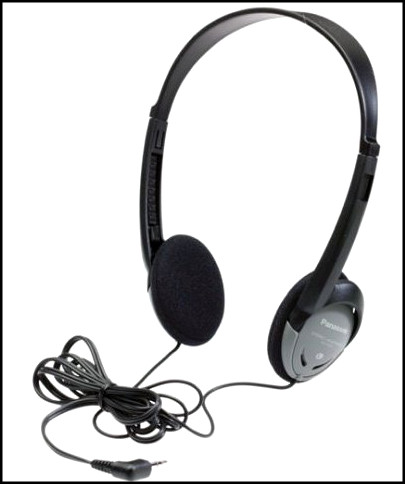 The first thing that I noticed about the headphones was that the sound had a lot of depth to it, which I didn't expect from such a lightweight and inexpensive pair. The bass is powerful without being "boomy" at all, and the midtones come through nicely. From a sound standpoint, the only disappointment to me is that the high registers seem to be a bit fuzzy and shrill. As I said, though, for under $5.00 USD, one should not expect audiophile-grade sound reproduction.
The second thing that I realised is that these headphones are extremely lightweight and comfortable to wear. The band fit my head nicely, and situated the speaker pads in a great spot for sound fullness. Also, the band holds its form nicely, even after having gone for very long runs with them on for months. Several other pairs that I've had give out after a month or two, and start to slide down or backwards as I run; these haven't at all.
If I had to find a downside to the headphones, it would be that the connection is a little finicky, but that could also be the portable music player that I purchased. If I bump the connection between the headphone jack and the music player, I may lose sound in one of the sides or the other, or the sound may just become significantly more quiet. At this stage of "testing" (and I use the term loosely), I am more likely to blame the music player than the headphones.
All and all, this is a GREAT pair of headphones for working out. The price is fantastic, the build quality is pretty high, and the sound is surprisingly good! Are you going to be blown away by the pristine clarity? No, but hopefully you realise ahead of time that these are not Sennheiser HD 800s. 🙂
Cheers,
Zach