As a self-proclaimed connoisseur of Asian food, and having been in the Durham, NC area long enough to have tried nearly every Asian restaurant nearby, I can say with confidence that Asian Kitchen offers some of the best Chinese and Thai dishes around. Before discussing their outstanding food offerings, it's important to note that they received the prestigious award of being amongst the Menu Asian's Top 100 Asian Restaurants in the United States. Even more impressive is that they were one of just three nominees in the state of North Carolina, and that one of the other two is a national chain. Such an award doesn't come just from having great food, but also encompasses the friendliness, courtesy, and professionalism of the staff, the cleanliness of the restaurant, and various other elements that make up the overall dining experience. As such, Asian Kitchen excels in all of those categories as well.
Now, getting down to the primary focus of a restaurant review–the food–I would like to talk about the dishes that I have had. Unfortunately, it might be a bit of a long read if I mention every offering that I've had there, as I have eaten nearly every appetizer and main course listed on the menu. Instead, I am going to focus on some of the ones that I've found to be their bests. In terms of appetizers, their egg rolls and spring rolls are both very good, especially if you want to stick to some starters with which you're more familiar. If, however, you would like to venture out into some items that aren't found on the menu of nearly every Chinese restaurant (fine or greasy spoon), I would highly recommend their "Steam [sic] Dumplings" (either the standard ones with pork, or the vegetarian ones). I personally prefer the veggie variation, as they are a bit lighter, but the pork dumplings do pair very nicely with the ginger-garlic soy sauce. Another fantastic choice is the "Thai Style Summer Role" which reminds me of some of the rolls that I've had in upscale Vietnamese restaurants. Prepared in moistened rice paper with shrimp and mango, they are slightly different from the Vietnamese-style rolls which generally have fresh tofu and vermicelli noodles.
Moving onto the main courses, some of the highlights for me are teriyaki chicken (I know, I know, that is a Japanese dish), orange chicken, and–undoubtedly my favourite–their green curry tofu. The teriyaki chicken features beautiful slices of nicely grilled breast meat, and some incredibly fresh vegetables mixed with a scrumptious glaze of soy and mirin. Though I very rarely will eat fried foods, the orange chicken at Asian Kitchen is a dish that should not be missed; it is simply remarkable! They very lightly bread huge chunks of white-meat chicken (where the breading is nothing more than a thin layer around the juicy centre), and toss it with a sweet and syrupy (yet light) sauce and orange rinds. If I'm going to splurge and eat something fried, I want it to be perfectly done, and their orange chicken is just that. Last, but absolutely not least, my favourite dish on their entire menu is the "Tofu with green curry sauce."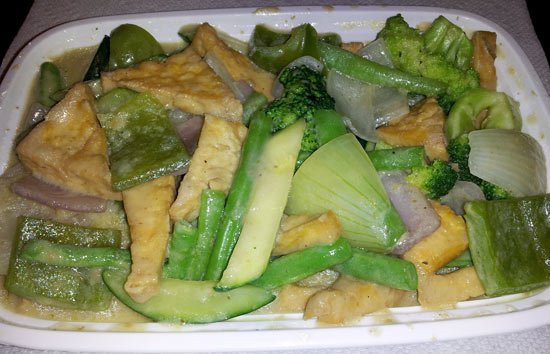 Click to enlarge
With an outstandingly fresh medley of broccoli, courgettes, green bell peppers, white onions, and beautiful, crisp French beans, the stir fried tofu sits in a fragrantly floral green curry sauce made from coconut milk, oil, and cymbopogon (lemongrass). Though red curry is also nice, I find it goes better with a heavier protein (like beef or possibly pork). The green curry is also a little spicier, which I really like (the hotter the better, provided that one can still taste the flavours). My favourite part of the whole meal, though, is taking the leftover green curry sauce, and mixing in the white rice: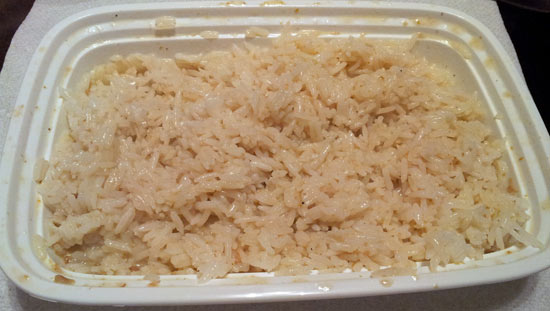 Click to enlarge
The rice absorbs the sauce and takes on an incredibly creamy consistency that is both appealing and comforting. What an excellent ending to an already wonderful meal! If you are ever in the Triangle area, you would be foolish to not stop by Asian Kitchen (tell Julia that Zach sent you)! Oh, and by the way, at the time of writing, they offer 10% off of your order if you place it online through their website (just to sweeten the deal).
Cheers,
Zach