Today we started off by having a little breakfast on the patio at our wonderful bed & breakfast, Casa Bolsinina. It was bright, sunny, and pretty hot for the season. Fortunately, though, there was a nice breeze blowing through the courtyard. After some coffee and such, we drove about an hour northwest to San Gimignano. It's a beautiful town with a lot of shops and architecture to see. We spent a lot of the early afternoon just walking through the streets of town, enjoying the weather and the day.
One unexpected event was seeing a musician playing an instrument known as the Hang drum by a company called PANArt. I had seen some other people playing the instrument, but this particular musician—Amayur played it with a level of intricacy that I hadn't experienced before. I enjoyed the unique sounds so much that I actually picked up a copy of his CD that he had for sale.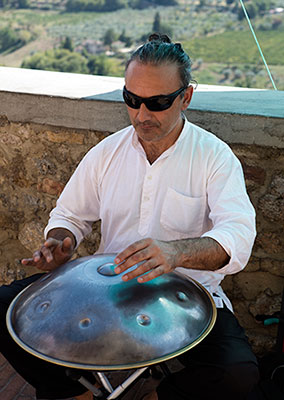 Click to enlarge
One thing that I wanted to see was the museum dedicated to the local wine varietal (Vernaccia), which is unusual for Tuscany as it is a white grape. The museum was free of charge, and had some really interesting information about the history of the grape, the viticulture, and the wine's role throughout the historical formation of the region.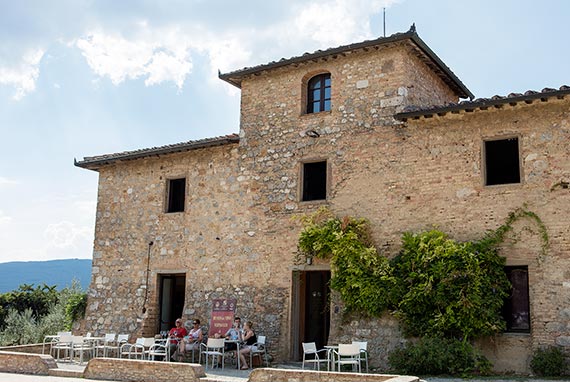 Click to enlarge
Just outside of the Vernaccia Museum was a peaceful park with many olive trees and people just spending time enjoying the beauty of their surroundings. As we were walking through it, we came across an artist painting with watercolours. His name was Peter Fuchs, and he went by the nickname of Kavi. I really enjoyed a painting that he had made of a typical Tuscan home at dusk, so I bought it from him.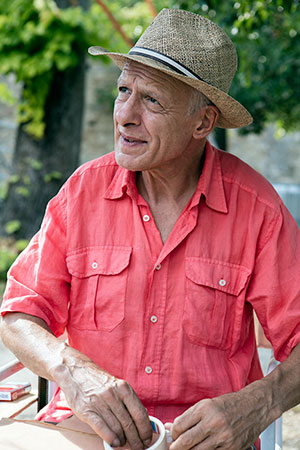 Click to enlarge
We got a little lost talking with Kavi about his paintings, and realised that we had to step it up in order to make our winery tour. I went into this one thinking that it would be more geared toward Deb since Vernaccia is a white varietal. That being said, it is a lovely dry white wine that was actually upgraded from DOC to DOCG in 1993. Plus, how can you not like a wine that is mentioned directly by Dante in Purgatorio? 🙂 So, anyway, we headed to Montenidoli for our tour.
It turned out to be an absolutely fantastic experience, partly because our tour guide was so knowledgeable about the land, and had many viewpoints about winemaking that I had not considered. For instance, he said that "the land is the winemaker," which really struck me as true. I hadn't thought about it, but the land is truly the one responsible for the wine in that it gives us the gifts of the vines and grapes. Throughout the rest of the tour, we got to see various aspects of their winemaking processes. As they focus on whites, they had some steel and concrete tanks for both fermentation and ageing: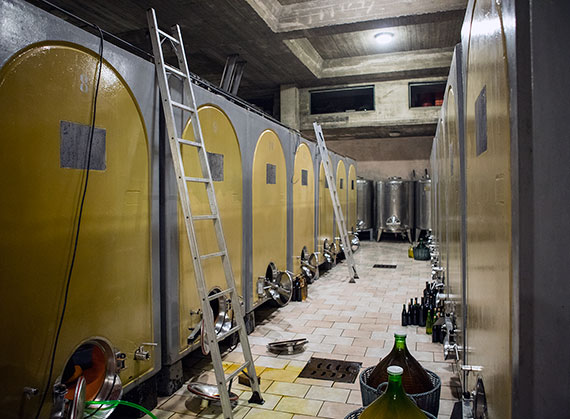 Click to enlarge
After the tour, we went into the tasting room to sample the various wines that the producer had to offer. As a complete surprise, Elisabetta Fagiuoli (the owner of the vineyard) came in to greet us! She brought with her some fried polenta and various Tuscan breads. The best thing that she brought with her, though, was her personality! She was an absolute pleasure!
We tasted essentially all of Montenidoli's offerings, and they all had great aspects to them. Surprisingly, my personal favourites ended up being the two IGT blends instead of the DOC/DOCG 100% Vernaccias (although the Carato was also exceptional).
My absolute favourite was the Il Templare, which is a blend of 70% Vernaccia, 20% Trebbiano, and 10% Malvasia. It was very complex on the nose with some traces of pineapple and banana. Interestingly, though, it had more honeysuckle and edible flower notes in the mid-palate.
The runner-up for me was the Vinbrusco, which was a blend of 65% Trebbiano and 35% Malvasia. The most fascinating part of this blend is that it was made only from the "free run", which is the ~40-50% of the juice in the grape that is extracted naturally by gravity. This blend was very light on the nose, and stuck out to me because it gave me flavours that I've never before experienced from wine—cucumber and oil. The only thing that would have made this wine better would have been some outstanding Thai food. 🙂
After our tour and tasting, we decided to stop off in Siena for dinner on the way back. Unfortunately, the restaurant we wanted to try was booked for the evening, so we just chose a place in Piazza del Campo. The food was nothing more than mediocre, but that's what happens when you eat in the main square. Before we left, we heard lots of cheering and yelling. Out of nowhere, runners flew past us (yes, even up and down those unbelievably hilly streets). There was a foot race going on that evening, and we just happened to be in the thick of it.
Back at our lovely bed and breakfast, we finished off the evening with one final round of fine wine and snacks on the terrace. I went with a younger Brunello this time—a 2010 Tenute Silvio Nardi Vigneto Manachiara, (which is from the single Manachiara vineyard that is southeast-facing at ~300m [AKA, fantastic])—and Deb tried the Ribolla Gialla from Schiopetto. Her wine was nice, but not really memorable. Mine, on the other hand, was outstanding, and showed just how good younger Brunellos can be with some time to decant properly. I had asked Maria if she might have something sweet to snack on, and being the absolutely incredible hostess that she was, offered me some biscuits that her friends visiting from Sicily had made for her. It was like having another whole meal, and we should have foregone dinner in favour of it! 🙂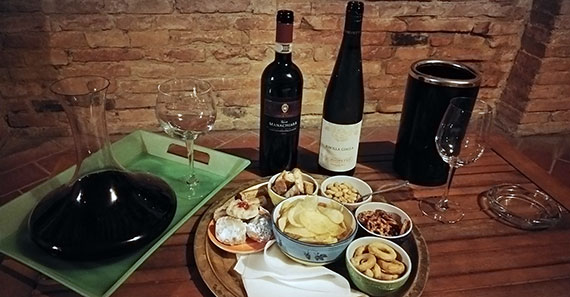 Click to enlarge
Cheers,
Zach