Today we started a new leg of our journey through Italy. After one last morning of coffee and tea on the beautiful patio at Casa Bolsinina, we drove nearly due north to the city of Florence. Unlike our previous bed and breakfast, our accommodations (at La Farina Apartments) in Florence were very modern, and indeed, more like an extended-stay setting. The rooms were huge, the location was a bit outside of the city centre (which was nice), and there was an on-site car park. That last perk was key because we didn't want to drive anywhere in Florence.
After unpacking our bags, and settling in for the next couple days in Florence, we walked to Vivoli for gelato. Originally opening in 1929, it was one of the first gelaterias in the city. To me, though, it really wasn't anything special. I did enjoy that they had rice gelato, which made for an interesting texture contrast, but as for the flavours themselves, they didn't stand out from some of the other gelato that we've had (especially considering Gelateria Brivido in Siena).
We then walked to one of the main areas that you have to visit when in Florence, Piazza del Duomo, which is home to the Cathedral of Saint Mary of Florence, the Baptistery of Saint John, and Giotto's bell tower. Our first stop was the Baptistery, and, as expected, it was a stunning display of architecture. The doors on the front of the building were incredibly intricate, but one shouldn't miss the inside of the Baptistery either: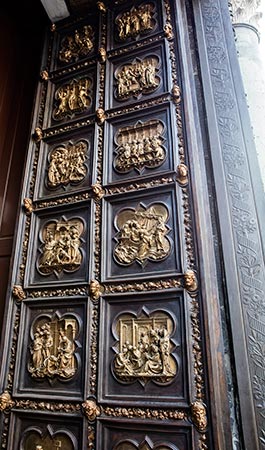 Click to enlarge
Inside, the details in the floor and especially the ceiling were remarkable! Unfortunately, tripod usage was not allowed inside, but I was still able to get a couple shots that captured the beauty of the place: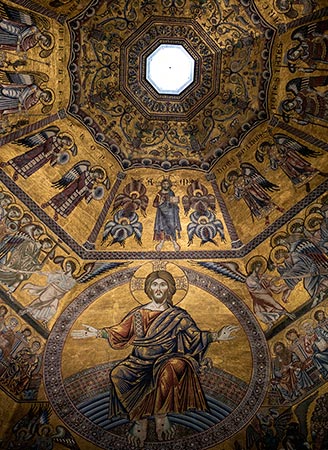 Click to enlarge
After seeing St. John's Baptistery, which was quite small by comparison to the main Cathedral, I couldn't imagine what we would see inside there. We had purchased tickets to ascend the Duomo, and like with the Vatican tickets, purchasing them ahead of time was the only way to go. We didn't have to queue up for very long at all. Before the ascent, though, (which is at a scheduled entrance time based on the purchased ticket), we stood in the plaza in awe of the Cathedral.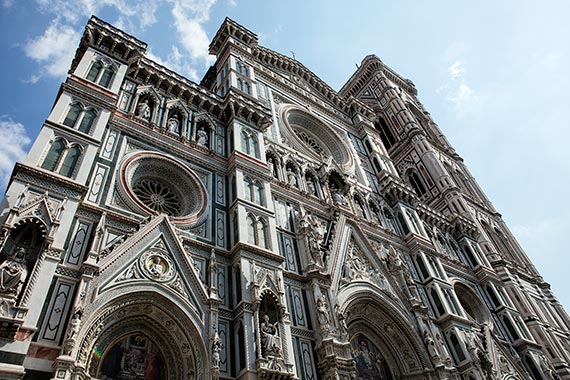 Click to enlarge
Being on the ground made it difficult to fully appreciate the level of detail on the statues above the entrance to the Cathedral. Fortunately, I had my trusty Canon 70-200mm lens and 2x III extender, so I was able to get a closer view. Though all of the statues were glorious, I focused on the statue of Mother Mary and the baby Jesus, which was right above the main entrance to the Cathedral. I couldn't believe the level of detail in the stonework (especially the eyes):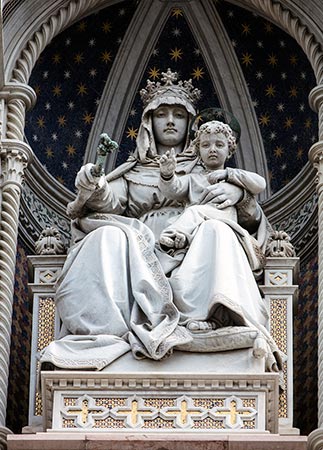 Click to enlarge
As far as the ascent to the top of the Duomo, there isn't all that much to say about it except that the steps were steep and plentiful (around 460, if I recall correctly). It was very crowded at times, but the views of the city were worth it. As long as you're in good cardiovascular and pulmonary health, it shouldn't be missed. When we came back down from the top of the Duomo, we were supposed to then ascend Giotto's bell tower. However, we talked to a woman from Boston who indicated that it might not be worth it after the Duomo. The bell tower is not quite as tall, and seeing as it is extremely close to the Cathedral, the views would be quite similar.
Since we didn't do the bell tower, we had a little extra time before our tickets to the Accademia Gallery, and I wanted to look at a couple leather shops. We went to Michelangelo Florentine which is one of the better shops in Florence. Note that there are hundreds of leather shops, but the vast majority of them are not authentic. You really need to do your homework on the shops, but Michelangelo Florentine, Davide Cerasi, and of course, Scuola del Cuoio (the School of Leather) are top choices. The owner at Michelangelo Florentine was proficient and very friendly. I found a belt there, and he cut it to size for me, and even added some extra holes for when I return to my normal weight after eating like a fool on this trip. 😛 I wanted to look for some more leather goods, but we had to get to the Gallery by the time on our tickets (once again, purchasing ahead of time is a MUST).
We made it in time to the Accademia Gallery in order to see the real David by Michelangelo. It was massive—I mean, far larger than one anticipates—and was clearly the focal point of the gallery. I took several photos, including the full statue, but my personal favourite ended up being this one: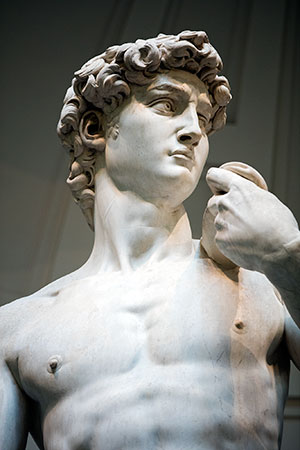 Click to enlarge
primarily because of the lighting, and slightly different viewing angle.
As there wasn't all that much else of interest in the gallery, we left and walked toward our dinner reservations at La Cucina del Garga. I chose this particular restaurant primarily because of Guy Fieri's stellar review of it on the television show Diners, Drive-Ins, and Dives.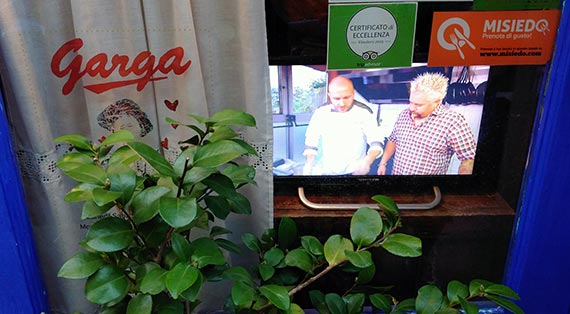 Click to enlarge
The food and service were outstanding, and it ended up being one of the best meals of the trip! Once seated, we were given a complimentary glass of Prosecco (although there is a coperto [seating charge], so that may have covered it), and we ended up getting a starter of polenta as a gift from the chef. We ordered two sides ("contorno") as an appetiser, and both were delicious. We went with spinach and garlic as well as rosemary red potatoes. I think that we have both missed veggies on this trip. 🙂 For our mains, we ordered Fettucine with orange, lemon zest, and mint as well as Trofie (a fantastically dense short pasta) with pistachio and cherry tomatoes. Both pasta dishes were traditional with the chef's unique twist, and both were excellent. The pastas are made fresh, so expect it to take some time—it's completely worth it!
After dinner, we walked back to the hotel, picked up a couple takeaway bottles of wine from Don Fefe restaurant (next door to our hotel), and enjoyed them in the room. It was a very nice and relaxing evening after our first day in Florence.
Cheers,
Zach