Today is the day that I've been waiting for: getting to see the birthplace of my favourite wine varietal (Brunello) in the small town of Montalcino. There's only one problem… it's cloudy and raining! When we went downstairs for some coffee and a light breakfast, though, Marcello told me that the rain was supposed to stop, and that the sun would come out around noontime. That's relieving news as we're supposed to visit two vineyards today, and I'm guessing that it wouldn't be as much fun in the rain.
Our first stop of the day was to Abbazia di Sant'Antimo (the Abbey of Sant'Antimo), which is actually southeast of Montalcino. It was a serene and pastoral place, and the beautiful church was built around AD 1118. We spent some time just walking around the grounds of the Abbey before ever making it inside. Once inside, it proved to be a much different experience than our tour of the Vatican in that people were much more respectful of their surroundings. Nobody was talking, but instead, we were all just taking in the calmness of the holy place.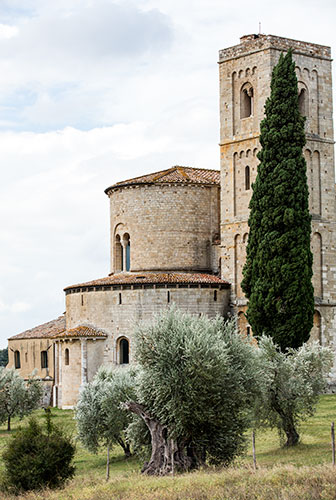 Click to enlarge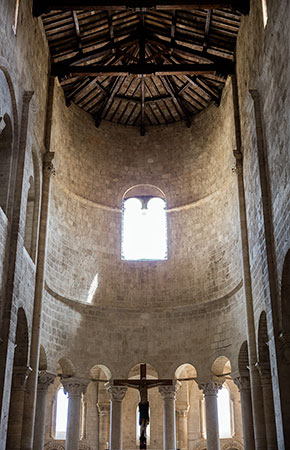 Click to enlarge
After spending time at Sant'Antimo, we headed back to Montalcino just to see the town. We didn't have all that much time to explore before we had to leave for our first winery tour. Though we didn't get to go through the village as much as I would have liked, Montalcino struck me as the epitome of Tuscan towns.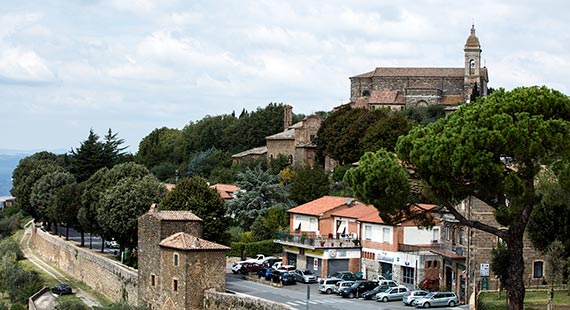 Click to enlarge
The walled city, like many others in the area was built at the start of the 13th century, and had a fortress atop the highest point. The fortress wasn't one to be toured, but it did feature a really quaint courtyard with beautiful views of the surrounding hillsides and valleys.
It was also obvious that we were in the heart of wine country because there was a sign in the heart of town that listed all of the registered Brunello producers.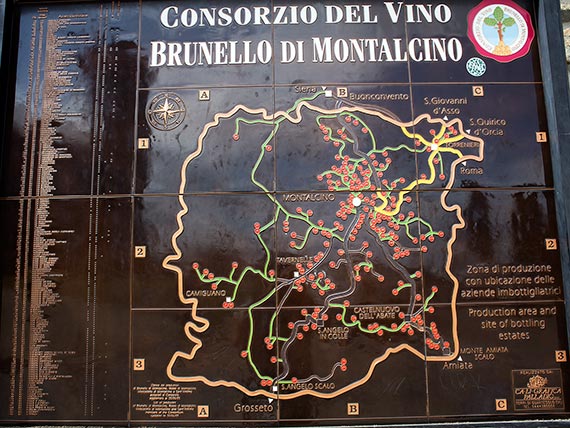 Click to enlarge
Our first winery tour was at a very well-known Brunello producer—Poggio Antico. The representatives there were incredibly hospitable, and invited us to walk the vineyards before the tour in order to get a better understanding of the land itself. "Poggio" means "hill" or "knoll" in Italian, so it is fairly common to see wineries with that word in their name. Anyway, we started our tour and our guide was wonderful! She went through the winemaking processes from beginning to end, and spent a good amount of time focusing on the ageing standards for Brunello (which include a mandated 3 years in barrel before bottling). The tour was really informative, and overall, was great. The only downside is that there were some other people on the tour with us, and they were clearly not interested in the vineyard or winemaking. They were being rude and obnoxious during the majority of the tour. Alas, though, we tried to not focus on their behaviours, but rather on the great information being given to us by our guide.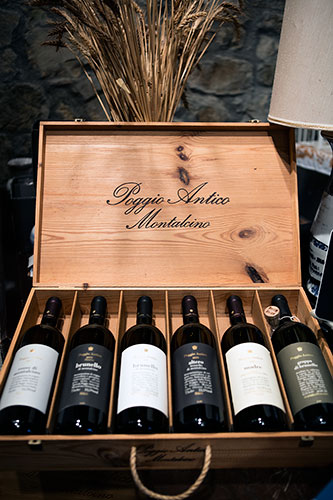 Click to enlarge
At the end of the tour, we were invited to taste several of the productions. My personal favourites from Poggio Antico are the Altero and the interesting blend, Lemartine. The Lemartine is not usually distributed, but now that I have been to the vineyard, I have the honour of ordering directly from them.
After a great tour at Poggio Antico, I was really geared up for some more viticultural excitement! Fortunately for me, we had another tour planned. This time, it was at the legendary Conti Costanti. As with Poggio Antico, we were invited to walk the vineyards beforehand, and I was able to get some wonderful photos of their remarkable land.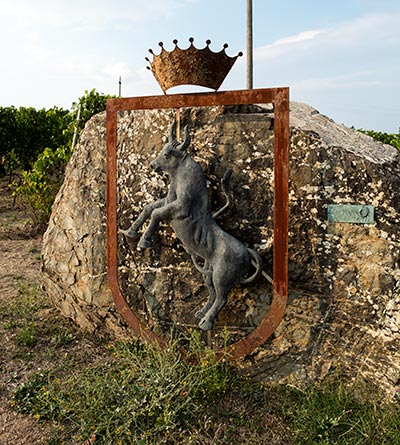 Click to enlarge
Again, our tour guide was outstanding! She chose to focus on the grapes themselves, and even had us taste some of the Sangiovese Grosso grapes from different Costanti vineyards to see the effects of differing directionality, winds, sun exposure, and water drainage. It was an eye-opening experience for me, and helped me better understand some of these concepts for my Sommelier exams and other wine certifications. We then headed back to the main property, and she took us through the cellars where the Brunellos are aged.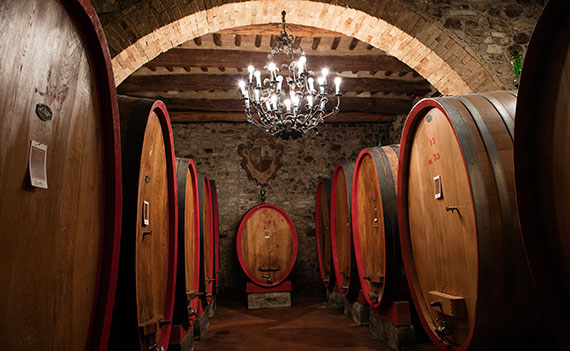 Click to enlarge
I wouldn't trade the experience that I had at either of these outstanding Brunello producers' facilities, and am glad that I had the opportunity to learn about their wines first-hand.
I didn't really find a restaurant in Montalcino that struck me, so we went farther out to the township of Camigliano to eat at the small, family-owned restaurant Trattoria il Galletto di Camigliano. It was really a lovely experience, and we felt like we were part of their family. Their little dog, Luna, seemed accustomed to people eating there, so she kept us company and begged pitifully for some of our dinners.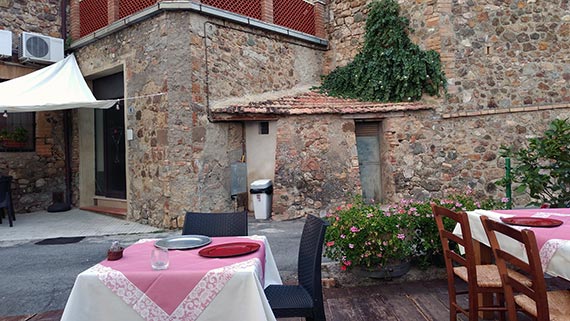 Click to enlarge
A couple interesting things happened during dinner. First of all, there were some farm animals around, and at one point we heard one of them squealing. Our waiter said that there had been a porcupine in the area, and it was likely that one of the animals got a little too curious about it. 😛 Second of all, as we were finishing our dinner, there was a family at another table getting started with theirs. Our waiter told us that the older gentleman at the table has been making Grappa for over 60 years, and that we had to try some of his creations. We tried the traditional, pomegranate, and basil. I liked all of them, but the basil was my favourite—probably because it was really unique!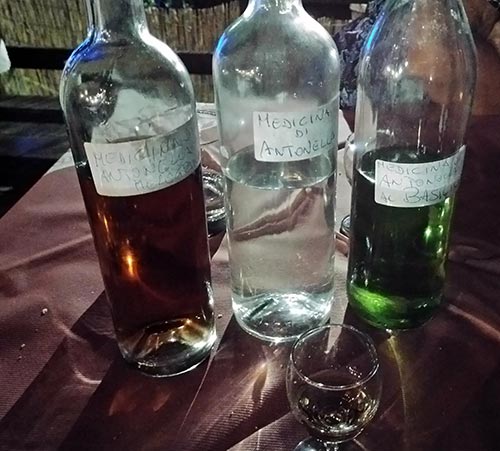 Click to enlarge
After dinner, we embarked on the crazy drive back to the hotel. Montalcino has some incredibly steep and winding roads, and they only seemed to get worse toward Camigliano. We were making the drive back in the dark, but I just considered it all to be a challenge. 😉 Back at Casa Bolsinina, we again ordered from Maria and Marcello's outstanding wine list. This time, I went with the 1997 Castel Giocondo Brunello Riserva from the Frescobaldi family, and Deb had the 2015 Tiefenbrunner Pinot Grigio from Alto Adige. My Riserva was outstanding, though it may have gone slightly past its prime. It had one of the most beautiful deep orange / rust colours that I've ever seen in a wine.
Cheers,
Zach