Okay, okay, I know that I'm REALLY late in posting information about the 2013 St. Louis Children's Hospital Make Tracks for the Zoo run (seeing as it took place on Sunday, 19 May 2013), but better late than never, right? Right. This year was the first year that I had actually participated in the 5K race, and overall, it was a blast! The run was sponsored by the absolutely amazing St. Louis Children's Hospital (currently ranked #6 in paediatric hospitals in the United States), and proceeds went to the St. Louis Zoo The Zoo, in my opinion, is undoubtedly the best attraction in the city.
Now, regarding the race itself, it was a great 5K through Forest Park, and the weather was pretty great considering the time of year. It wasn't all that humid, and the temperatures were even fairly mild. There were about 2100 people that ran in the competitive 5K, and I believe about 1000 more that participated on a non-competitive level.
I think that I did fairly well in this particular race. My time was 19'44", which put me in 13th place overall, and 2nd in my sex/age bracket: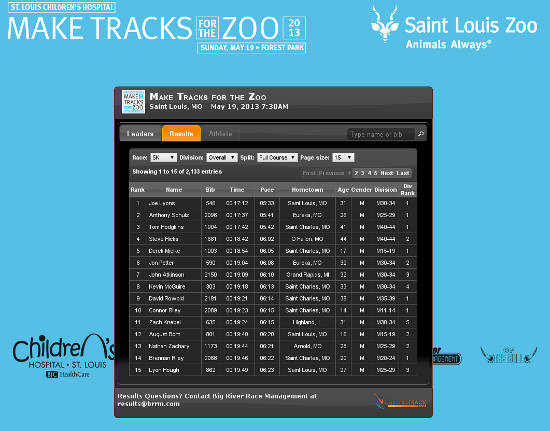 Click to enlarge
As of right now, you can still search through the results through the Big River Race Management site, or by going directly to the event results page. I think that the most impressive runners of the day were either Bob Tarrant, who at age 75 completed the race in 28'19", or Tyler Reynolds, who at just 6-years-old finished 26'59". There was also a really little kid (probably about 3) who ran in one of the Fun Runs, and actually finished!
This was one of the most fun races that I've been in, and I will definitely do it again in the upcoming years!
Cheers,
Zach