This past Saturday (10 August 2013) was the second annual Children's Home and Aid "Take Steps to End Child Abuse" 5K race in Belleville, IL. I actually hadn't heard of this organisation until this race popped up on active.com, which is unfortunate, because they are doing amazing things for children and families all over Illinois. I have made a pact with myself to only run in races that support children's charities, and believe it or not, they are fewer and further between than one might think. Lucky for me, though, I found out about this great race in time!
The weather on Saturday morning was absolutely perfect for a run. It was about 20ºC (~68ºF) at the start of the run, and there was virtually no humidity (which is really shocking for this area August)! There was even a light breeze, which made the conditions even nicer. Unlike my most recent race (the 2013 St. Louis Children's Hospital "Make Tracks for the Zoo" run), the turnout for this race was much smaller. Instead of having several thousand participants, this one may have hit 100 total. That being said, the spirit there was huge!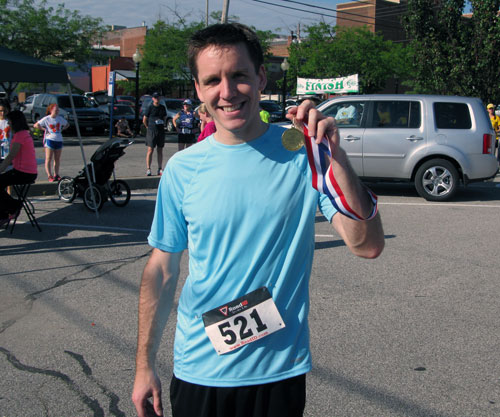 Click to enlarge
Except for some potholes in the first stretch of the course, and the occasional intersection where police officers had to stop traffic, the race went very smoothly! The only thing that I would have liked is to have seen some mile markers along the way. I found it a bit difficult to keep my pace since I didn't know how far I had gone, or how much farther I had to go before the finish line. Other than that oversight, I think that they did a wonderful job setting up the event!
I came in first place overall, with a time of 19'21". As always, though, I was only in competition with myself. My time to beat was 19'44", so I was very happy with my performance this time. Shaving off 23 seconds was good enough for the few months of training. It's my hope that I can break 19 minutes next time though. The results are up on Running Start Sports' website, and I have copied them below:

2nd Annual Taking Steps 5K Run/Walk - Belleville, IL			
Saturday, 10 August 2013		

Male:		
POA	PLACE	First		Last		AGE	TIME	
1	1	Nathan		Zachary		28	19:21	
2	1	Brad		Lanius		29	20:24	
3	1	CJ		Rogers		32	21:17	
4	2	Dave		Wylre		31	21:37	
5	1	Fred		Rice		46	22:02	
6	2	Richard		Santiago	46	23:18	
7	1	Adrian		Storey		55	24:35	
8	2	Phil		Brucker		57	25:12	
9	2	Brendan		Purcell		26	25:48	
10	3	Josh		O'Toole		39	25:56	
11	3	Derrek		Milkovich	24	26:22	
12	3	Kevin		Mecklerburg	40	26:41	
13	4	Erik		Meyer		39	27:23	
14	4	John		McCracken	45	27:50	
15	1	Bill		Beebe		66	28:05	
16	5	Dan		Lucas		43	29:19	
17	1	Will		Yeager		18	29:36	
18	1	Daniel		Giles		13	29:39	
19	4	Tyler		Petrillo	21	30:18	
20	3	Darryl		Lindsey		53	30:44	
21	2	Greg		Mondloh		60	30:53	
22	3	Dan		Harres		61	31:00	
23	6	Michael		Giles		46	32:16	
24	7	John		Schobert	48	32:33	
25	5	Jamey		Schuls		28	32:41	
26	4	Kevin		Horcher		51	32:45	
27	8	Matt		Huller		41	33:45	
28	9	Rob		Dyer		42	35:58	
29	2	Nathan		Dyer		10	35:59	
30	5	Jonathan	Forbes		53	38:11	
31	4	David		Chumley		62	38:29	
32	6	Michael		Heaton		54	40:36	
33	7	Danny		Halel		57	56:27	
34	10	Mike		Springer	45	59:18	
35	3	Andrew		O'Toole		10	59:19	

Female:			
POA	PLACE	First		Last		AGE	TIME	
1	1	Emma		Farley		17	22:04	
2	1	Ashley		Johnson		27	24:37	
3	1	Lori		Fernandez	35	24:38	
4	1	Emily		Killebrew	17	24:42	
5	1	Tracy		Lake		50	24:50	
6	1	Lucy		Farley		12	25:40	
7	1	Lisa		Scharf		44	25:58	
8	2	Stephanie	Ralston		24	26:21	
9	3	Jessica		Pietroburgo	22	27:35	
10	2	Cartelia	Lucas		37	29:18	
11	1	Paula		Mondloh		60	29:58	
12	3	Dawn		Sander		34	31:12	
13	4	Dawn		Kelly		37	31:44	
14	5	Theresa		Zishka		31	31:55	
15	4	Corinne		Fish		28	32:12	
16	2	Julie		Schrand		45	32:18	
17	6	Wendy		Bradley		36	32:34	
18	5	Angela		Shuls		27	32:58	
19	7	Rebecca		Auller		36	33:57	
20	2	C		Goto		58	34:32	
21	3	Nancy		Innes		40	34:47	
22	8	Nicole		Plegge		36	36:18	
23	3	Teresa		Rutz		52	36:38	
24	4	Marla		David		50	36:58	
25	4	Spring		Gibson		41	38:40	
26	5	Tanya		Schiber		48	39:42	
27	6	Yvonne		Bonner		44	39:50	
28	7	Yvette		Rhodes		49	40:10	
29	5	Taraji		Smith		51	44:13	
30	8	Lisa		Teren		45	44:15	
31	9	Suzi		Kollman		45	46:04	
32	10	Rayette		Milkovich	48	46:06	
33	11	Linda		Schlotterbeck	42	46:51	
34	12	Zimmerman-Roe	Sheila		48	48:07	
35	2	Sandra		Forney		61	49:36	
36	9	Stephanie	Galetti		35	52:08	
37	13	Laura		Choate		42	52:59	
38	6	Renee		Grimm		52	55:05	
39	14	Tamela		Milkovich	48	55:35	
40	10	Kristi		Edwards		39	57:21	
41	15	Tami		Springer	45	59:18	
42	2	Lydia		Hayes		12	59:40	

Cheers,
Zach