Again this year, I'm a bit late with posting the results and information about the 2014 St. Louis Children's Hospital Make Tracks for the Zoo 5K, but alas, at least it's coming now. The race was much like last year's in that it was the same course, start time, et cetera. This year, though, it was much cooler outside. That made for an even better run!
There were fewer runners this year (slipping from 2133 to 1828 [a drop of 305[), but some great contenders! Though my time was improved by 16 seconds (down to 19'28" from my 19'44" last year), I slipped by one spot from 13th to 14th. That just tells me that there were more excellent runners this year even than last year. Below is a screen capture of the top 15 overall, but you can see the full results on ChronoTrack's event site, which was managed by Big River Race Management.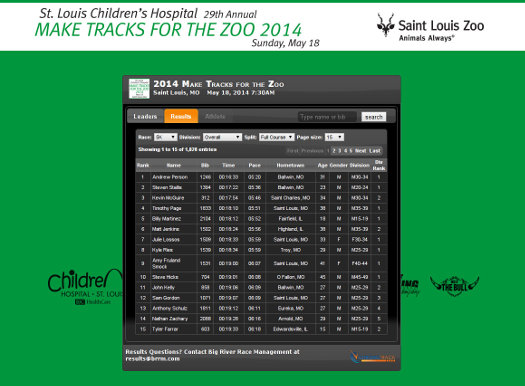 Click to enlarge
Some of the most impressive times to me were:
Jacksen McNeal – 6-years-old – 31'41"
Joe Barzilai – 100-years-old – 37'49"
When I was 6-years-old, I wasn't even thinking about running competitively, and I hope that I am still able to walk (let alone run) when I'm 100-years-old!
Again this year, this was an outstanding run, and I hope to break 19′ flat by the time of the race next year.
Keep running, and remember, you're only in competition with yourself!
Cheers,
Zach