The five wines that were on the tasting table today were all from Barnett Vineyards, atop Spring Mountain in California. Barnett is comprised of many smaller vineyards in the area, and as such, the wines are all tied to the particular sub-vineyard where they are grown.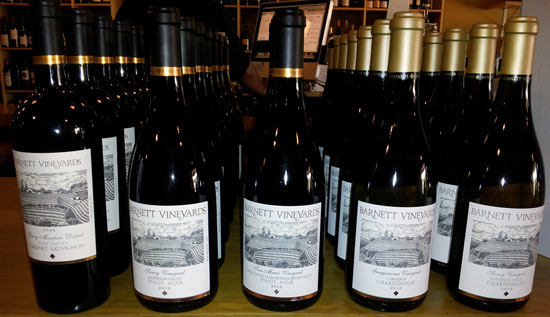 Wines are discussed from right to left
The first wine of the day was the 2010 Savoy Vineyard Chardonnay, which was aged for 10 months in new French oak (20%) and once-used French oak (80%). It had a vibrant yellow colour, with thick, very slow-paced legs. Though it had a grapefruit aroma, the primary taste I experienced was a delicate lemon (maybe even Meyer lemon). It had a wonderful citrus finish, and great acidity.
The second offering was also a 2010 Chardonnay, but from the Sangiacomo Vineyard. It had a softer scent of cream, along with the more delicate taste. The finish maintained a nice acidity, but was tamed by a mild honeysuckle flavour. I can't say which Chardonnay was better, as they were both quite different.
The third pour was a 2010 Pinot Noir from the Tina Marie Vineyard, which was aged for 10 months in new French oak (50%) and once-used (50%). This sub-vineyard is in the Green Valley of the Russian River Valley, which is a cooler microclimate. It had a light ruby colour with medium contrast between the centre and edge, as well as very thick, slow-moving legs. It was incredibly fragrant, with white pepper and lush, juicy fruit up front. It had a peppery mid-palette and finish, but there was a very nice raspberry nuance to it. Interestingly, it had a lighter mouth feel than I'm used to with Pinot Noir.
The fourth wine was also a 2010 Pinot Noir, but this time from the Savoy Vineyard. It had a deeper ruby colour and lower contrast from centre to edge than did the Tina Marie Pinot. It also had slightly thinner legs, but they were still slow-moving. I noticed spiced scents of pepper and some clove, and the taste was primarily black cherry. It had an outstanding spiced finish with a medium body. I couldn't let this one go, so I purchased a bottle (which I will likely age for the next few years).
The final selection of the day was the 2010 Estate Cabernet Sauvignon, which is the flagship varietal of Spring Mountain. It had an incredibly deep garnet colour at the centre, with a medium ruby colour at its very thin edge. It was very pure in its display of blackcurrant and spice, but I noticed some mild vanilla in the background. It was a very well-rounded Cab, and one that I would have liked to have taken home with me.
Though I'm a much bigger fan of "Old World" wines, these were some exquisitely made wines from California. Chardonnays are not generally my favourites, but even they were wonderful in their fruit expression. Overall, a great selection today, and one that will force me to remember Barnett Vineyards.
Cheers,
Zach