Today, as I had a lot of errands to run, I only went to the tasting at HV Bottle Shop. This week's tasting was from a particular distributor known as Juice Wine Purveyors, and focused on a theme of wines for the Patio and Grille: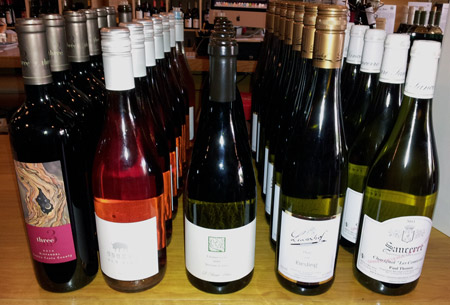 Wines are discussed in order from right to left
The first tasting was a 2011 Sauvignon Blanc from the Sancerre region of the Loire Valley in central France, and came from producer Paul Thomas. It was virtually colourless, and was strongly mineral-driven in both aroma and taste. There was a hint of citrus up front, with a significantly stronger lemon finish. It was crisp, clean, and light, which was very nice given the heat and humidity of the day. Though it was refreshing, I don't think that I would have liked a full pour of it.
The second wine of the day was a 2011 Riesling from the Pfalz region (southwest) of Germany, from producer Lucashof. It was labelled as QbA, which is an acronym of Qualitätswein bestimmter Anbaugebiete–one of the German wine quality classifications. QbA is an entry-level wine that is above both table wine, and country wine, and indicates an earlier harvest than higher-quality Rieslings (and thus, a lower price point). Rieslings are generally considered one of the most food-friendly wines as they offer richness nicely balanced with acidity. This particular Riesling had a very light golden colour, and low viscosity. It was slightly sweeter than the Sauvignon Blanc, and had a very nice, mellow finish.
Third on the list today was a 2010 Chardonnay from Sonoma Coast (California) producer B. Kosuge. The Sonoma Coast has been a popular region for the past 5-6 years for this varietal, partly because of the slight salinity it brings to the wines (being so close to the Pacific Ocean). It was aged in French oak barrels, which resulted in a creaminess and buttery flavour. The higher viscosity of this wine could be seen in the thicker, slow-running legs. To me, the salinity was quite prevalent, but surprisingly rewarding on the finish.
The fourth wine was a 2011 French-style Rosé but came from Californian producer Odisea (Cochon Old Vine). It was a beautiful deeper salmon/peach colour, and light-bodied, but left a solid vein ring. It was on the dry side, but had a fruity finish. The producer indicates flavours of wild strawberry, melon, and white peach, but to me it came through as more of a raspberry flavour. It also had some very mild vanilla nuances up front.
The final wine of this tasting was a Zinfandel from Three Wine Company in the Contra Costa area, which is near San Francisco, CA, United States. Zinfandels are generally higher in alcohol content, given that the grapes are prone to warmer (but not hot) regions. Warmer regions produce higher sugar contents to begin, and thus, higher alcohol content overall. This particular Zin was 15.6% alcohol, which is not on the level of a Port wine, but very full-bodied. Given the high alcohol content, it had thicker, slow-running legs (high viscosity). It was a deep ruby colour in the centre, with a lighter raspberry colour at the outside (and a high contrast between the two). The flavour was very much spicy, and reminded me of peppercorn and clove. It was a bit too spicy for my taste, but would pair nicely with beef loin.
Out of this tasting, I did like the Chardonnay (likely due to the creaminess) the best. Comparing these five wines really solidified the correlations of region, sugar content, and alcohol content in my mind. To iterate, Zinfandels tend to have higher alcohol because the grapes grow in warmer regions (but not too hot). They are thick-skinned with highly sugary juice. That high sugar yields higher alcohol during fermentation (which is the metabolic process through which yeast interact with sugars to create ethanol [the alcohol] and carbon dioxide). Cool.
Cheers,
Zach