Today, we woke up a little earlier than anticipated, and decided to get going on our second day in Bangkok. I had planned on visiting several temples throughout the day, since they are such a huge part of Thai culture. Our first temple was Wat (which means "temple" in Thai) Benchamabopit, or more commonly known as just "Wat Ben." This one–along with many of the others that I thought we would see–are located in the Dusit region of Bangkok.
On our way out the door, the concierge indicated that taxis would be very reluctant to travel to the Dusit region today due to the protests. We had heard about the protests before we even left the United States, but didn't have a firm understanding of the level or intensity. I had researched some of the issues, and found that the some of the Thais even considered the intended political regime to be tyrannical, and that's why they were so adamant about standing up to the government officials.
We found a taxi that would take us to Wat Ben, but we couldn't actually get all the way up to it as the roads were closed off to cars. When he let us out, we thanked him for being kind enough to take us that close, and we started walking the rest of the way. Unfortunately, many of the roads were even blocked off to pedestrians, so we didn't actually make it to Wat Ben.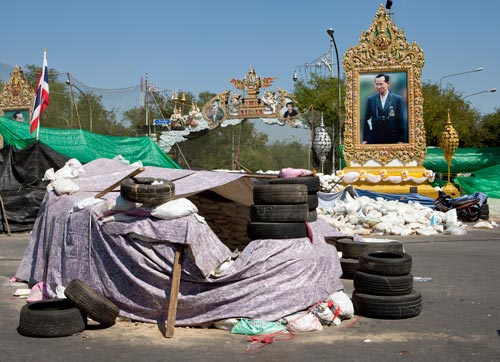 Shutdown Bangkok – Protests on 13 January 2014


Click for larger, higher-quality image



What we did witness, however, was significantly more incredible than a tour of the temples could have been. We were in the city when many Thai citizens were demanding governmental reform, and were attempting to shut down the city–thus, why many of the available t-shirts said "Shutdown Bangkok – 13 January 2014." We got to see, first hand, what happens when citizens feel that they are being treated unfairly. Personally, I was honoured to have the experience, and got to see how a photojournalist feels in the middle of such an event. It is something that I may never get to experience again during my lifetime, so I wouldn't trade it for anything.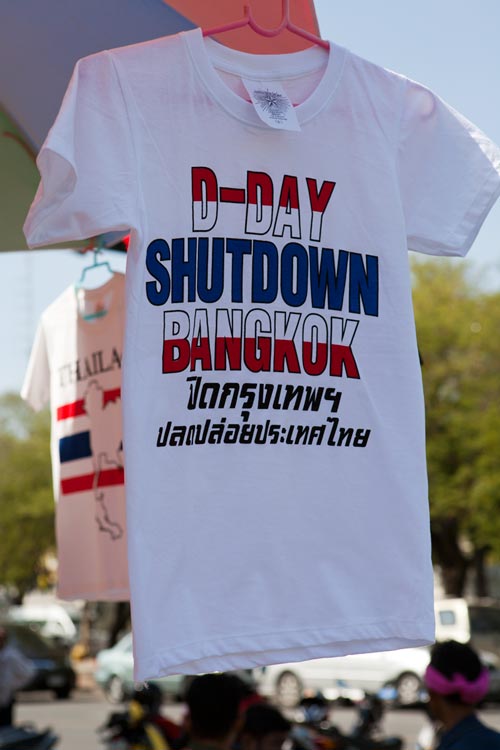 Tee from Shutdown Bangkok Protests


Click for larger, higher-quality image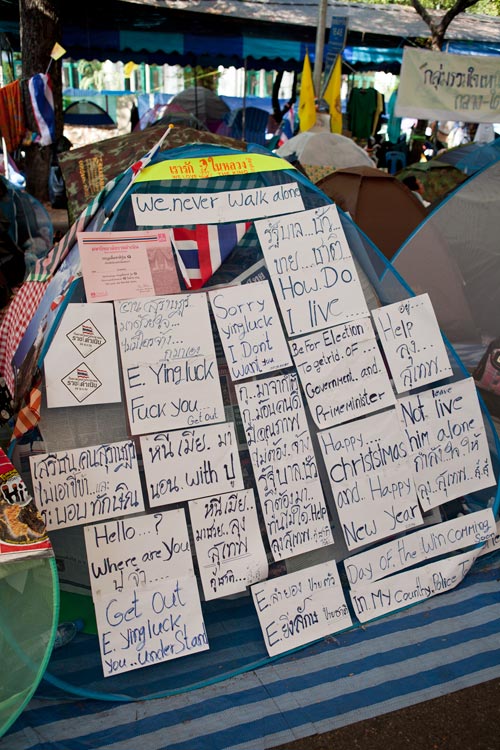 One of the many tents in which Thais were camped out for the protests


Click for larger, higher-quality image



Though we didn't get to see Wat Ben, or several of the other temples, we did get to see Wat Saket, which is considered to be one of the most holy of places not only in Bangkok, but in all of Thailand. This beautiful temple holds an enormous solid gold Buddha, and is home to The Golden Mount. Visitors can climb the steps to the top of The Golden Mount (for a mere 20 baht per person), and see the stunning views of surrounding Bangkok. Also atop the Mount are some statues honouring many of the Hindu gods. Before leaving The Golden Mount, I stopped and bought a statuette of the Buddha. I tried to get one that was a little more unique than the ones that can be found essentially everywhere in Bangkok (and throughout the world, for that matter).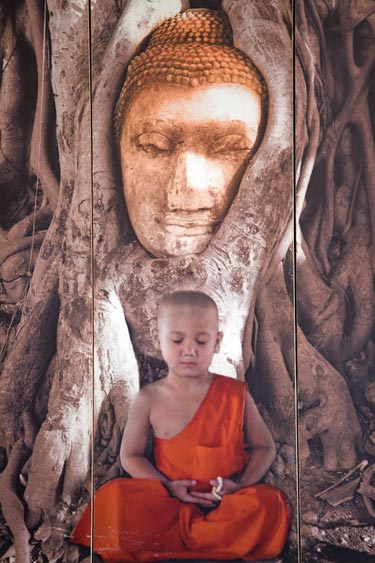 Young boy Buddhist monk meditating in front of a Bodhi Tree


Click for larger, higher-quality image



We then departed Wat Sraket and headed for The Grand Palace, which is home to many more temples and Thai holy places. However, it was completely shut down due to the protests. Thinking that we could still take a ferry across the river to Wat Arun, we hopped in a tuk-tuk to get to the pier. Instead of taking the ferry, though, we ended up going to Wat Pho, which is the Temple of the Reclining Buddha. After taking off our shoes (as is customary), we entered the ornate temple, and saw a MASSIVE statues of Buddha lying down with his head resting on his hand. I can't adequately describe how large this statue really was, and the pictures don't do it justice. This is one that you simply have to see in order to believe.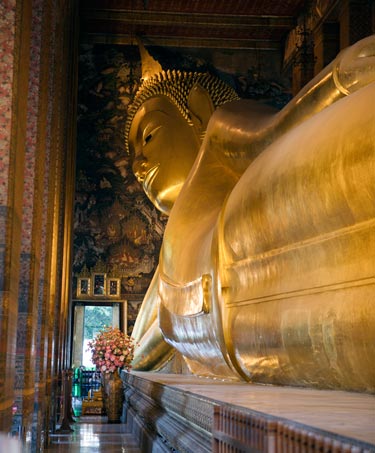 Wat Pho – Temple of the Reclining Buddha


Click for larger, higher-quality image



Before leaving Wat Pho, we also saw a beautiful statue of Buddha with Mucalinda (the naga [or snake-like being with seven heads]). It was incredible to see the craftsmanship that went into this treasure of Buddhism.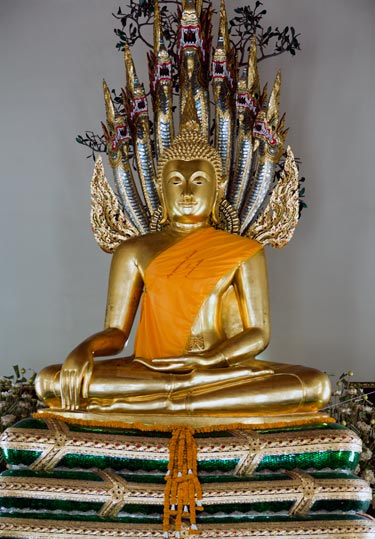 Buddha with the seven-headed naga behind him


Click for larger, higher-quality image



Feeling a bit worn out after a long day of walking, and some disappointments with not being able to see all that we had set out to see, we took a cab back to the hotel. We spent a little more than hour at the pool, which was outstanding, albeit a little chilly in the water. We then freshened up, and decided to head out for dinner in the Asok Midtown area of Bangkok.
We started out by walking down Sathorn Road toward Lumpini Park. At Lumpini Park, we decided to pay the 20 baht per person to take the MRT (the underground rail system that is very similar to the Tube in London) to Sukhumvit station near Asok Tower. When we arrived, we had to walk another 500m or so, which took quite a long time as the protests were happening there. Unfortunately, the restaurant was also closed for this reason, so I went with the backup plan. We hailed a taxi, and went to the Garden of Dream restaurant. It was interesting to go to an Italian restaurant here, and the food was fairly good. I found the prices to be a bit high given the quality of the food, but our server was very friendly, and it was an experience nonetheless. I ordered fish and chips, and she ordered artichoke and tomato pasta. I ended up getting pesto fish with roasted vegetables, which was probably better anyway.
After dinner, we headed back to the hotel via taxi. I've found that taxi drivers in Bangkok (especially after the ones to and from dinner this evening) drive incredibly fast, but yet, there don't seem to be as many collisions as one would anticipate.
We got back to the hotel, went up to the pool area bar, and had a couple drinks and some snacks. I wasn't impressed with the service or the food and drinks in the pool area this evening, so we went down to the one in the lobby (called Swizzles). I thought that their drinks were MUCH better, and they were more fairly priced. Also, they let me start a tab instead of paying for each item individually. We finished off the evening with a few cocktails and some of the best mango sticky rice that I've ever had.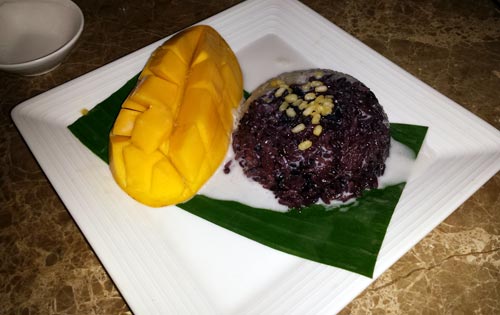 Mango and sweet sticky rice at Swizzles – Eastin Grand Sathorn hotel in Bangkok


Click for larger, higher-quality image



Overall, despite the disappointments with not being able to see all the temples (Benchamabopit, Phrakaew, Arun), today was an incredible day—one that I won't soon forget.