Surprisingly, we awoke earlier than intended, and decided to seize the day. We headed down to the 5th floor for the included breakfast, which was massively diverse! The Eastin Grand Sathorn hotel offered everything from some Americanised, "Western" dishes like omelets and pancakes, to wok-fried vegetables and noodles, to an assortment of danishes. Absolutely incredible, especially since it was included with our reservation!
My favourite part was actually the fresh fruit and juices. They had fruits like pineapple, papaya, dragon fruit, and freshly-squeezed orange and guava juices. They also came around with some nice coffees and teas.
After breakfast, we started walking toward our first destination, which was the Queen Saovobha Memorial Institute herpetarium. Using GPS and Google Maps was surprisingly simple thanks to T-Mobile's Simple Choice plan (which allowed us to have unlimited data whilst in Thailand). Though the data connection was too slow to actually display the map data, I was able to still get turn-by-turn directions and see streets.
On our way to the Queen Saovabha Snake Farm, we came across this neat little street market. Vendors were selling a variety of fruits, clothing, and trinkets. We didn't buy anything, (or spend that much time looking, for that matter), because we had to make it to the Snake Farm by 11:00 for the show.
We made it about 10 minutes before the show started, and purchased our tickets for 200 baht each, and took our seats. The handlers were incredible, and did all that they could to get the snakes closer for our viewing. The information was provided in both Thai and English, so not only was it visually stunning, but I also learned a lot about the snakes that are native to the area.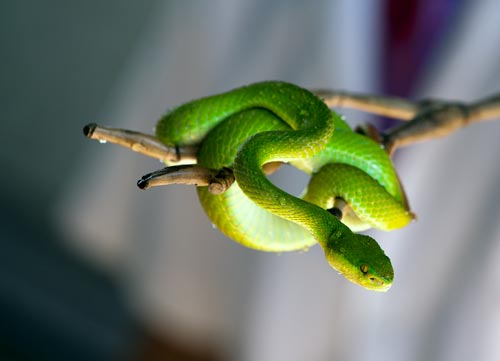 Green viper at Queen Saovobha Snake Farm


Click for larger, higher-quality image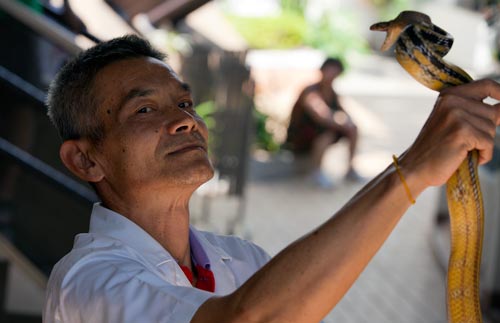 Snake getting ready to strike the handler at Queen Saovobha Snake Farm


Click for larger, higher-quality image



After the Snake Show, I changed things up a bit from the schedule, since we wanted to head back to the market that we had seen on the way. By the time we got back, many of the vendors were packing up their things to leave for the day, but we still got to see and try some of the foods. I ended up purchasing some Rambutan, some Mangosteen, and the biggest star fruit that I've ever seen. We also grabbed some traditional Thai sweets (which ended up reminding me of the Indian dessert Burfi–somewhat flavourless, but sugary and satisfying, nonetheless), and headed back to the hotel.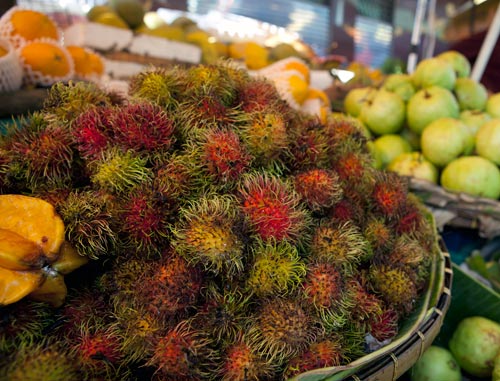 Rambutan and other fruits in a market on Silom Road, Bangkok


Click for larger, higher-quality image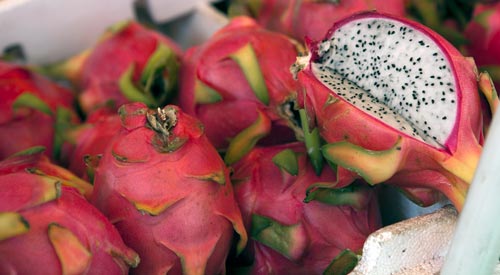 Fresh dragon fruit in a market on Silom Road, Bangkok


Click for larger, higher-quality image



Before heading to our next destination, we checked out the pool area and fitness centre at the Eastin Grand Hotel Sathorn. Wow, just wow! The pool was this phenomenal strip that ran along the edge of the building, and had these little vessel-like chairs next to the water. The fitness centre was huge by comparison to many of the hotels that I've seen, but I didn't even want to think about running on my vacation. :p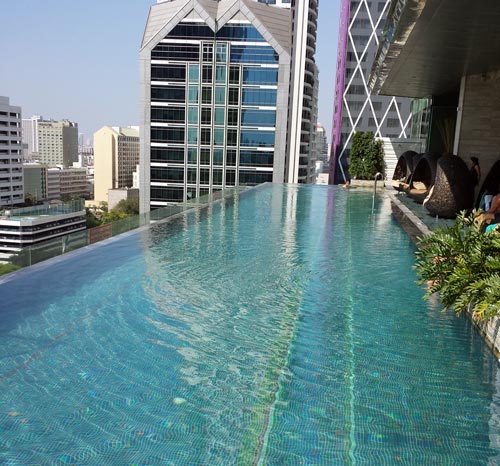 Pool at the Eastin Grand Sathorn Hotel, Bangkok


Click for larger, higher-quality image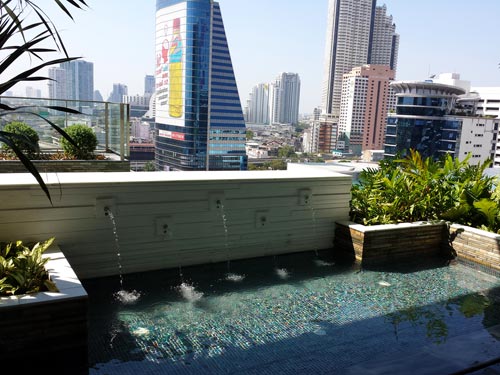 Side, shallow pool at the Eastin Grand Sathorn, Bangkok


Click for larger, higher-quality image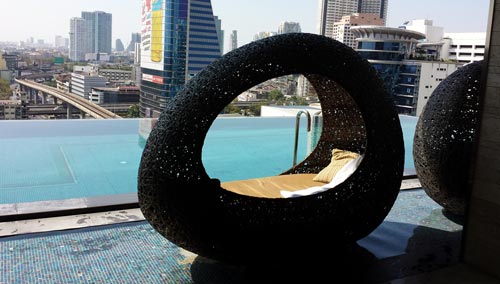 Neat chairs by the pool at the Eastin Grand Sathorn


Click for larger, higher-quality image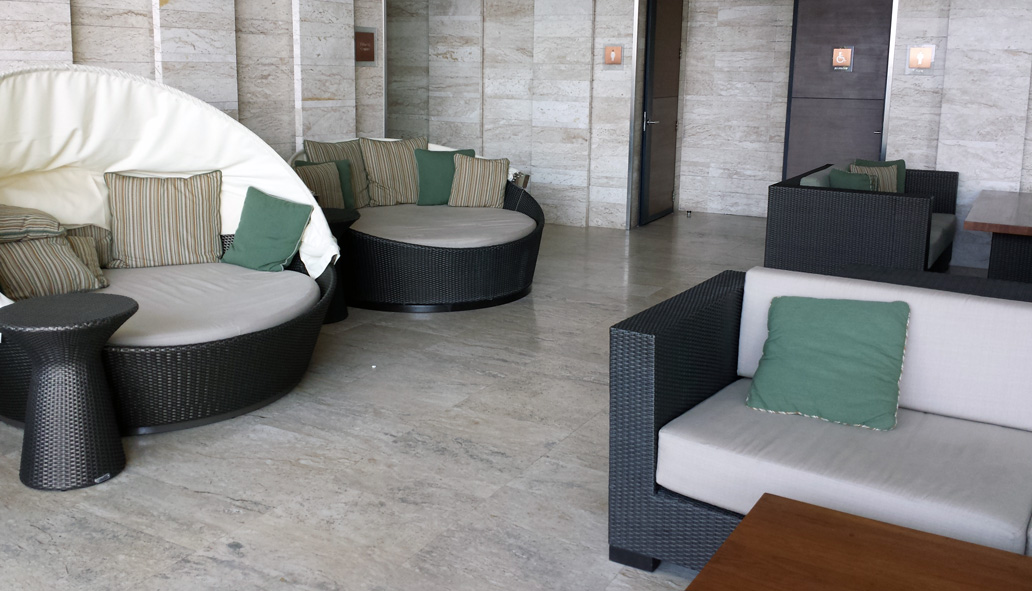 The luxurious lounge area at the pool


Click for larger, higher-quality image



We then left the hotel, and headed for the Jim Thompson House and Museum. Jim Thompson was an American architect that settled in Bangkok after World War II. He was fascinated with textiles, and fell in love with not only this area of the world, but also with the vibrantly coloured Thai silks.

Beautiful, vibrantly-coloured Thai Silk at the Jim Thompson House in Bangkok


Click for larger, higher-quality image



His house was a beautiful juxtaposition of traditional Thai architecture and Western influences. The home was located directly on a canal for easy access, and retained all the simplistic beauty of a Thai house without having to journey to a more rural area of the country. The house didn't have indoor toilets (as expected for the time period), but I learned that the chamber pots (also commonly referred to as "Pee pee pots") were styled differently for boys and girls. The ones used by boys were in the likeness of a cat (requiring that the boy remove the head of the cat in order to use it), whilst the ones used by girls looked like frogs.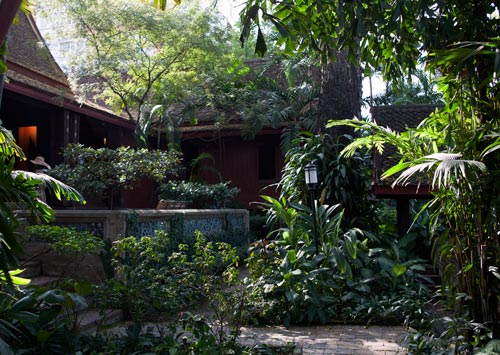 Jim Thompson's oasis house in Bangkok


Click for larger, higher-quality image



In his home, Jim Thompson collected pieces of Thai and other Asian art, but actually preferred ones that had some damage to them. Ranging from statues of the Buddha to rare coloured porcelains from China, his collection was extensive.
Before leaving the Jim Thompson House, we looked at the gift shop. There were some gorgeous scarves and other silk items (like these adorable little silk elephants with buttons for joints, which allowed their legs to move back and forth), but the prices were a bit high.
From there, we went to Lumphini Park, which is located fairly close to the Snake Farm that we had visited earlier in the day. Though we didn't spend all that much time there, we got a glimpse of an oasis in the big city. The park is really lovely with its ponds, running paths, and areas to just sit and enjoy the day.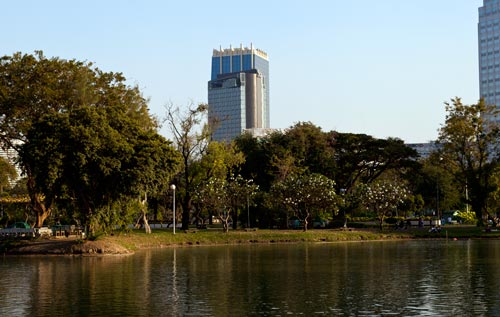 Lumphini Park – the getaway in the city centre of Bangkok


Click for larger, higher-quality image



After our quick visit to Lumphini Park, we took a taxi to Siam Niramit, which is a show about the history of Thailand (which was once known as Siam, by the way). Our tickets included dinner (which was very nice, and even came with complimentary Chang beers), and Golden Seats to the show. The show was absolutely fascinating, and elaborately ornate. Going into it, I didn't know if it was going to be worth it, or if it would turn out to be just a tourist trap. After seeing the incredible production, I would recommend it to anyone and everyone in Bangkok!

Two of the performers from Siam Niramit


Click for larger, higher-quality image



On our way back to the hotel, the taxi driver wanted to negotiate a flat fare. You should NEVER do this in Bangkok, because it is more expensive, and taxis are required to use the meter. I politely pointed to the meter and insisted. It wasn't really an issue, but he was unhappy with my decision.
Back at the hotel, we went down to the pool area for a couple cocktails. They weren't the best martinis that I've ever had, but they were enjoyable nonetheless. We then went back up to the room and got some shut-eye after a remarkable first day in Bangkok.