Well, it's finally here! Today is the day that we leave for Thailand. We got up around 04:00 GMT-6 to head for the airport, and hopped on the first flight. When we were already on the plane waiting to depart for Chicago, the pilot came over the intercom to inform us that there was a delay due to ground conditions in Chicago, and that we would be waiting for nearly an hour. Fortunately, that was a bad estimate, and we took off about 20 minutes later.
We arrived at O'Hare International Airport a bit later than anticipated, but were nowhere near missing our flight to Tokyo Narita. Once on the plane, we unfortunately sat for nearly an hour before taking off. Again, though, we had a substantial layover at Tokyo Narita, so the delay didn't really trouble us all that much.
We flew Japan Airlines (JAL) to Tokyo Narita, and that was a completely different experience than American Airlines (AA). On JAL, there were many more flight attendants, and accommodations available to us. For instance, they firstly offered us warm towels for our hands and faces. They also had complimentary wine, beer, and spirits for the flight. Anyway, after a bit more than 13 hours, we landed at Narita International Airport in Tokyo.
I was famished, so I searched for a place to grab something quick to eat. The food wasn't fantastic in the airport, but I had some pork katsu, some gyoza, and a rice bowl. After the quick dinner, we went to the gate and waited to board the next flight. The thought of getting on another plane after we had already been travelling for around 20 hours (including layovers and delays) was brutal, but it had to be done.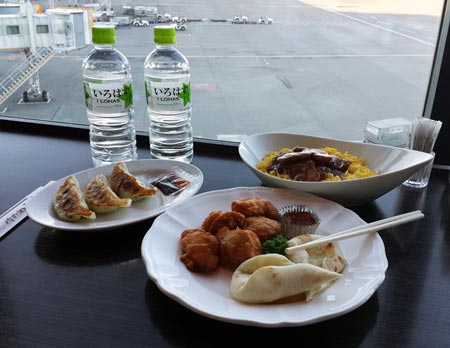 Gyoza, Teriyaki chicken, and such at Tokyo Narita Airport


(Click for larger, higher-quality image)



The flight from Tokyo to Bangkok was much shorter (only about 7 hours), but it felt substantially longer (likely due to anticipation). Thankfully, though, it was uneventful, and we made it without a hitch. We then went through customs, picked up our luggage, and hailed a taxi to our hotel.
The taxi driver took us the longest way known to man, but after travelling that long, I didn't have it in me to argue with him. It was over 60km via his route, when the hotel should have been about 35km away from the airport. Anyway, we made it to the Eastin Grand Sathorn hotel, got checked in, and went to bed. Success… for certain definitions of the word.