Earlier this month, I reviewed the self-titled first album by Ronald Jenkees. Now that I've listened to his second full-length studio album, Disorganized Fun, several times, I can share my thoughts on it.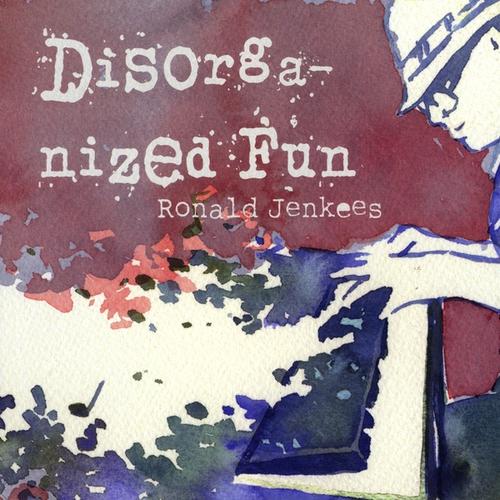 1. Disorganized Fun – 9 / 10
Coming in full-force with his mix of disjointed synth elements and smooth beats, this first track lives up nicely to its title. Jenkees played around a lot with pitch bending, and it worked really well with his choices of sounds. In the middle of the track, there's a great bridge followed by a keyboard solo. Not only does the style live up to the title of the track, but it serves as a great start to his second full-length album.
2. Fifteen Fifty – 8 / 10
Unlike the previous song, this one is a bit more fluid. As such, however, it doesn't have as much of a stylistic edge, and I found it to drag a bit in spots. There is a neat bass line that comes in around 1'15" or so, but unfortunately, it doesn't carry through the rest of the tune. Whilst not a bad song at all, it just doesn't have the energy of its predecessor (even with the wild solo at the very end).
3. Guitar Sound – 10 / 10
It's really impressive to me that Jenkees is able to emulate an 80s-style guitar sound as well as he does. The opening portion of this track sounds a lot like some of Eric Johnson's work, especially in the vein of Cliffs of Dover. There are some great hard-hitting riffs in there that, when coupled with the up-tempo beats and breakdown/variety of the bridge, make for a fantastic track all around! Even at just over 7 minutes, the song doesn't drag at all.
4. Synth One – 6 / 10
This song has a little stronger emphasis on the drums and beats than the previous tracks, and as such, they stand out more prominently than do some of the synth parts. There are a lot of sound effects in this track that have an old NES feel to them, which is a bit nostalgic. However, I don't really find this to be one of the stronger songs on the album.
5. Throwing Fire – 8 / 10
I stand corrected about the throwback to old Nintendo games, as this song starts out in a way that almost makes me feel like I just put in the cartridge and fired up Blaster Master. Unlike the former track, however, Throwing Fire has a really upbeat and lively feel to it. There are a couple parts around the 2-minute mark, though, where it seems like Jenkees stumbles a bit on the notes, but they add a nice human element.
6. Minimal MC – 8 / 10
On this track, Jenkees plays a lot with throwing sounds back and forth between the left and right stereo channels, which makes for a very cool effect whilst listening on headphones. Significantly more subdued, and containing a lot fewer effects than some of the previous tracks, Minimal MC adheres to its name. After the halfway mark, there are some great dramatic elements and a little bit of an Asian influence.
7. Stay Crunchy – 10 / 10
Stay Crunchy was actually the song that prompted me to buy both of his albums after I originally heard it on Pandora. I think that it is an incredible mix of funky beats and rhythm, great synth work, and some techno/club elements. This is my clear favourite on the album (though that could be related to the Serial Position Preference Effect)!
8. Inverted Mean – 8 / 10
With the intro of this track, I expected someone like Jay-Z to come in with some dramatic near-spoken-word lyrics; it just presents a very theatrical sound right from the start. This song also has a stronger hip-hop feel than many of the others, but it is a nice way to increase the dynamic nature of the album. My favourite part of the piece come in around the 3'15" mark with this great piano solo which fades out nicely.
9. Outer Space – 8 / 10
A lot stronger emphasis on synth sounds and chaotic melody than the previous track, Outer Space combines techno and dance beats with sci-fi effects. Again, tracks like these really highlight the versatility of his musical vision. Though it isn't the most appealing track to my ears, this track showcases technical aptitude within the genre.
10. Let's Ride (rap) – 6 / 10
As with the raps on his previous album, this one is fairly entertaining, regardless of whether or not the technical expertise is as high as his non-rap tracks. The reference to passing the DQ is fairly funny as well.
11. It's Gettin Rowdy (rap) – 6 / 10
For some reason, this rap makes me think of Regulate by Warren G, but with a little bit of a silly element to it. Ahhh, the delusions of grandeur…
That makes for a total of 87 / 110 or ~79%. That comes out to a very strong 8 stars:










Cheers,
Zach