After firstly hearing Jenkees on Pandora, I decided to pick up a couple of his albums. The first one, which is the self-titled disc, features twelve songs and two raps: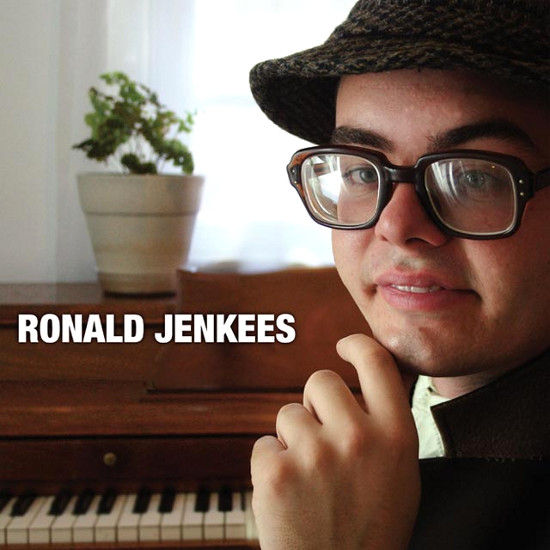 1. Derty – 7 / 10
Starting with an almost '90s rap feel, this track sets up the feel for much of the album. It is a funky, fun mix of hip-hop beats, sound effects, and keyboard-based melodies. I personally like the culmination of sounds, and especially the synthesised, plucked strings the appear a couple times.
2. Neptune – 8 / 10
The strings and piano portions in this song make it markedly different than the song before it. That being said, it still has a neat beat in the background, which is the common thread between the two. There are a couple parts (one being aroudn the 1'25" mark) where it sounds choppy, and the phrasing is dissonant. More mellow than Derty, it is melodic and pleasantly redundant.
3. Canon in D Remix – 9 / 10
As one might guess from the title, this is a remix of Pachelbel's Canon in D, complete with early '90s hip-hop beats, and a synthesised distorted guitar. Out of the more readily recognised classical (Baroque) pieces, this is one of my favourites. Though I respect Jenkee's rendition of it, there is part of me that just thinks it's wrong to redo it this manner. However, the talent behind his eclectic sound can't be denied.
4. Clutter – 10 / 10
This song starts out with some xylophone sounds, and some great plucked strings again. Adding in some cool bass parts thereafter makes it really rhythmic without detracting from the eerie ambience. The bending synth solo around the 2′ mark, and the piano entrance thereafter show Jenkee's versatility with regard to his keyboard orchestration.
5. Super-Fun – 8 / 10
Having some video game like qualities, and some very subtle parts, this track makes me think of a lot of the the great games that I used to play on the SNES (Super Famicom) back when I was a kid. It is definitely fun, but I did expect something more chaotic given the name of the song.
6. The Rocky Song (Remixed) – 5 / 10
Keyboard horns, a drum machine, and some iced jazz guitar parts make this a very interesting remix of the theme song to Rocky. However, it falls a bit flat compared to some of his other works. The Hammond organ portion could have been more pronounced.
7. Snap – 6 / 10
Starting out with some radio distortion, Snap goes right into the Jenkee's eclectic mix of various synthesised instrumentation. Though it is a neat mix, I think that there might be a few too many different sound snippets. Having so many small parts disrupts the flow of the track, and makes it sound a little more agitated than smooth.
8. The Sunfish Song – 9 / 10
This track has a lot of the club vibe that is common in many pop and easy hip-hop songs today. It also has a really great, up-tempo beat behind it, accented by the sounds of a cabasa. A killer track that I wish were a bit longer than the brief 2'45".
9. Loui – 10 / 10
Following a very common musical progression, and stylistically similar to Nelly's Just a Dream, this is another exceptional track. It also has a really cool nylon-stringed guitar solo about 1'30" into it. I would say that this is the highlight of the album for me, because it is easy to listen to, combines just the right amount of instruments, and is fresh throughout its duration.
10. Gold Spinners – 8 / 10
Like many of the other tracks, this one has many different elements, including a somewhat dissonant piano part and a synthesis Hammond organ solo (which is great, but would only sound better if it were actually a Hammond). I especially like the jazzy feel to the bridge in this song, and would consider it to be more "easy listening" than other songs on the album.
11. Remix to a Remix – 8 / 10
Starting with a multitude of different string sounds, and then adding some beats, this tune covers a gamut of styles in Jenkees' fashion. There are some Asian influences, and some very interesting flanging effects, but in a few spots it feels much more like experimentation than a polished track.
12. Almost Undamaged – 7 / 10
This song combines elements of old school hip-hop, and some effects that can be found in newer rap tracks. The beat that holds everything together, though, is a bit redundant and, in my opinion, has trouble carrying the song for the full 4'46" without getting a little dull.
13. 56K (Rap) – 8 / 10
With a sound familiar to many of us older folks (a screeching modular demodulator [modem]), this rap is pretty darn hysterical. Though the musical merit of this song is arguable, it is catchy and nostalgic.
14. Ain't No Thang (Rap) – 4 / 10
Unlike the previous rap, this one doesn't have humour to back it up. I do appreciate Jenkees branching out from the instrumentation, but I don't think it is a strong point for him (your mileage may vary).
There are some really great mixes on this particular album, but I didn't find it to be very consistent. The raps, whilst entertaining, were not up to the standard set by some of the other tracks on the disc. Overall, though, I gave it a 107 / 140 or about 76%, which equals 7.5 stars:










Cheers,
Zach
EDIT: You can also see my review of his second album (Disorganized Fun) by clicking here.