As a huge film and music buff, I was starting to have trouble finding space for my CDs, DVDs, and Blu-Rays. I had small or medium-sized media racks scattered throughout my house, but that wasn't really working all that well for me. I had considered having a woodworker craft a custom cabinet for me, but that proved to be a long-term goal given the exorbitant price associated with having anything custom-made (especially fine wooden furniture). In the interim, I found a large rack that seemed to fit my needs made by a Canadian company called Prepac. They specialise in furniture and media cabinets that are sturdy, but don't cost a small fortune.
In particular, I thought that the BMA-1520–more commonly referred to as the "Quad," since it is a quad-width rack–looked promising. The Quad holds an impressive 1520 CDs (where it gets the "1520" portion of the model number), 700+ DVDs, 1200 Blu-Rays, or any combination thereof. It comes in oak or black, and I decided to go with the black finish as it would match the other items in my living room: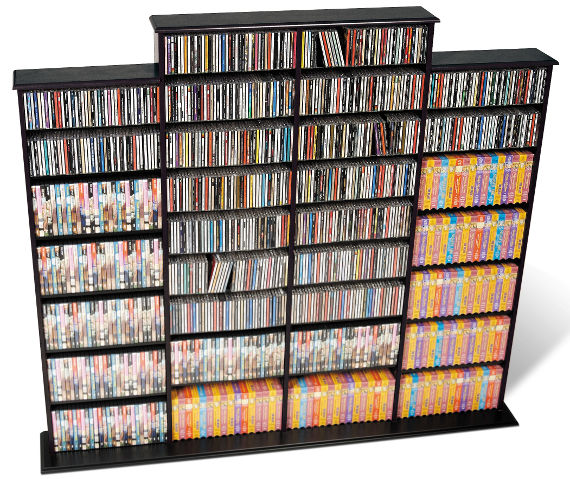 In terms of build quality, I'm pretty impressed with the Prepac Quad. Even though it is constructed from laminated composite woods, it is substantial. Also, it is weighted really well so that it doesn't feel like it is going to tip over. The rack comes with zip ties and hooks in order to secure it to the wall, but I didn't find them necessary on the carpeted flooring in my family room.
I also found assembling the unit to be fairly straightforward. The steps were clearly outlined and illustrated. However, the only part that I found a bit unnerving was the backing of the rack. It is nothing more than cardboard, but that's not my main concern. The primary issue is that the pieces of cardboard fit precisely against the dividers, and they are attached using small nails. This normally wouldn't be a big deal, but the first part that I attached was slightly shifted toward the other side of the unit. That meant that every subsequent piece of backing was shifted as well. Considering the divider beams are quite narrow in the first place, attaching the other backing pieces proved to be very difficult, and required some overlapping. After splitting a couple of the dividers ever-so-slightly, I finally did get the backing completely attached. Granted, my assembly qualm may be my own fault since I was trying to do it without having someone else there to assist (by holding the backing in place, et cetera).
Overall, the unit is sturdy, holds a huge amount of media, has virtually no wasted space, and fits nicely in the space that I had for it. I'm very pleased with the media rack given its price.
Cheers,
Zach