For the past few years, I've been using the 100% Whey Gold Standard protein powder from Optimum Nutrition. I find that it is a great supplement, especially after a workout. It really helps my muscles feel better after long runs, or some strength training. Granted I'm not anywhere near a bodybuilder or even in the weight-lifter category, but for me, it works very well.
I started using ON 100% Whey Gold Standard because it offers a good amount of protein (24g per serving) without a huge amount of fat along with it (only 1g, 0.5 of which saturates). I had found that many of the protein bars and such were high in protein, but also very high in saturated fat and calories. This powder only has 120 calories per serving, and even when mixing it with skim milk, that's only about 200 calories.
Ever since I started using this brand, I've always purchased the double rich chocolate flavour. Though I really like it, and it essentially just tastes like a big glass of chocolate milk, I was getting really tired of it. Last week, when I needed to buy another container of it, I went with a new flavour–French vanilla crème.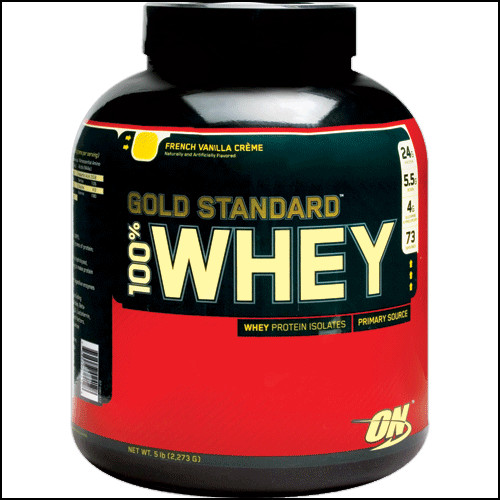 This flavour is a great alternative to the standard chocolate, but yet it is generic enough that mixing other things (like fruits) with the shake would still work nicely. I found that with the same serving size, though, it makes for a substantially thicker shake than did the double rich chocolate flavour. It also tends to foam a bit more than the chocolate. Some people have found that there is a slight bitterness to this flavour (as well as the cookies and cream), but I haven't experienced it. I would guess that the problem would be from not mixing the powder well enough. However, bitterness caused by lack of mixing could plague any flavour. All-and-all, this is a great deviation from the norm, and I am looking forward to trying some other flavours down the road as well.
Cheers,
Zach