Years ago, I purchased the self-titled release from Celldweller (Klayton), and was blown away at the new and innovative sound. That started my journey into the genre of dub-metal / techno-metal or whatever other name you would like to attribute to the style. Not all that long ago, I found out about Blue Stahli, behind which is Brett Autrey. He has performed on many different tracks with Klayton, and also tours with Celldweller. I have had some time to listen to the self-titled release, and here are my thoughts: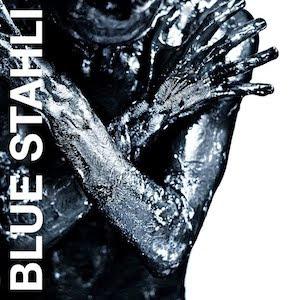 1. Ultranumb – 10 / 10
From the very beginning of the album (and this track), it is clear that Bret Autrey follows in the vein of Klayton (Celldweller), but puts his own twist on the sound. Intense beats, fantastic hard guitar crunches, and catchy vocals to boot make this an exceptionally awesome electronic rock song! Get ready for the rest of the album in "3… 2… 1…"
2. Scrape – 7 / 10
Unlike the previous track, Scrape starts more subtly and slowly, but does readily break into a face-paced chorus with Bret screaming about "parasite messiahs." Thereafter, the song doesn't really let up until the breakdown during the bridge.
3. Anti-You – 10 / 10
I really love the intro to this track, as it changes so much during the first 20 seconds that it is tough to anticipate where it will go next. The effects on the vocals during the verses are great, and really add to the electronic feel. In my opinion, the tempo and combination of hard rock / electronica are nearly perfect for the genre. Coupled with the astringently pugnacious lyrics, it would surely impress during a live performance.
4. Doubt – 6 / 10
Great beat to start, and wild, funky high-pitched synth throughout the pre-verse introduction make this song fun from the get-go. From there, though, the synth doesn't make another appearance until later in the track. The bridge also feels completely different, and somewhat dissonant compared to the rest of the track. Doubt doesn't seem to be as well thought-out as some of the other tracks on the album. That being said, it is still a fun track.
5. Corner – 7 / 10
By comparison to the other songs on this album, Corner is relatively tame and slower. I stress the "By comparison" part, as it is still filled with blood-pumping energy. The bridge features an almost Middle-Eastern flair to it, which is really neat, especially seeing as it's followed by a haunting vocal part.
6. Takedown – 9 / 10
This is an example of raw dub-metal with break-beats, and heavy guitar throughout. The female vocals scattered throughout, and the piercing lyrics make it a track that would be incredible during a live performance. It's also one of my favourite tracks to listen to when I'm starting to get worn down during a long run.
7. Kill Me Every Time – 8 / 10
More subdued than the previous song by a long shot, this one is more along the lines of trance. In a way, it makes me think a bit of some of the older stuff by Static-X, but more organised. Whereas Takedown is great for hardcore exercising, this track is more the type that I listen to when writing code, or doing something that requires significant focus; in that sense, it's great background music.
8. Throw Away – 9 / 10
Opening with a mellow guitar riff, and continuing that musical theme throughout the intro in a harder fashion, Throw Away takes the subdued nature of Kill Me Every Time but removes the trance elements from it. In my opinion, it is one of the more radio-friendly tracks on the album. It actually reminds me a bit of the artist BT, especially the track Satellite off his Movement in Still Life CD.
9. Metamorphosis – 8 / 10
This song is a bit more energetic than the last couple, but maintains a slower tempo than the beginning of the album. The bridge is excellent on this track, and feels very film-themed in that it sounds a bit epic. I could easily see an instrumental of it being featured in some action flick.
10. Give Me Everything You've Got – 6 / 10
Unlike the previous three tracks, Bret seems to want to end the album with the same intensity with which it began. This track actually even has the same feel to it as Ultranumb, and is aggressive for its duration. My only qualms with it are that the guitar almost feels choppy by comparison to some of the other riffs, and that it is short and ends abruptly.
Overall, I really enjoy this album and the adrenaline-inducing beats throughout it, even though it sometimes feels repetitious. It is a great CD, and one that I would recommend to anyone that likes the combination of electronica and hard rock or metal. I give it 80 / 100, or eight stars.