Again this week I was a bit on the busy side, and as such, only attended the second of the two Saturday wine tastings (the one at HV Bottle Shop). The primary focus of this week's tasting was a particular winemaker named M. Chapoutier, although there was one rosé from a different vineyard. Chapoutier (pronounced "Sha-pooh-tee-ay") favours a really clean style in which the grapes and other fruits speak for themselves. As such, there is not an emphasis on oak barrels, but rather the wines are aged in stainless steel or concrete.
Sorry for the poor quality photo this week; I guess I was unable to hold the phone steadily for some reason or another.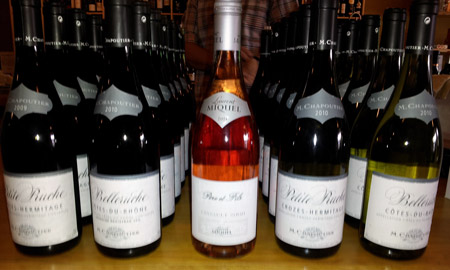 Wines are discussed in order from right to left
The first white was the 2010 'Belleruche' Blanc, which was comprised of mostly Granache Blanc grapes (found primarily in wines from the Rhône Valley). It had a very pale yellow colour, and left only a ring when swirled (no visible legs). It had a citrus aroma, primarily of lime, and backed with somewhat floral tones. The lime came through in the flavour as well, and along with it, very high acidity which made it crisp and clean. Though it had a light body, the acidity was far too high in my opinion.
The second white was not an entry-level offering like the former. It was 100% Marsanne. It had a slightly deeper yellow colour, but still quite faint, and displayed medium thickness legs with a somewhat low viscosity. As it was fermented in concrete, it also featured a crisp acidity. However, this wine had an aroma of honeysuckle, which went with the flavour of honey which was fairly prominent. It did have a thinner body, but a little more substantial than the first offering. However, this was a natural weight instead of the weight that is commonly found in wines aged in oak barrels. My favourite aspect of this wine was the honey flavour and smell, which were both very pleasing (especially this time of the year)–my favourite of the day.
Splitting the whites and the reds today was a 2011 rosé from L. Miquel. It was 80% Cinsault (also, "Cinsaut"), and 20% Syrah. Coming from the southeast of France, it had a medium peach colour, ticker legs, but a surprisingly low viscosity given the tear width. The aromas were of strawberries and raspberries, but the strawberry was the most prominent in the flavour profile. It featured the same crisp acidity that the former two wines had, but finished slightly sweet.
The first red was the more cost-effective 2010 'Belleruche' Rouge, which was 80% Granache and 20% Syrah. It had thin legs, and a low viscosity, but the more interesting part was that there was essentially no contrast between the centre and edge colours (which were both light scarlet). To be honest, the scent was musty, and almost grungy; somewhat like dirty laundry. Unfortunately, the feel was not desirable to me either–quite sharp and acidic. The taste was fairly bland, and lacked depth. Even for the modest price point, I found this wine to be highly disappointing.
The second red (and last wine of the tasting) was a 2009 'Petite Ruche' Rouge, which was 100% Syrah. Syrah is not as juicy as Granache, so it would be more likely that I would enjoy this one over the former. It had a slightly higher viscosity, (and was a deeper scarlet colour), but there was still not much contrast between the centre and edge. There were smells of clove and pepper, which both came through in the taste (although black cherries were also prominent). It was dryer than the previous wine, but still in the thin-to-medium range on weight.
French reds are not my first choices, which is probably due to the higher fruitiness when compared to many Italian or even Spanish wines. To me, French reds tend to be some of the closest in style to Californian reds. For that reason, it was a white that was my favourite today. I really enjoyed the honey aromas and flavours that were present in the Petite Ruche Blanc from M. Chapoutier.
Cheers,
Zach