Today we woke up extra early (before the sun had even peaked over the mountain crest) to depart Hallstatt for Maribor, Slovenia. The reason for getting up before the rooster's crow is that it's a special day in Maribor—the annual Harvest Festival of the oldest grape vine in the world. We started out for the ~3-hour drive, but met a problem right off the bat in that the road leaving Obertraun toward Graz was closed due to an avalanche. Yes, an avalanche… let's not forget that we're in the Austrian Alps at the end of autumn. I had to figure out an alternative route, but fortunately we still made it to Maribor in time. Actually, right as we arrived in the city centre, we pulled in behind the pre-festival wagon complete with an accordion player! We parked the car, and saw the event from a fairly nice perspective on the side line.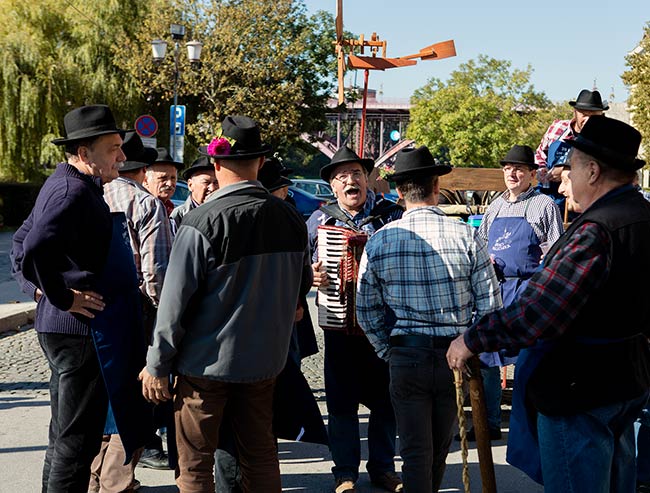 Maribor – Harvest Festival – Pre-show celebration
Being an absolute wine fanatic, and one with a strong interest in viticulture and oenology, I geeked out a little bit at the Harvest Festival because it is the oldest fruit-bearing grapevine on the planet! Not only that, but we just happened to be heading to southeastern Austria on the same day; a perfect coincidence. The festival started with members of the Slovenian Wine Council (formally known as the PSVVS [the Business Association for Viticulture and Wine Production]) speaking to the quality of the country's various wine regions. It was wonderful to see them take such pride in their indigenous grapes and wines!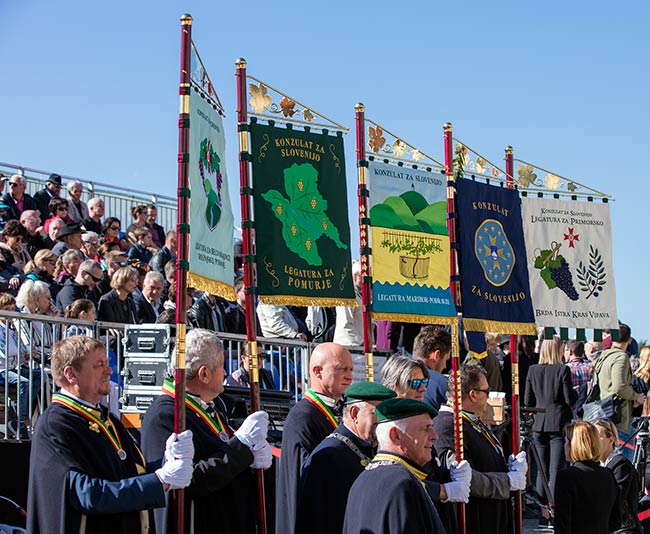 Maribor – Harvest Festival – Slovenian Wine Council
After the speakers (including diplomats and industry representatives from foreign nations) discussed the impact of Slovenian wines on the global marketplace, the festivities continued with live music, dancers wearing traditional garb, and importantly, the ceremonial first cutting of the grapes. We didn't stay too much after the first cutting as most of the activities were in Slovenian and likely lost in translation, but I'm glad that we were there to see it firsthand; it was very likely a once-in-a-lifetime experience.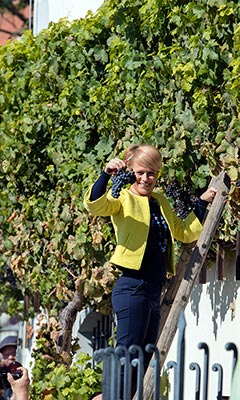 Maribor – Harvest Festival – first cutting of the grapes
After the Harvest Festival, we went to Mestni Park (meaning "City Park") so that we could climb to the top of Piramida Hill. It's a high ground and, though not anything like the mountains we just saw in Hallstatt, it has quite a steep grade. The top of Piramida is considered one of the best views of the city. It was a fun hike, and the views certainly were impressive, so I'm glad that we took the time to do it. However, since there was a minimum of €15 for the Vignette pass (for driving on Slovenian motorways), it seemed a bit expensive just for the few hours of the festival and the park. Nevertheless, it was a good experience.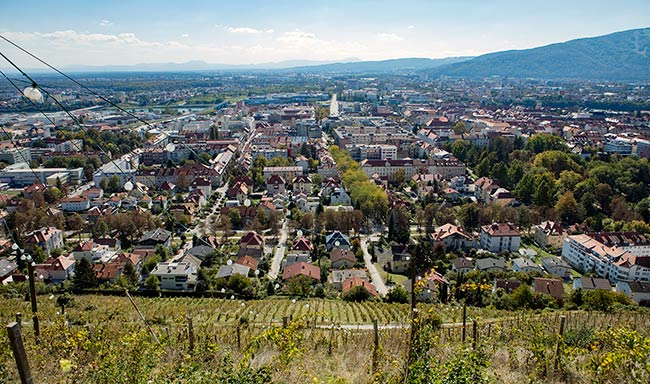 View of Maribor from atop Piramida at Mestni Park
As it was mid-afternoon, we then got back in the car and drove up to the Slovenian-Austrian border for our stay at Weingut Tement. Tement offers a few different accommodation options, and we actually stayed on the only part of their property that is technically in Slovenia (the Winzarei Ciringa chalets) instead of on the Austrian side of the border. We had a lovely reception where we were able to taste some of their wines, and then saw our gorgeous chalet.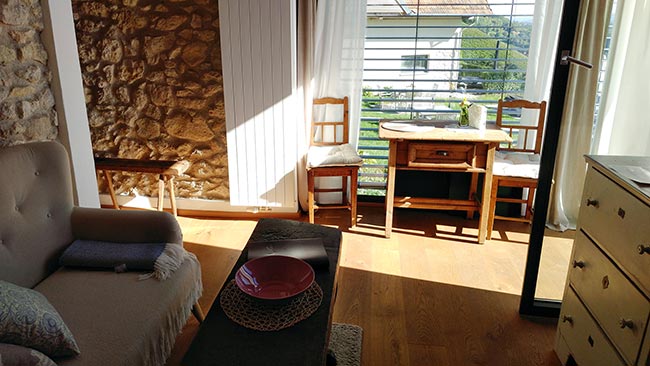 Südsteiermark – Weingut Tement's Chalet Ciringa – Living room
There was a sizeable bedroom, full kitchen, extremely luxurious bathroom, and a lovely little breakfast nook before walking out the door to the patio. From our patio, we could readily see some of Tement's vineyards, and even though they weren't their esteemed Grosse Lage STK Zieregg vineyards, they were beautiful nonetheless.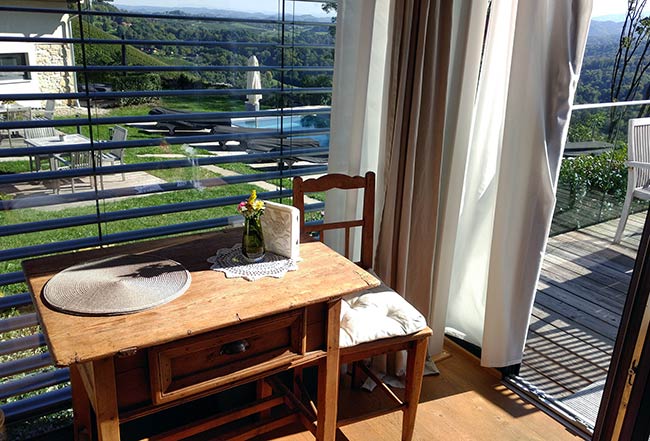 Südsteiermark – Weingut Tement's Chalet Ciringa – our breakfast nook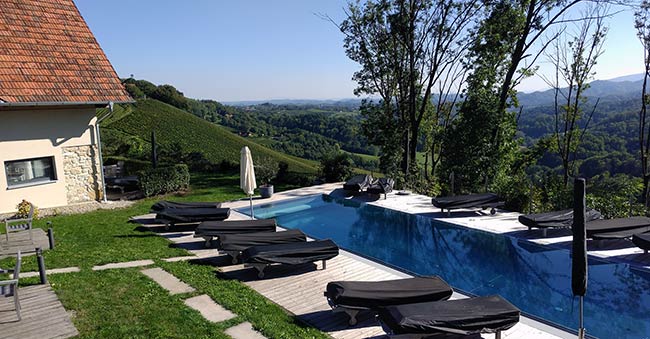 Südsteiermark – Weingut Tement's Chalet Ciringa – fantastic vineyard view from the patio
We spent a little time just walking the Zieregg Vineyard (adjacent to the winery itself), and then headed to Ehrenhausen for dinner at Die Weinbank, which is directly affiliated with Weingut Tement. Unfortunately, when we arrived, it was closed despite the confirmation of our reservations. I looked on my mobile and found that there was one other restaurant named Kirchenwirt an der Weinstraße a mere block away from our car park, so we went there instead. We were expecting pub food, but boy were we wrong! It was elevated and outstanding, and our waiter was extremely accommodating by reading the entire menu to us in English. Deb and I shared some pumpkin soup, a salad with pumpkin, and mushroom tartare. She then ordered pork cutlets with trumpet mushrooms, and I went with pesto linguine with vegetables and, yup, more pumpkin. We ordered a couple pieces of house-made apple strudel to take away with us for later.
Back at our chalet, we enjoyed our wines of the evening. We each had the current vintage (2016) of Weingut Tement Zieregg Morillon (which is the local name for Chardonnay). It was a lovely mix of styles (not heavily oaky like many California Chards, but not as sharply crisp as Chablis either) and exhibited a character all of their own. The apple strudel was interesting, but I personally found it to be a bit like apple sauce inside instead of a strudel filling. It might have been better at the restaurant where it would be served warm and with vanilla ice cream, but neither of us like to have sweets before wine.