Today I woke up and went downstairs for breakfast, which to me just meant some coffee as I don't generally eat until around dinnertime. Larry (the owner of Haus Hepi) made me a French Press, which was a nice alternative to the standard espressos that I've had thus far on this trip. I just sat in the breakfast nook looking outside at the beautiful mountain landscape. I think that I could have spent most of the day doing just that, and been perfectly satisfied. However, we have too much fun planned for the day to just sit around! 🙂
After breakfast, we left for Dachstein Krippenstein, which is basically up the mountain from Obertraun, and has a bunch of fun activities. We purchased the all-encompassing ticket so that we didn't have to pay for individual attractions or funicular passes. We started by going to the Mammoth Cave, which doesn't have anything to do with the prehistoric gigantic animal, but rather simply refers to the size of the cave system there. After that, Deb was patient enough to let me set up for tons of beautiful photos of the mountain and surrounding areas. I'm really hopeful that I'll be able to perfect them and have some lovely memories. I'm no fool, though, and realise that it's absolutely impossible to capture the sheer grandeur and magnificence of natural wonders like these.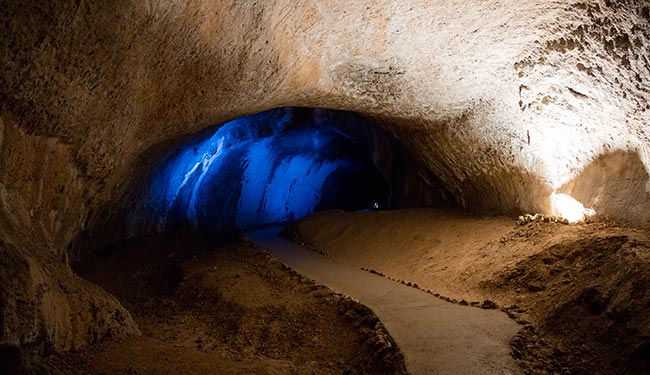 Hallstatt / Obertraun – Dachstein Krippenstein – illuminated pathway in the Mammoth Cave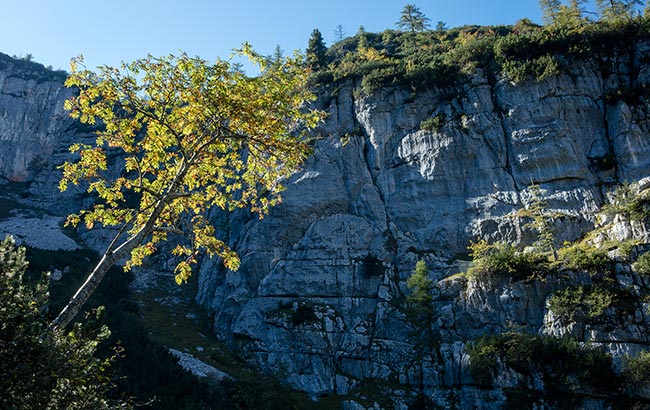 Hallstatt / Obertraun – Dachstein Krippenstein – majestic mountain face near Mammoth Cave
After the Mammoth Cave tour, we ascended to the mountain summit (because we just weren't up high enough beforehand). We walked along a beautiful path that lead us to the 5 Fingers lookout. We didn't take the path all the way due to time constraints, but instead just sat and looked over Lake Hallstatt below. At one point, we even got to see a lady take off parasailing from the summit! It looked like a lot of fun, but I know my limitations and my fear of open heights would have left me permanently planted to the mountainside. 😛 What we did get to experience, though, were some breathtaking views of both Hallstatt to the northwest and another mountain to the south.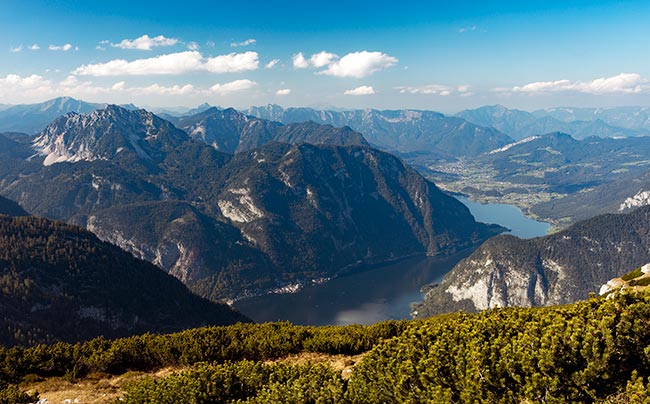 Hallstatt / Obertraun – Dachstein Krippenstein – summit facing northwest overlooking Hallstatt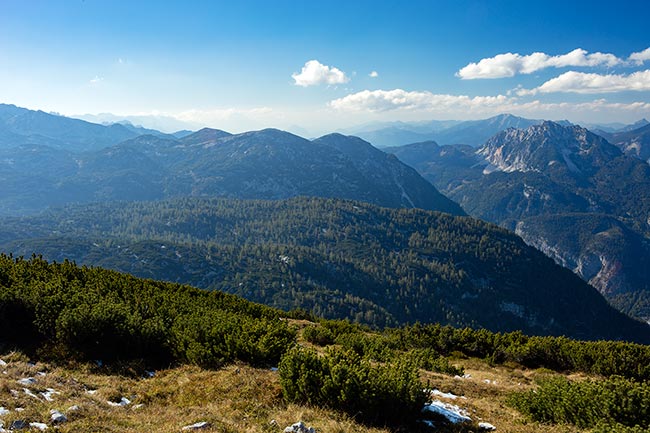 Hallstatt / Obertraun – Dachstein Krippenstein – summit facing south
After our wonderful day in the mountains taking in some truly incredible vantages, we came back down the mountain and drove north of Hallstatt to to the town of Bad Ischl. Our main reason for going was that Larry (the owner of Haus Hepi) said that it was worth the drive to have some of the best pastries in the area. Unfortunately, since they had the street closed off, we didn't make it in before their closing time, so we may have to try again tomorrow. We made the 25km drive back to Obertraun and went to the Koppenrast restaurant for dinner (again at Larry's recommendation). We started with this dish of roasted pumpkin, potato gnocchi and tomatoes. I ended up liking it so much that I ordered it as my main.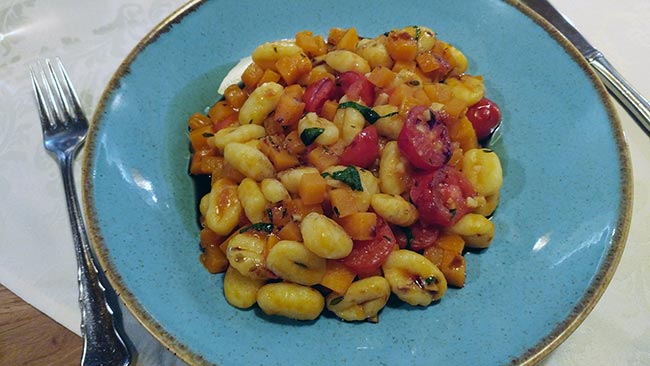 Hallstatt / Obertraun – Gasthaus Koppenrast – Gnocchi with pumpkin and tomatoes
Debbie, though hesitant, went with my suggestion of the venison with sugar snap pees, puréed pumpkin, and pickled plums. She seemed to enjoy it, with the exception of the purée. The reason that so many dishes have had pumpkin and / or mushrooms is that those ingredients are both in season during autumn, and I've noticed that many Austrian restaurants like to source local produce that's available at the time. I certainly didn't mind that Deb disliked the purée, and being a good friend, I helped her out with it. 😛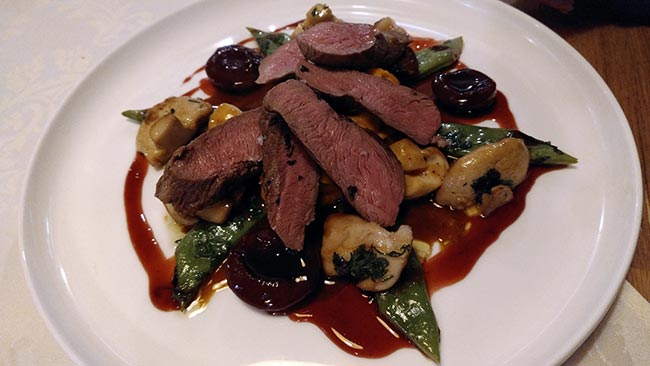 Hallstatt / Obertraun – Gasthaus Koppenrast – venison with pumpkin purée
We decided to share a dessert that seemed a bit unusual. We ordered the semolina balls (hard to describe, but shaped like a doughnut hole and with the texture of a buckwheat muffin) with vanilla ice cream and a coulis of elderberry. The texture was really pleasing, I thought, and the combination of the ice cream and fresh berries made it both extremely refreshing and decadent!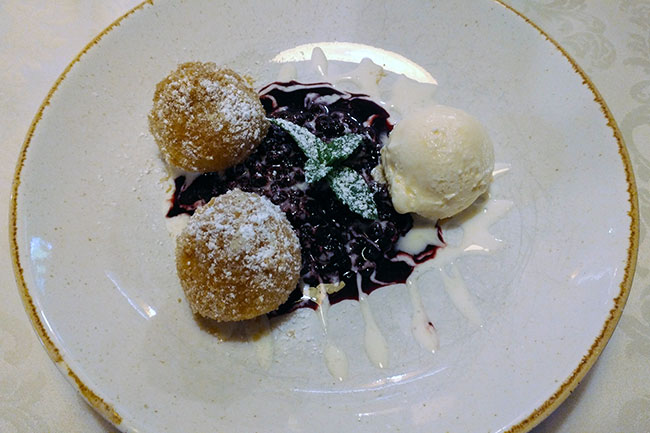 Hallstatt / Obertraun – Gasthaus Koppenrast – dessert of semolina balls
Like many of our evenings on this trip, we planned on very little besides wine and relaxation after dinner. I had the 2013 Schloss Gobelsburg Pinot Noir (a back vintage of my wine from the night before), and Deb went with the 2017 Schloss Gobelsburg Lamm (single vineyard) Grüner Veltliner. She said that she liked it, but not quite as much as the Heiligenstein Riesling from last night (which was her favourite of the trip so far). Another very nice day in Austria, and undoubtedly some of the most awe-inspiring surroundings I've experienced!