As I said, we unfortunately only had one full day in the Wachau region, and this morning we got up to depart for Hallstatt and Obertraun. The drive was about 3 hours or so, but there were some periods of road construction so it took a little longer than anticipated. We stopped outside of Hallstatt at a café for some coffee and tea. They had this amazing looking fruit tart that was rolled up like a taco. We didn't get one, but it surely looked delicious and had some more interesting fruits like blackberries and red currants in it.
We arrived at Haus Hepi, which isn't in Hallstatt, but rather in the neighbouring town of Obertraun to the east of Lake Hallstatt. I originally thought that we would be disappointed by not being in the centre of Hallstatt, but it turned out that Obertraun was a much nicer alternative. It was outside of the hustle and bustle of the touristy area, but close enough that it was only a quick drive (just slightly too far to be a comfortable walk).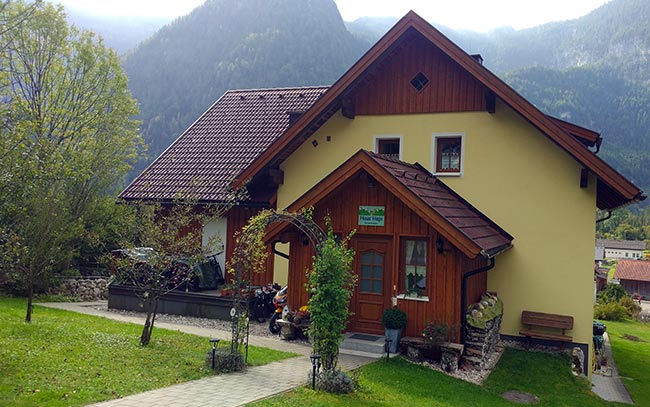 Hallstatt / Obertraun – Haus Hepi bed and breakfast
Our room was on the second floor (which was the top floor of the house), and had a great country cottage feel about it. The room was slightly small, but provided more than enough space for the two of us to move around comfortably (even with our luggage). There was even a desk, a wardrobe, and a television in the room, which all added to the comfort.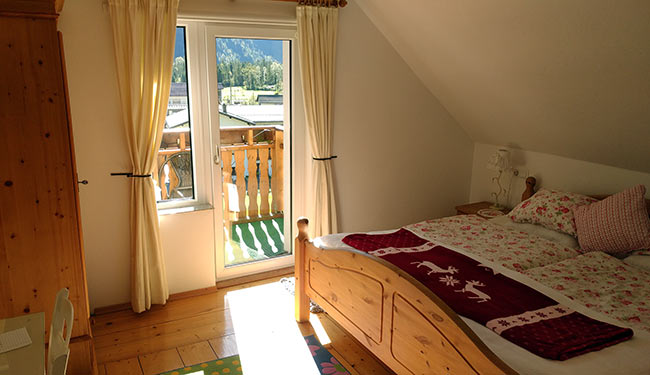 Hallstatt / Obertraun – Haus Hepi – guest room on top floor
Another reason that I thought we might be disappointed with staying in Obertraun instead of in the centre of Hallstatt was that we wouldn't have a direct view of the lake. Again, though, I was pleasantly surprised and realised that I don't mind at all that it's not on the lake. The view of the mountains to the south ended up being nicer than I could have possibly imagined!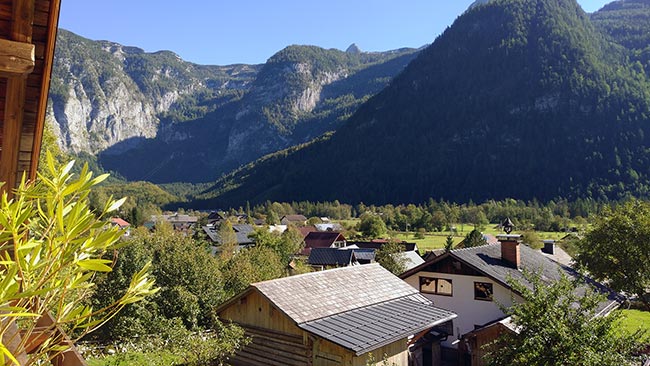 Hallstatt / Obertraun – Haus Hepi – stunning view from our balcony
Larry (the owner of the house) mentioned that "cash is king" here, so we stopped by the local bank to get some more Euros from the ATM. We also went to the little supermarket to get a few things like beverages and snacks for the room. We then headed out to Lake Gosausee just to take some photos and such before nightfall. I spent some time setting up my camera for HDR photo sets, and hopefully one day I'll have the time to process them.
Instead of eating at the restaurant right there on Lake Gosausee (which we were told had great views, but mediocre food), we drove over to Rathlucken Hütte. The road to the restaurant was incredibly steep and winding. Several times along the way I thought that we were going to be hit by oncoming cars. The food there was essentially pub food, but it was all nicely prepared. Our waiter, who I would imagine was the owner, was kind enough to translate every single dish for us. Seeing as the menu was only available in German, we were certainly grateful for his generosity! Deb had the wiener schnitzel with roasted potatoes, and I had essentially the same thing but instead of meat, mine was pumpkin. It came with a tartar sauce that ended up being the first tartar that I've ever enjoyed. Overall, a nice meal that was something different than either of us is used to (we very seldom eat at pub-style restaurants when home).
Back in our lovely cottage room at Haus Hepi, we enjoyed some wines for the evening and watched this pop music channel on the TV (it was one of the only channels in English). Deb had her 2017 Schloss Gobelsburg Riesling Ried Heiligenstein (single vineyard), which she said has been her favourite of the trip thus far. I had my 2015 Schloss Gobelsburg Pinot Noir, and it had lovely fruit notes with a great minimalistic mouthfeel. I can't wait to try the 2013 vintage of the same wine tomorrow night! One of my main reasons for wanting to visit Schloss Gobelsburg and try their Pinot Noir was a comment from Karen MacNeil in her venerable tome The Wine Bible (2015) where she claimed:
"before I first tasted this wine, I would have said that Austrian and German pinot noir had a long way to go before they'd be put in the same company with Burgundy. This wine opened my eyes. It's as delicate, layered, precise, and filigreed as pinot noir can be, with long ribbons of spiciness and earthiness and a core of rich raspberry/cranberry fruit. The silky/creamy texture is sublime (for Burgundy lovers, it will seem like a page out of the Chambolle-Musigny playbook)." (p. 608)
MacNeil, K. (2015). The Wine Bible (2nd ed.). New York, NY: Workman Publishing Co., Inc.