Today we got up for what is, sadly, our only full day in the Wachau valley. It was a relatively leisurely morning around the flat, but then we were off to the neighbouring town of Dürnstein for a tour of the town's church (Stift Dürnstein). We parked the car in a public car park next to town and walked to the church. As we were going through town, we came across a team of people filming for an advertisement for a new bag. It happened to be a sling camera bag, and it was definitely a neat idea for those photographers who don't want to carry a lot of lenses (AKA, not the obsessive-compulsive "must have everything with me" type like me). Anyway, we arrived in the courtyard of the church and were greeted by our tour guide. He took us through the whole church, explaining the immense amount of symbolism and the many theological references along the way. Some of the amazing themes were the numbers 3, 4, and 7 throughout (such as representations of the four seasons, the four elements, and the seven signs of revelation). As the church was renovated based on monies that a priest earned from selling wine and cereals, those themes were also manifested throughout.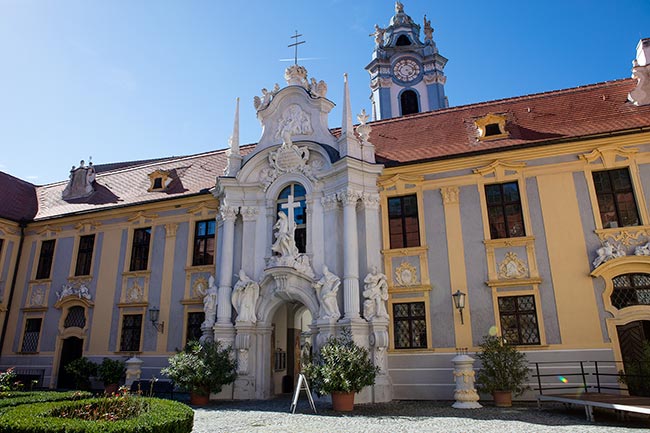 Stift Dürnstein's inner courtyard
One other interesting element of the church was the innovative architectural components of the main altar. Our guide explained to us that the main piece in the centre of the altar was not only three-dimensional, but that it actually could be rotated within its setting. I found that to be a truly remarkable accomplishment given the age of the church and materials used in the altar.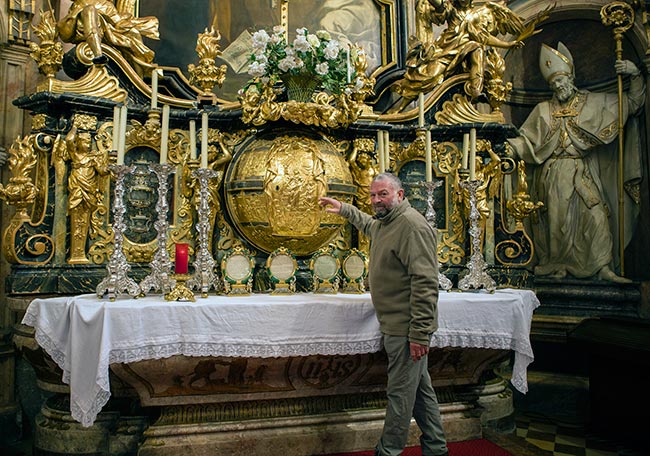 Stift Dürnstein – Our guide at the altar with a 3D sphere
The terrace of the church was extremely beautiful and overlooked the Danube. We spent some time out there just soaking up some of the warm sunlight, but then headed upstairs to the organ room. It was much smaller than most church organs, but very lovely to see up close partly due to the age of it. The cabinet of the organ was quite rustic and that rusticity further contributed to its sense of time and place (and thus, its beauty). Before we finished our tour, our guide mentioned that he had to go take care of his final harvest today. We chatted about his vineyards and winemaking, and he even invited us to come with him to pick! Unfortunately we didn't have time in our schedule, but it would have been an absolutely outstanding experience, I'm sure! The gesture alone was enough.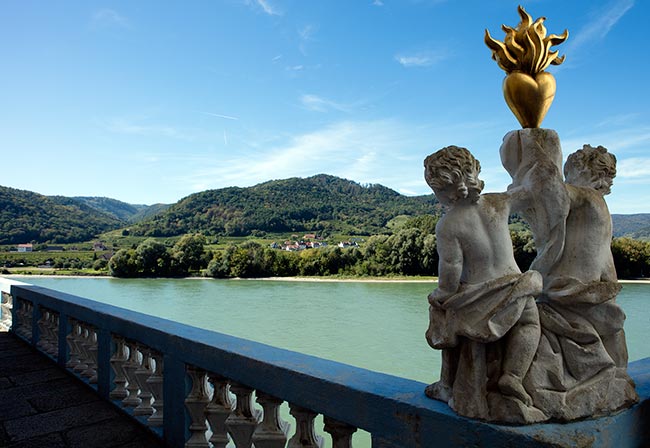 Stift Dürnstein's balcony overlooking the Danube
After our tour, we just looked around the town, and stopped in for a coffee and tea at Bäckerei Schmidl. There were some fantastic looking breads and pastries there, so I asked how late they were open. Since they were open until 18:00, I thought that we might go back after our next activity to pick up some snacks for the evening. Further down the main road, we found one of those typical souvenir shops, but this one had something funny that I wanted to purchase. It was a sign that had a silhouette of a kangaroo on it, and it said "No kangaroos in Austria". I thought it was too funny and clever to leave there without it. 🙂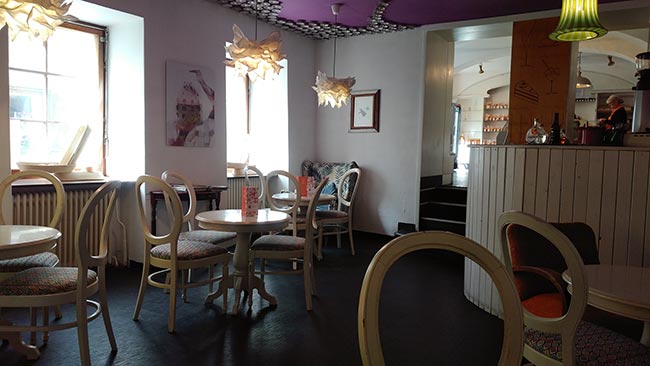 Dürnstein – Bäckerei Schmidl café
We then made our way to Domäne Wachau for our tour, and our guide introduced herself as Lena. She is primarily in charge of exports but her expertise in so many facets of the vineyards and winery made her an impeccable tour guide! She showed us some of the newer experiments of the winery (such as the orange wines, and using granite and marble for fermentation / holding tanks). Her focus on the history of the estate was greatly appreciated given the many centuries of production there.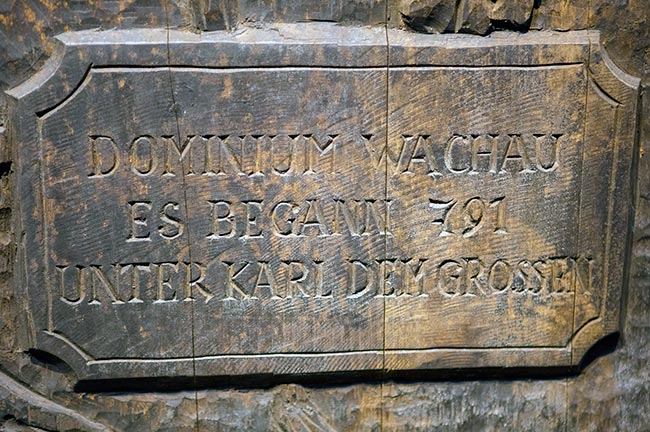 Domäne Wachau – Barrel from 791!
She even took notice to the wines that I talked about the most, and brought those in as additional samples for our tasting. As she was originally from Germany, we talked about how great German Spätburgunder (Pinot Noir) can be. I knew that I loved Domäne Wachau's white wine offerings (especially the single-vineyard Kellerberg Riesling), but I found out that their Pinot Noir was absolutely magnificent! It was ethereal and elegant like some of the village-level wines from Chambolle-Musigny yet still had its own distinct (slightly underripe and tangy) character that gave it a true sense of place. We bought several bottles for the remainder of our trip (including some back-vintage 1995 Kellerberg Rieslings as special bottles), and I even purchased two bottles of Pinot Noir to take home with me (since it isn't available in the United States). Hey, Lena is responsible for exports though, so maybe I can convince her to start distributing it to the US. 🙂 What an absolutely amazing winery experience; possibly one of the best I've had in years!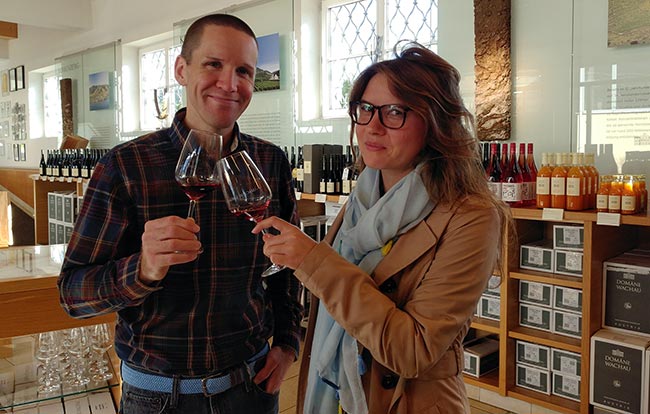 Domäne Wachau – Zach & Lena enjoying the phenomenal Pinot Noir
At the very end of our tour, Lena told us that the Wachau valley and surrounding areas are known for four things: 1) Wine; 2) Apricots; 3) Granite; 4) Marble. So, it makes sense that they are experimenting with granite and marble as vessels for fermentation and ageing. After our tour, we just walked the area's vineyards and through neighbouring town of Dürnstein taking photos. Deb was kind enough and patient enough to let me just take my time getting some nice shots.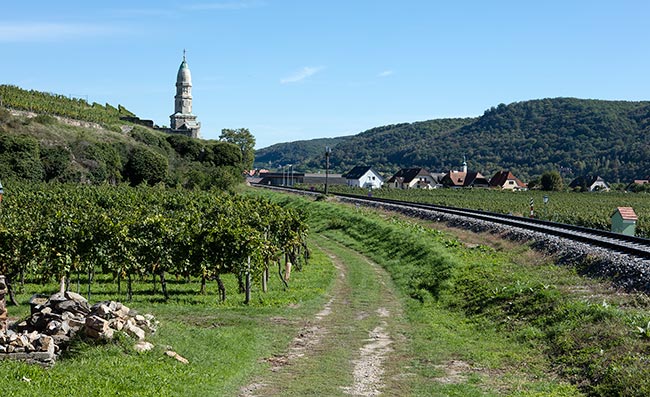 Domäne Wachau – Beautiful eastern vineyards
Before leaving town, we stopped back into the bakery for some snacks. We ended up with three rolls and these beautifully simple sugar cookies. We then left for dinner at Zum Kaiser von Österrich. The restaurant was very small (only about 6 or so tables), but came very highly rated. Boy was it ever worthy of those high praises! The owners are a husband and wife team, with him in the kitchen and her serving as the hostess and waitress.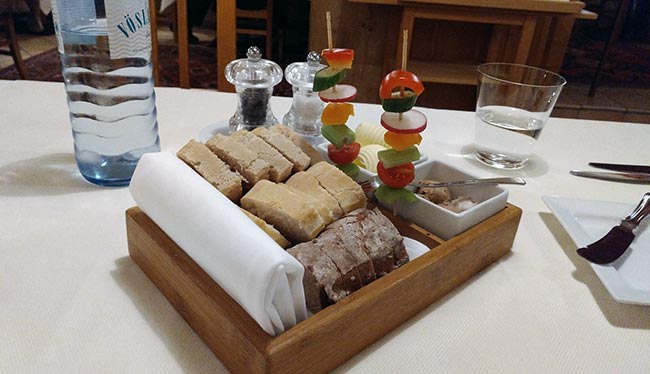 The Wachau – Kaiser von Österreich restaurant – Bread starter
Our meal started with a tray of complimentary breads, meats, and some extremely fresh garden vegetables. One of the breads had olives baked into it, and they provided both some saltiness but also some wonderful fruity aromas and tastes as well. We then received a small plate of beetroot, horseradish, and a grilled fish bite as compliments of the chef. Two dishes that we didn't anticipate and they were an excellent start to the meal. Then came our appetiser of sautéed Porcini mushrooms and roasted potatoes. As with the other dishes that we had, they were perfectly prepared. Nothing, however, could brace me for the absolutely astonishing mains that we had. We each ordered the roasted chicken, which came on a bed of noodles, Porcini mushrooms and broccoli (all local and fresh)! Though we had nice desserts (a cheese tart with walnut ice cream and elderberry sauce as well as a pear omelette with rum foam), I can barely remember them because I was still blown away by the mains. I can't commend the food highly enough because it may well be one of the best meals that I've ever had!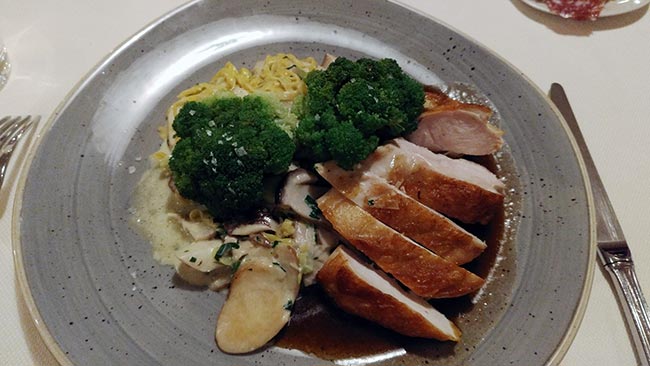 The Wachau – Kaiser von Österreich restaurant – chicken with noodles, mushrooms, and broccoli
After such a satisfying meal, would it even be possible to have wines that could compare? Well, back in our room we indulged in two wines from Schloss Gobelsburg: the current vintages of their Merlot and Renner Grüner Veltliner. Both were very nice… but yes, I'm still thinking about that amazing dining experience! 🙂