Though it seems like we just arrived in Vienna, it's already time for us to move on to our next destination. After checking out of our flat, though, we made our way south to see one last Viennese landmark before departing the city—the Central Cemetery. Why oh why would we want to walk around a cemetery when on holiday? Well besides the tranquil nature of these eternal resting grounds, Vienna's Central Cemetery has the graves of many Classical-area composers, including Beethoven and one of my personal favourites: Johann Strauss.
| | |
| --- | --- |
| Vienna – Central Cemetery – Beethoven's grave | Vienna – Central Cemetery – Johann Strauss's grave |
After looking at the famous graves and strolling around the beautiful grounds, we left Vienna for our next stop in The Wachau. We arrived at Winzerhof Petz (which is located in between the towns of Krems and Dürnstein), checked in, quickly dropped off our luggage, and immediately left for our winery tour at Schloss Gobelsburg.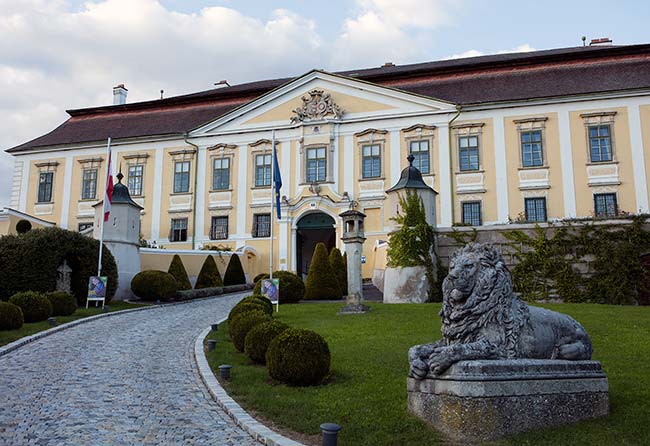 Kamptal DAC – Schloss Gobelsburg – Entrance
To call it a tour is a bit disingenuous; it was a wine experience! Upon our arrival, we were greeted by an older gentleman wearing a very nice sport coat. He introduced himself as Peter and asked for our names. He then took us through the standard rooms (sorting / pressing, fermentation, ageing cellars, et cetera). What made it an experience, though, was Peter's outstanding teachings! He taught us about the soil types in the area (even bringing out examples of the stones) , events throughout history that shaped the wine culture of the land, and so many relevant stories from throughout his life.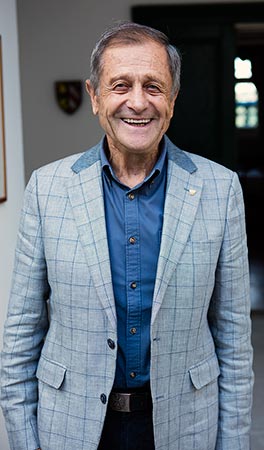 Kamptal DAC – Schloss Gobelsburg – Our amazing guide, Peter
During our tasting (which was essentially every wine they make), we heard about factors influencing the subtle distinctions in terroir of each wine, and more about the history of the truly remarkable estate. For instance, one fact that I didn't know is that there is a difference in the barrels used in Bordeaux (called barriques and having a capacity of 225L) and those used in Burgundy (called pièces and having a capacity of 228L). Though the capacities differ slightly, the subtly different shape is the fascinating part! The peace has a "hump" in the middle stave section between the hoops. That's just one example of the many things that Peter taught me during our extremely short 3 hours together. It was an amazing experience that I'll never forget! At the very end of this wonderfully educational winery visit, I realised that Peter is the father of Eva Moosbrugger (the proprietor of the estate with her husband, Michael).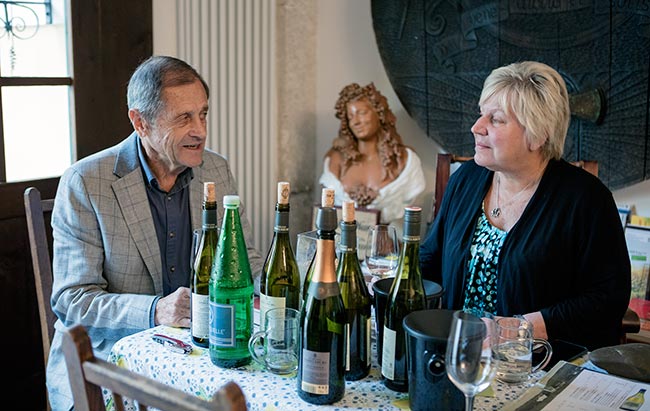 Kamptal DAC – Schloss Gobelsburg – Peter & Deb at our wine tasting
After Schloss Gobelsburg, we drove to a small town closer to Dürnstein called Unterloiben for our dinner reservations at Wachauerstube Loiben. It was set up in a traditional-style house, and felt very much like being in someone's home for a meal. We started with an off-the-menu special of grilled mushrooms with a nice salad of greens. For our mains, I had remembered seeing photos of some of the various dishes offered there, and thought that the Paprika Huhn (AKA "Chicken Paprikash") looked amazing. Deb and I both ordered it, and boy was it ever good! The thing that was the best about all the food was that it tasted so fresh and clean—a testament to the "farm to table" style of dining. We finished with a dessert of an apple tart which came with this beautiful mint pesto, cream, and freshly made vanilla ice cream. Overall a great meal!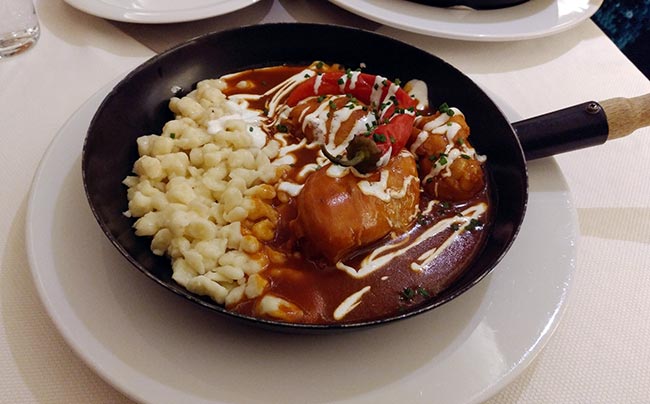 The Wachau – Wachauerstube Loiben's Paprika Huhn
After dinner, we came back to the room and indulged in the lovely wines that we had purchased the previous day from Weingut Heinrich. I enjoyed my Pinot Noir, and Deb's Welschriesling was quite nice as well (once you got past the heavily reductive nose). 🙂