We woke up this morning, and the weather looked to be pretty nice. It was sunny in the beginning of the day, but then the clouds came rolling in. It was also extremely windy, which made it feel significantly colder than it actually was. We started our day by heading for Café Sacher. It was a completely different experience than yesterday at Café Demel. For starters, we were promptly seated for our reservations, and our waitress came to explain the menu offerings and take our orders. I started with a Turkish coffee and the crepes with apricots. Deb went for the Original Sacher Torte and a beautiful Assam tea. Everything was wonderful, but I was looking for something a little less "breakfasty" and a little more "indulgent". So, instead of finishing my crepes, I ordered this spiced ring cake that was dipped in white chocolate. Of course, you can't have something sweet without coffee, right? So, I ordered two more double espressos (yes, yes, I know that seems like an excessive amount of caffeine and it probably is), and Deb got an additional tea. Overall, it was a great start to the morning.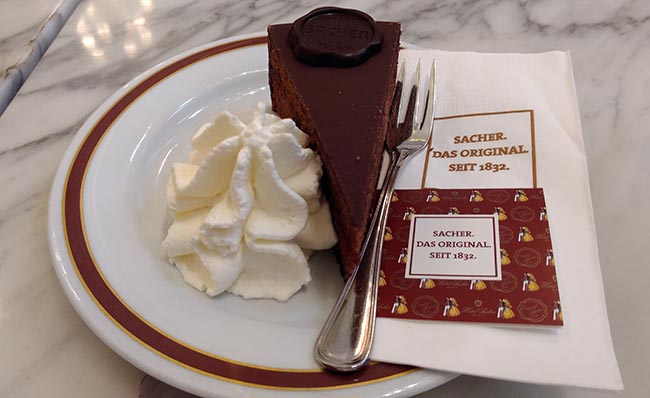 Vienna – Café Sacher – Original Sacher Torte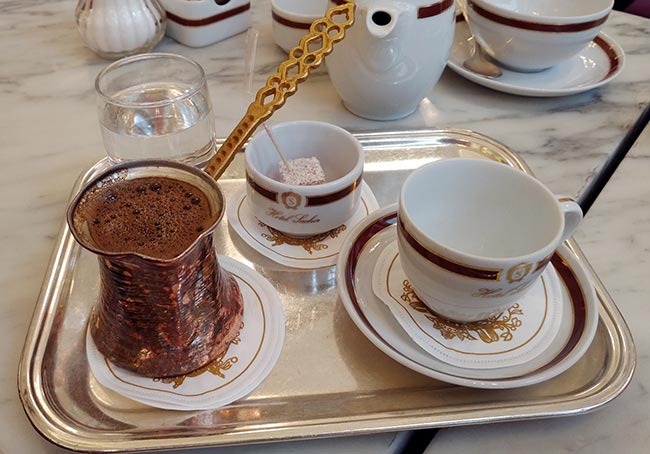 Vienna – Café Sacher – Turkish coffee
Vienna – Café Sacher – Crêpes with apricots
After the café, we took the train back to the flat to pick up the car. We drove about an hour southeast of Vienna to Burgenland for a visit to Weingut Heinrich. When we arrived, we were greeted by a lovely young lady named Katti—an intern at the winery who gave us our tour. We were able to see the sorting / pressing room, the fermentation tanks, and many of the ageing cellars. Katti really made the experience engaging for us by letting us peak inside some of the barrels in which the wines were fermenting.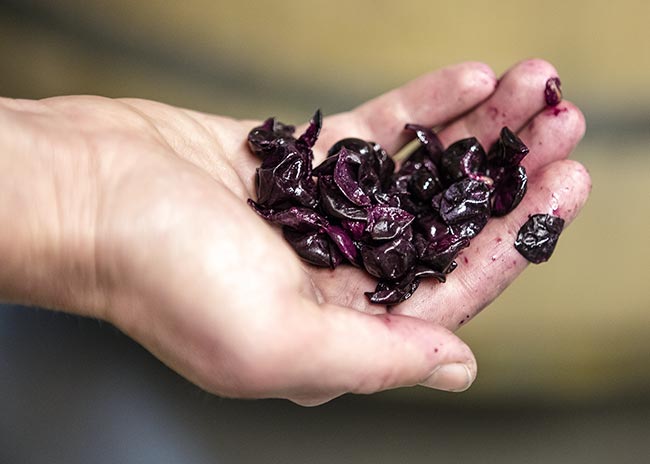 Burgenland – Weingut Heinrich – Barrel with grape must cap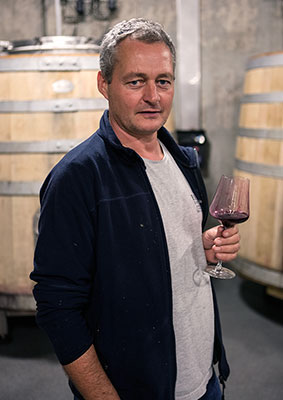 Burgenland – Weingut Heinrich – Barrel tasting with Heinrich himself!
At the end of the tour, we were able to sample many of Heinrich's lovely wines. The standouts for us were the Pinot Noir, which was beautifully lean and had a great sense of place that set it apart from, say, a German Spätburgunder, and the Freyheit Welschriesling, which was bottled without fining or filtration (leaving it cloudy in the glass). We purchased a bottle of each of them to take with us. Before leaving, we found out that Katti's family name is Moser, and that her parents are the proprietors of Weingut Sepp Moser in the Wachau (where we'll be heading tomorrow). Definitely a neat connection, and maybe we can even spend some time at her family's winery if time allows!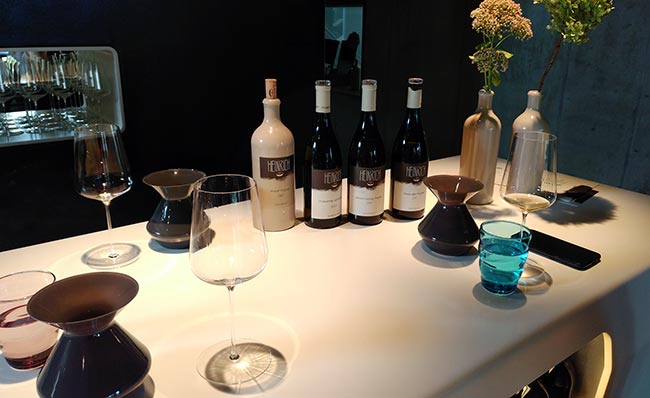 Burgenland – Weingut Heinrich – Tasting table
Since the weather was less than ideal, we decided to forego the nature reserves around Lake Neusiedl and just head back toward Vienna early. I thought that instead of having a really late night, we could go to the Danube Tower before dinner instead of waiting until afterwards. So, we took the trains to the Kaisermühlen VIC Station, and walked about 1.2 km to the Danube Tower. It was extremely windy, so being outside on the observation deck proved to be unpleasant and rather difficult. We did spend some time just inside the tower just taking in the beauty of Vienna from above, though.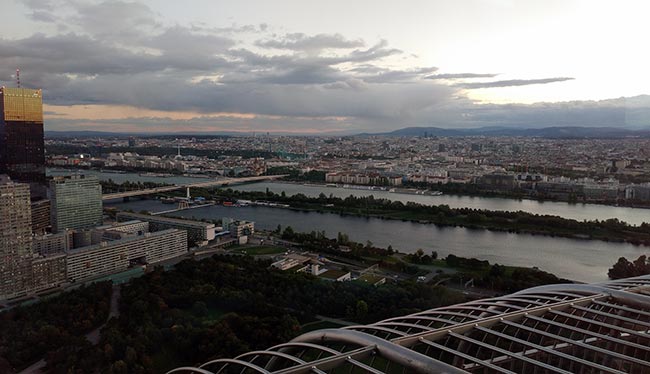 Vienna – View from the Danube Tower
After the Danube Tower, we left for our dinner reservations at KitchA. Yes, we indeed had Asian whilst in Vienna, and it was darn good! We opted for entirely vegetarian options including the Agedashi Tofu, wok vegetables and rice, and even some veggie sushi (no fish, obviously). Everything that we had was really tasty, but I think that my favourite dish was the wok-fried veggies.
After dinner, we made our way back to the flat for some wine before bed. I went with 2013 Prieler Blaufränkisch (Ried Marienthal [meaning from the single vineyard called "Marienthal"]), and Deb had her Wein Gemischter Satz. These were our more expensive bottles that we purchased at Vinothek St. Stephan, and they were disappointing. So disappointing in fact, that I went down to the corner bar and bought a couple bottles for us to enjoy instead. They were Welschrieslings from Weingut Überacker. Great? No, but far better than our other options.