We woke up a bit early to check out of Weingut Tement, but before doing so had a tour of the facility with Monika Tement (the wife of Armin Tement, who, with his brother Stefan, is the current winemaker and proprietor of the estate). It was rainy and damp outside, so we couldn't go through the vineyards. Thankfully I was able to get some photos of the beautiful Zieregg vineyard yesterday when the weather was nicer.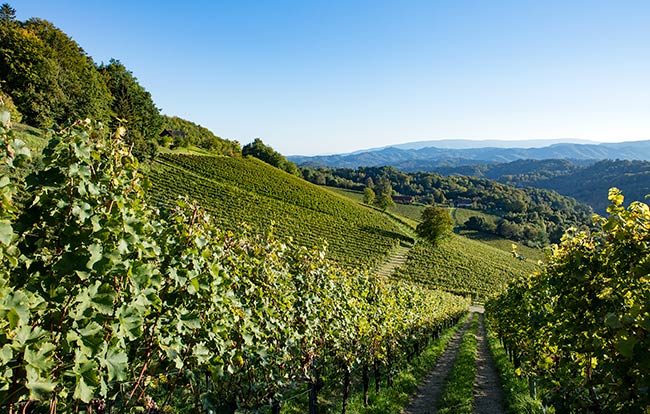 Südsteiermark – The stunning panorama of Ried Zieregg at Weingut Tement
Even though we weren't able to go through the vineyards together due to the rains, Monika improvised and shared so much incredible information about their land and winemaking practices. In their cellar, there is a portion where there isn't a concrete wall, and one can see the open soil that comprises the Zeiregg STK Grand Cru vineyard site (so… very… cool!).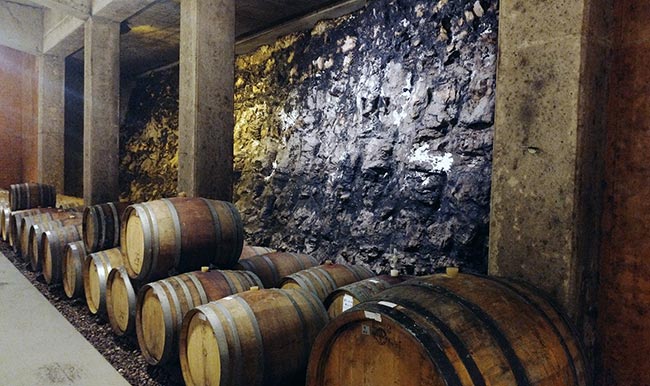 Südsteiermark – inside Weingut Tement's cellar with the wall exposing the soils of Ried Zieregg
Before leaving the cellar, we were fortunate enough to see brothers Armin and Stefan Tement checking the status of fermentation of many of the wines that were in-barrel. They were testing the sugar content, alcohol content, and various other components of the wine using instruments designed specifically for the tasks. Monika also told us about the story of the Cellar Cat that, according to lore, will choose the best barrel of wine and sit atop it. In this case, it chose wisely (or, truthfully, whomever placed this cat statue on the barrel chose wisely) by selecting a lovely barrel of Zieregg Grosse Lage STK Sauvignon Blanc.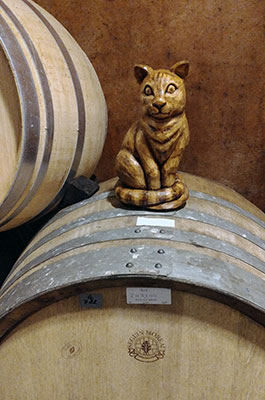 Südsteiermark – the cellar cat chooses his barrel of Ried Zieregg Sauvignon Blanc at Weingut Tement
We got in the car and headed out for what was the longest drive of the trip. Going from Südstiermark back to Budapest was supposed to be about 3.5 hours, but yet again, the GPS that we rented with the car was TERRIBLE. That problem, coupled with traffic, road construction, poor road conditions, and nearly running out of fuel resulted in the trip taking nearly 5.5 hours. We missed the afternoon wine and piano reception at the Aria Hotel, but at least didn't miss out on the massage that I had scheduled. We had to cut it a little short as to not interfere with our dinner plans, but we still got to enjoy it.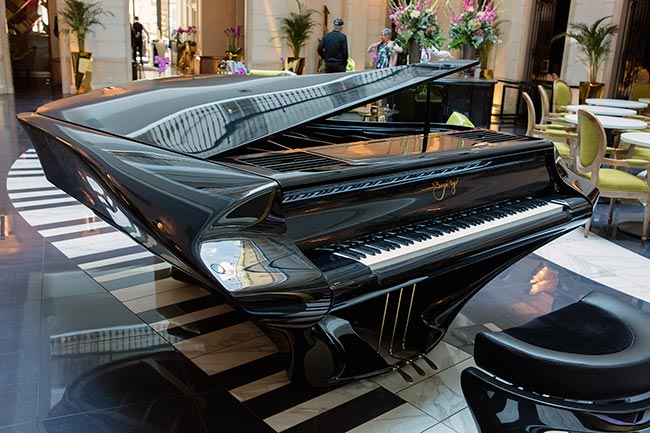 Budapest – The custom-built grand piano in the music garden at the Hotel Aria
After the massage, we freshened up and walked to our dinner reservations at Aszu, which was just two blocks over from the hotel. We started our meal by sharing a summer salad with carrots, and radishes, along with a Hungarian chicken pancake dish called Hortobágyi. We then decided to order three mains and just share them as well. We went with: 1) fresh pasta with mascarpone and spinach mousse, garlic, and dried tomatoes; 2) a farmhouse chicken breast with corn variations (including popcorn) and truffle pesto; 3) a pork shoulder with cauliflower cream, apricots, and yoghurt. After trying each of them, it so happened that Deb really liked the pork shoulder, and I preferred the pasta dish. So, we didn't share those two, but only the farmhouse chicken. I had wanted to try one of their desserts, but we didn't have time (the service was impeccable, but a bit slow) before our reservations back at the hotel's rooftop Sky Bar.
I had arranged for a private violin soloist performance (since the Aria is known for its complete music theme), and it was absolutely astonishing! After that show, we had our own little table inside the High Note Sky Bar. It was cosy, and our waiter brought out our wines along with some complimentary baggies of popcorn. As I believe that one should always have the wines of the region, Deb had the 2016 Demeter Zoltán Szerelmi Hárslevelú, and I had the 2016 St. Andrea Áldás Egri Bikavér, which translates to "Bulls Blood". It's a mix of a lot of different grapes (in this case, Kékfrankos, Merlot, Cabernet Franc, Pinot Noir, Syrah, Cabernet Sauvignon, Kadarka, and Turán), and it was very interesting. I hope to never encounter it in a blind tasting, though, because it would be essentially impossible to identify. 😛 After that bottle, we each wanted one additional glass. Deb had a the 2016 István Szepsy Dry Furmint, and I went with the 2016 Etyeki Kúria Pinot Noir. Both were lovely, and I was surprised to find yet another gorgeous representation of cool climate Pinot!
We headed back downstairs to our beautiful room, but stopped to take one more look at the lovely terraces and music garden below.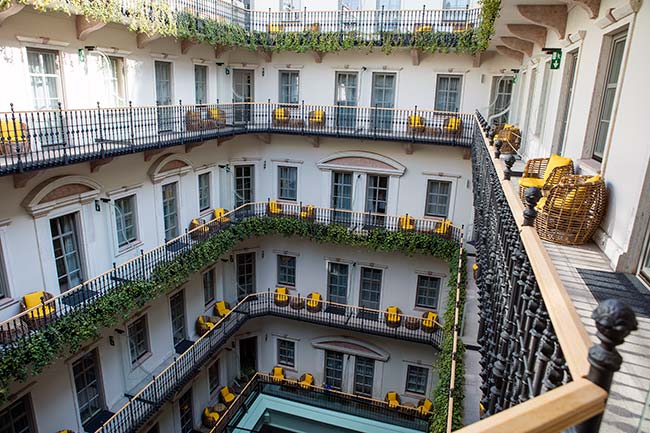 Budapest – Hotel Aria's stunning music garden courtyard