As in Südstiermark and many other places on this trip, we unfortunately only had one full day in the great city of Budapest. I had come up with a list of activities for us, and we sat down to figure out which ones we wanted to do (since there was absolutely no way to do everything in a mere 24 hours). We ended up spending much of the day just walking around and taking photos of the area. Our first spot for photos was right outside of our hotel at St. Stephen's Basilica.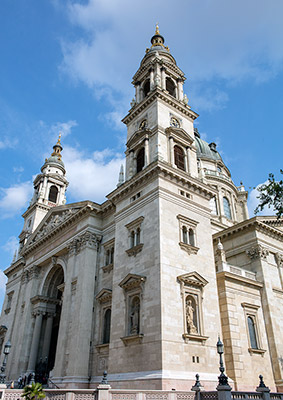 Budapest – St. Stephen's Basilica adjacent to the Aria Hotel
From there, we ventured across the Széchenyi Bridge to see an area known as The Fisherman's Bastion (or Halászbástya in Hungarian). It's a terrace near Matthias Church that is steeped in history and culture, and it also provides some beautiful views of the city. Down closer to the river, I think that I got some great shots of the Hungarian Parliament Building from a nice location on the western bank of the Danube.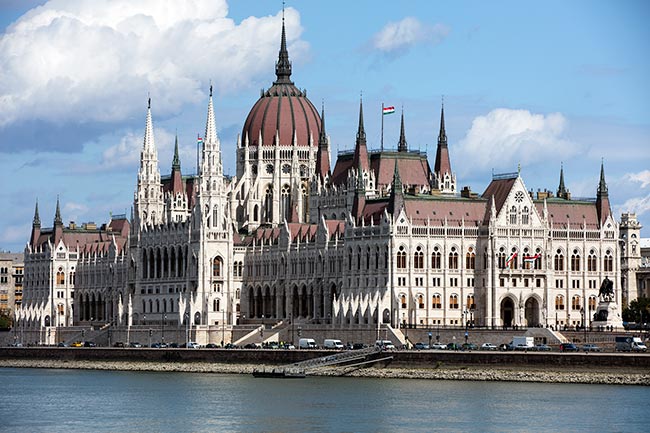 Budapest – beautiful view of the Hungarian Parliament Building from west of the Danube
We also wanted to "live it up" on the last night of our trip, so we asked the concierge for a recommendation of a bakery for cakes and treats. Café Gerbeaud came with the highest praises, so we walked to the neighbouring square to check it out. There were many stunning desserts to satisfy just about any type of sweet tooth! We couldn't decide, so we ended up each getting a slice of three different cakes. Talk about a splurge!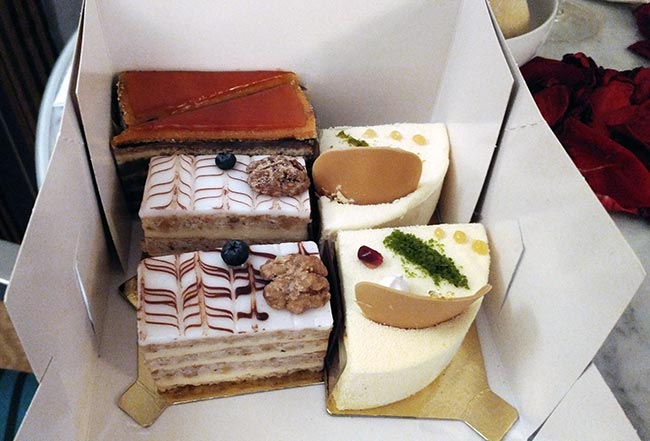 Our numerous desserts (The Dobos, Esterházy, and Émile cakes) from Café Gerbeaud
Right about that time, I received an email from one of the restaurants that I had contacted, and they were asking me to confirm our reservations. It was the first time that I had heard from them, so I didn't think that my reservations had actually gone through. We now had a decision to make between the two restaurants, and I think that I chose poorly. More on that in just a little bit.
We wanted to walk to Városliget Park (the City Park) in order to just take some more photos and enjoy the day, but soon realised that we wouldn't have the time necessary to get there and not feel rushed. So we ended up just looking in some of the shops along Andrássy street. Boggi had a storefront there, and I really like that Milanese designer, so we went in. I didn't expect to, but I ended up purchasing a gorgeous sport shirt because it fit me like a glove! A bit impulsive, but sometimes things like that have to be done when on holiday.
We made it back to the Aria Hotel in time to experience the afternoon wine and piano reception (that we missed yesterday due to the travel problems). It was lovely to just sit in the music parlour and listen to the performance. We didn't partake in any of the food because we had dinner reservations soon thereafter.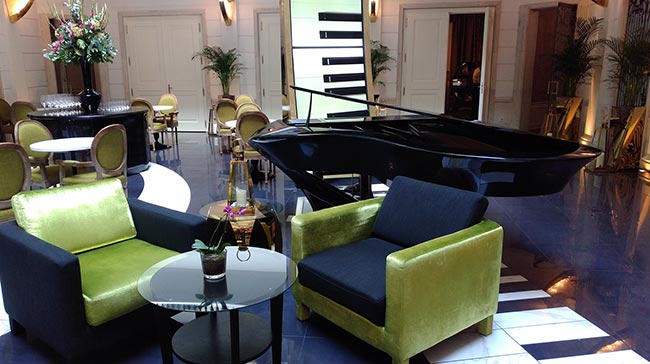 The afternoon reception in the music garden at the Aria Hotel
After that incredibly relaxing reception, we got ready and walked to dinner at Caviar & Bull. The food was over-the-top delicious, but we shared quite a few starters and just left without ordering any mains. If the food was that great, why would we leave without ordering entrées? Well, in my opinion, the prices were exorbitant for the portion size. We added it up, and the four starters came out to 10 bites per person. That being said, the food that we had was extremely creative and fun—like the molecular spheres: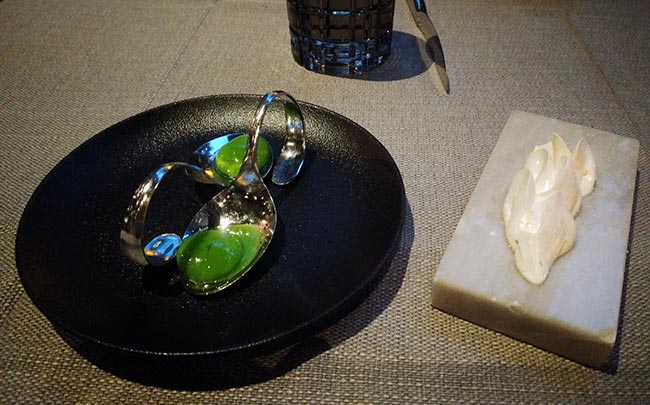 Budapest – molecular sphere starter at Caviar & Bull
On our walk back to the hotel, we realised that we needed some actual food, so we went to this little Japanese place called Wasabi Extra, which was directly across from our hotel. It was a conveyor belt sushi joint (all-you-can-eat), but we opted to just get some Japanese curry dishes. They were mediocre at best, but at least provided some sustenance.
We wandered back up to the room, and the hotel staff had delivered the wines they had been chilling for us in their walk-in. They also delivered the wine glasses and an ice bucket. Which wines did we choose for the last evening of our trip? Of course they had to be special, so we went with the 1995 vintage of the Domäne Wachau Kellerberg Riesling. We also opened a bottle of the 2017 vintage for comparison. It was a great experience, and one that we likely won't be able to ever have again. That particular Riesling is my favourite of theirs, and arguably my favourite expression of the grape outside of Alsace and Germany. Having one with such bottle age transformed it into a golden yellow colour with aromas of overly ripe tropical fruits and petrol, along with the creamy mouthfeel that softens the typical blinding acidity of Riesling; it was a truly remarkable wine!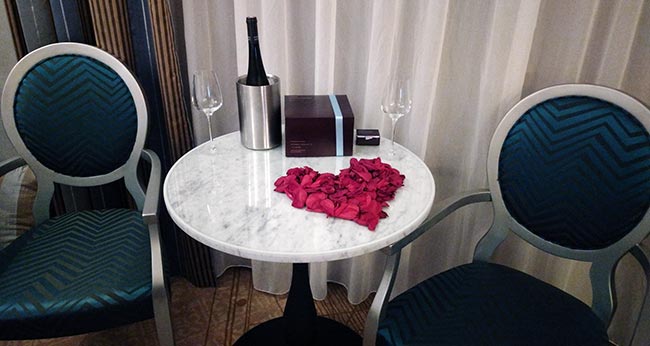 The perfect ending to a trip – enjoying Domäne Wachau's 1995 Ried Kellerberg Riesling and desserts from Café Gerbeaud
We also had our desserts from Café Gerbeaud. They were all good, but I think that we agreed that the Émile was undoubtedly our favourite. That's the one that Deb lovingly calls "the Pringle dessert" because of the chocolate garnish on the top that looks a bit like a Pringles crisp. A pretty darn good way to end a trip, if I do say so myself… and I do!