It seems like we were just planning for this trip, and somehow it's already time for us to embark on this next journey… this time to Austria! I woke up and went for my 15km (~9.2 mi) run because I have to at least get in one last one before taking a couple weeks off, right? It was drizzling, but wasn't too bad. Getting through the airport in Saint Louis was no problem at all, and our flight to Philadelphia was (thankfully) uneventful. On our flight from Philly to Budapest, we had a little turbulence around Nova Scotia, but overall, it wasn't bad either. However, the only person on the flight with his light on sat directly in front me of, and the only two people talking the whole time were behind us. Hahaha. That made sleeping a bit difficult, but that probably wouldn't have happened anyway.
I was able to get Deb's seat changed so that she wasn't sitting behind me, but it turns out that the row numbers didn't align on this old 767-300 plane. Alas, she still wasn't directly across the aisle from me. Bummer, but I think that we might have both been too tired to chat anyway.
At Budapest airport, the car rental process was completely painless, and we ended up with this Kia Ceed. For some reason, I opted for the handheld GPS just in case there were some areas along the way where I didn't have mobile data. With our bags all packed up in the car, we started out toward Vienna, but after about an hour of driving I realised that something was wrong. We should have been much closer to Vienna than we were. I had accidentally configured the GPS to "avoid toll roads and motorways" so it was still going to be ~4 hours. I wasted all that time, but thankfully figured it out within an hour and we were still ahead of schedule. Once I got that taken care of, we made it in ~2 hours thereafter, and still ended up arriving at the residence early.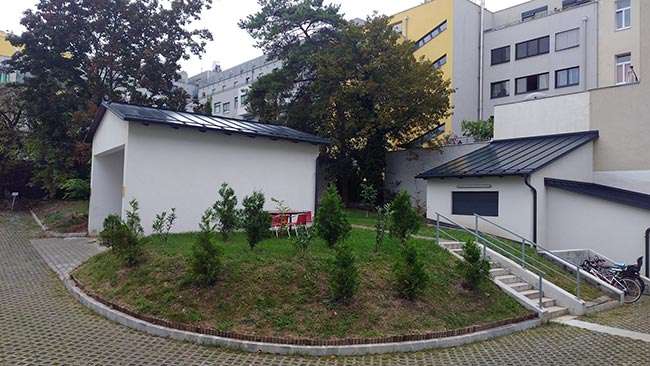 Vienna – Mar Suite Apartments Simmering – Courtyard
We got set up in our flat (the Mar Suite Apartments in Simmering), and headed out for the evening. We took the train to Vinothek St. Stephen to get a few bottles of Austrian wines for our nights here in Vienna, and then to the Billa market right across from our flat to buy some bottled water and light snacks.
After getting the wines and snacks all situated in the flat, we left for our one activity of the day, but we were both quite tired. Having not yet become acclimated with the transit system, I chose poorly on the trains to take, and we ended up not making it. Fortunately, it wasn't a huge deal to miss the one activity. Instead, we just went to dinner at Sixta earlier than our reservation. The owner said that it was no problem, and seated us ahead of schedule. We started with an order of spinach dumplings in brown butter, and they were absolutely delicious! For our mains, I got chicken with spinach in a cream sauce. It was wrapped in prosciutto, which wasn't really necessary and added a little too much salt for my liking, but the dish was still pleasant. Deb got pork loin cutlets with potato pancakes (called "napkin dumplings" here). I enjoyed the spinach dumpling starter so much that I got another order as a "dessert" before we left. 🙂
On our way out, the owner stopped us and offered us a digestif of a hazelnut liqueur and the three of us (owner included) toasted. He said "this is only for really good people". It was a wonderful surprise, and such an incredibly nice gesture!
We headed back to the flat, each took a quick shower, and settled in for the night with the first of our Austrian wines. Deb had the 2017 Zierfandler-Rotgipfler from Stift Klosterneuburg (the oldest winery in Austria [founded in 1114]), which had a beautiful nose of white acacia flowers and tropical fruits. I had the 2015 St. Laurent Reserve from the same producer, and though it had nice acidity, it paled in comparison to the beauty of Deb's Zierfandler-Rotgipfler. We went to bed quite early (for us) at around 22:00. It was a long day, but overall, not too bad given the huge amount of travel! Of course, it helped that the beds were extremely comfy, and the room was pitch black from the darkening shades built into the windows.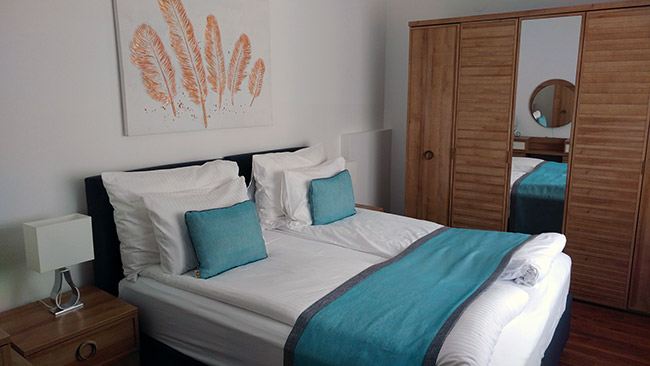 Vienna – Mar Suite Apartments Simmering – Bedroom