This past Friday night, Deb and I had planned on going out to a restaurant in Chesterfield, but there were pretty bad storms and, as such, we didn't feel like driving that far. Instead, we went to a place that we had been several times in the past: Zen Thai and Japanese Restaurant. They offer pretty good traditional Thai and Japanese dishes, and they are significantly closer than many of my preferred eateries.
This night, I decided to get a classic offering called Thai Rama, which is broccoli, carrots, and a choice of protein with a peanut sauce on top: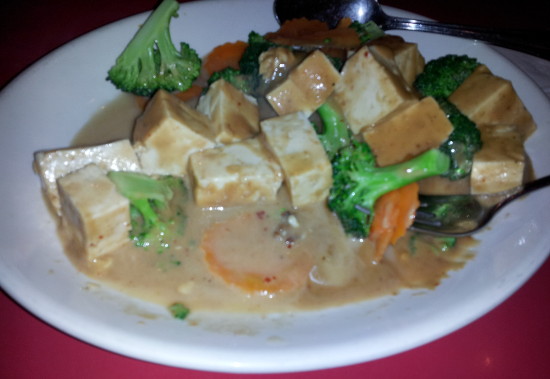 I was going to get chicken, since my favourite protein (tofu) is generally twice-fried when it comes in Thai Rama. They typically deep fry it, and then add it to the wok whilst they stir-fry the vegetables. However, our nice waitress offered to steam the tofu for me instead. I thought that sounded like a great alternative to having it the "standard" way.
Though the meal was quite tasty, I wouldn't say that it was exceptionally prepared. The part that bothered me about it (and does so about Zen in general) is the ratio of portion size to price. The prices are fairly low, but I would expect a little more food. That being said, it is convenient, the staff members are friendly and courteous, and some of their dishes are very well-made. I especially love the traditional Thai dessert of Mango sweet sticky rice.
Cheers,
Zach