This week's wines were all from South Australia, and from McLaren Vale, which is just south of the city of Adelaide. For those of you that don't have a good sense of locations in Australia, if you were to draw a line due West from Sydney until you hit the opposite coast of the southern portion of the continent, you would be about 100km or so north of McLaren Vale. All of the pours today came from producer Mollydooker. Anyway, let's get to the wines.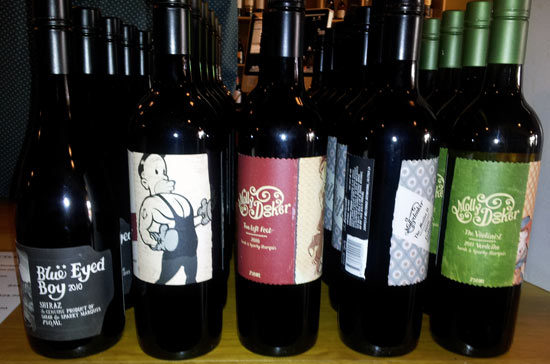 Wines are discussed from right to left
The first was "The Violinist," which was a Verdelho, was a nice white with a deep golden colour on tilt, but was almost completely clear straight on. It left a thin ring, and had virtually no legs. Aged in two-thirds American Oak, and one-third French Oak, it had a slightly more mellow mouth feel to it than I would have expected. The aromas were prominently pear and apples, and they came through in the taste as well. It was crisp, but slightly too acidic on the finish for my liking.
The second pour was "The Maitre D'" Cabernet Sauvignon, which had a very nice deep ruby centre and lighter red edge. It had a medium ring, and left thick, slow-running legs. There was a smokiness to the aroma, but it was primarily fruit and berry-forward. The raspberry was especially prominent, but was met nicely with some hints of clove and even some licorice flavours. It had a surprisingly light mouth feel for a Cabernet Sauvignon, but a strong fruit finish.
The third offering was the "Two Left Feet" blend of 72% Shiraz, 16% Merlot, and 12% Cabernet. It had a deeper garnet colour with less contrast between the centre and edge than the previous wine. Unlike the Cabernet, the warm spice was prominent to me in both aroma and taste. It had a slight vanilla edge to it, but was very fruit-forward. As it was primarily Shiraz (which is known for being boldly fruity), the tastes of blackberry were quite intense. It was medium bodied, but seemed anticlimactic to me at the finish.
The fourth wine of the day was "The Boxer," which was 100% Shiraz, had a nice peppery aroma with some hints of anise. It was lighter than the "Two Left Feet," but did have a prominence of oak in the finish. The spice was again very much in the foreground, but this time I tasted cinnamon and warm vanilla. Again, as a Shiraz, the fruit was bold and powerful.
The fifth selection was the "Blue Eyed Boy" Shiraz (100%), and was in my opinion, a more nicely crafted wine than "The Boxer," but had very similar qualities. On the berry side, I tasted more blueberry than blackberry, but the spices and fruit prominence remained. Though I'm generally not a big fan of Shiraz, I could see having a glass of this wine. As far as food pairings, it would have to be a very powerfully flavoured dish in order to stand up to the strength of the wine. Something like a highly aromatic Thai Curry (green, preferably) would probably work, as would something with high fat content like roasted duck.
The final selection (which isn't pictured above) was the "Carinval of Love" Shiraz, and had a very dark purple centre blending to a nice deep red at the edge. It, like the others, was very fruit-forward, and had a lovely raspberry and plum finish. This wine, which is at the top of the Mollydooker's production, was exquisitely crafted and was able to round off the boldness of the Shiraz nicely.
I'm generally not a big fan of Shiraz, because they are known for very bold fruit flavours. As I like more "Old World" style wines, Shiraz (especially from Australian producers) tend to be too powerful for my liking. That being said, Mollydooker is an exceptional producer, continuously winning prestigious praise from The Wine Advocate (E. Robert Parker), and Wine Spectator. Their wines are wonderful for what they are, and even though I don't prefer the varietal, I greatly appreciate the skill and elegance behind their wines.
Cheers,
Zach