Today is a very special day! We have a new permanent resident in the United States. What's his or her name you might ask? Well for now, let's just call him Kyle, and for the sake of argument we'll say that he is 20-years-old, but in truth he's only 3, going on 4. Who is this mysterious person? Actually, it isn't a person at all. My new K20 engine (haha, laugh at the joke about Kyle and 20-years-old). It is a real JDM K20a Type-R engine and complete swap out of a 2004 ITR. Here's a picture of the beautiful beast:
Click to enlarge: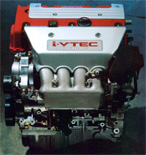 That is what will be going into the Z-Ride when it arrives in Saint Louis. Other than that, nothing much will be upgraded; just an AEM V2 CAI, and Exedy OEM clutch and a K-pro ECU (if absolutely necessary).
That's all for now, but I'll keep you posted on the status of Kyle.
|:| Zach |:|