Important!
This is a workaround for a FreeType/fontconfig problem, but my be applicable in other cases as well. For Gentoo users, the related bug is
631502
.
Recently, after updating to Mozilla Firefox to version 52 or later (55.0.2, in my case), and Mozilla Thunderbird to version 52 or later (52.3.0, in my case), I found that fonts were rendering horribly under Linux. It looked essentially like there was no anti-aliasing or hinting at all.
Come to find out, this was due to a change in the content rendering engine, which is briefly mentioned in the release notes for Firefox 52 (but it also applies to Thunderbird). Basically, in Linux, the default engine changed from cairo to Google's Skia.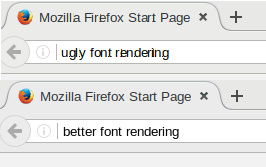 For each application, the easiest method for getting the fonts to render nicely again is to make two changes directly in the configuration editor. To do so in Firefox, simply go to the address bar and type about:config. Within Thunderbird, it can be launched by going to Menu > Preferences > Advanced > Config Editor. Once there, the two keys that need to change are:
gfx.canvas.azure.backends
gfx.content.azure.backends
They likely have values of "skia" or a comma-separated list with "skia" being the first value. On my Linux hosts, I changed the value from skia back to cairo, restarted the applications, and all was again right in the world (or at least in the Mozilla font world 😛 ).
Hope that helps.
Cheers,
Zach