Well I THOUGHT that we were going to get some rest before today's activities, but I was mistaken. It was so blasted hot in the tent, and loud outside (with the various animals making noise, and the heavy winds), that I don't think I actually slept at all. We went up to the reception area for breakfast, which was primarily a western-style one, consisting of pancakes, waffles, cereal, et cetera.
After breakfast, we took a bus about 45 minutes away from the camp, and spent a little bit of time in a local market. Deb was able to buy some new shades at a Tesco Express, but we got a little ripped off. The tag said that they were 135 baht, but the cashier charged us 199 baht. Eh, no big deal; I'm cool with a couple extra dollars. 🙂
After the market, we took the bus a bit farther to the pier in Khao Sok, and hopped on a speed boat. The speed boat took us through the mangroves, where we saw some a couple species of snakes, some birds, and even some monkeys! We headed out into the Andaman Sea, and got off of the speed boat and onto a Burmese junk boat for lunch. The captain made some green curry, but made it wayyyyyyyy too mild for my liking.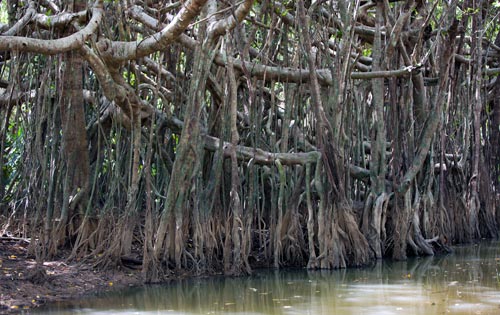 The mangroves in Khao Sok / Takua Pa


Click for larger, higher-quality image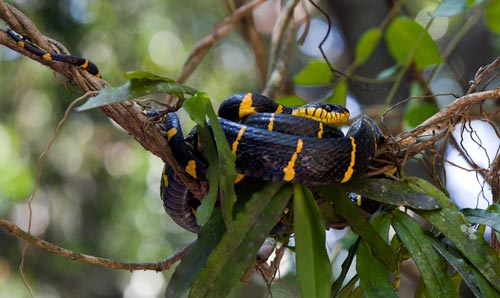 A Mangrove Snake hanging out in a tree in Khao Sok / Takua Pa


Click for larger, higher-quality image



After lunch, we got off the Burmese junk and spent about an hour on the beach of a deserted island. Some people were soaking up the sun, some were swimming, but I was more interested in taking some photos. In particular, there were a ton of little hermit crabs running along the shores, so I tried to capture pictures of them. They were really fast, so it proved to be more difficult than I had anticipated!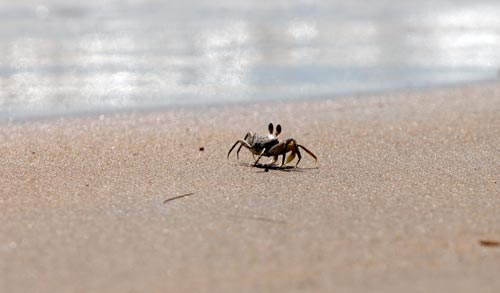 Trying to capture (photograph) a hermit crab on Koh Phra Thong


Click for larger, higher-quality image



After the beach, we headed back to Elephant Hills. If we had stayed, we would have had similar activities to the night before and dinner thereafter. However, Deb and I agreed to pay some additional money to have the minivan take us back to Ao Nang a day early. We had slept so poorly the night before that the day's activities weren't really even that fun. Our next hotel (Aonang Phu Petra) didn't have the additional night available, so we ended up going back to the Mercure Krabi Deevana for another night (which turned out to be excellent after all).
We were upgraded to a nicer room since it was technically our second stay. The room was right off of the pool on the first floor, and much closer to everything. Though it had a bit more noise, it was great all around. We walked to the little shops nearby, and picked up some Stoli vodka to make our own drinks. We sat our on the porch that led directly into the pool, had a couple cocktails, and called it a day.