This was another one of those odd "split" days where we travelled from one place to another. This time, though, we started out in Ao Nang, and then headed back to Bangkok in the late afternoon.
We started out by having breakfast, and then headed to the strip so that I could pick up a couple pieces of artwork. I had purchased one a couple nights ago, and decided that I wanted to get another one like it and one that was a bit larger so that I could make a three-piece set on the wall of my office. After looking at a bunch of different places, I finally settled on the other two pieces, bought them, and we headed back to the hotel.
After packing everything, we checked out, and a taxi took us to Krabi Airport for our flight back to Bangkok. The flight was easy as can be on Bangkok Airways, and we got in just about on time. We took a taxi from BKK to our new hotel, which I booked just because it has to be experienced if you're in Bangkok. We stayed in the Tower Club at Lebua (which is located in State Tower) in the Silom district. The hotel became famous for its outstanding restaurants and five-star amenities, but became a smash hit when it was featured in the movie "The Hangover Part II."
After a really long (unacceptably long, actually) check-in process, the hotel was pretty nice. I don't actually think that it is worth all the hype that it gets, and that the Eastin Grand Sathorn is truthfully a nicer hotel, but this one was pretty swank as well. We didn't get to spend much time looking around because we had dinner reservations at 20:00 at Sirocco, which is the open-air Mediterranean restaurant on the 63rd floor of the hotel.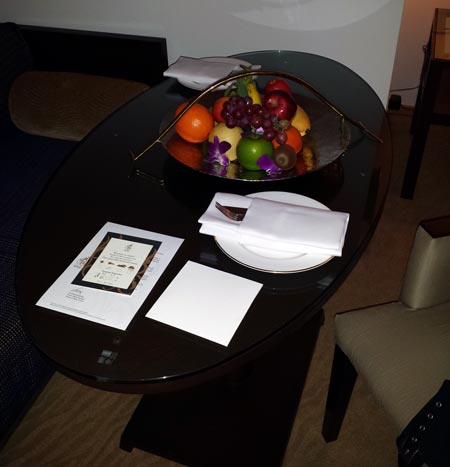 Club Tower at Lebua Bangkok – Fruit basket they brought us for our inconvenience at check-in


Click for larger, higher-quality image



We headed up for dinner, and the service was impeccable. We started with some jumbo prawns, which were massive, and came in a wonderfully aromatic jar. My main course was some pork with an apple compote, and she got a seafood sampler that had lobster, Japanese scallops, mussels, clams, crab legs, and more. Both of the main courses were exceptional in their own ways, and they didn't disappoint in the least.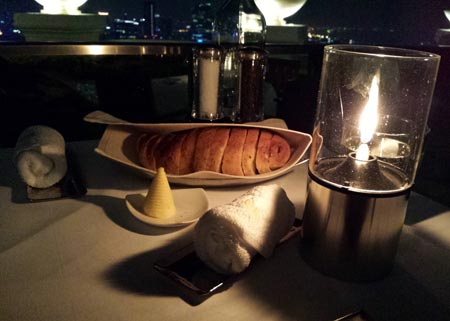 The presentation at Sirocco (even the bread and butter) was exceptional


Click for larger, higher-quality image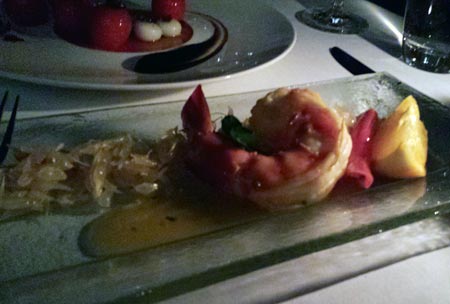 The prawn appetiser was delicious, albeit a bit small given the exorbitant price


Click for larger, higher-quality image



We also each had a bottle of wine with our meals. She had a 2011 Pinot Gris from Alsace, and I had a wonderful Spanish Tempernillo. We finished off the meal with two fantastic desserts: a black cherry cheesecake (also served in a jar) and a chocolate soufflé. Though the meal was RADICALLY overpriced, everything was delicious, and it was a once-in-a-lifetime experience. It was also a beautiful end to our trip to Thailand.