Today was our last full day in Ao Nang, which was sad because that meant that the trip was nearly over. That being said, we didn't let it go to waste. We started off by having breakfast at our hotel (Aonang Phu Petra), and then headed to the beach. I tried to get some photos of the beach, but the early-morning haze made it rather difficult.
When we were getting ready to leave the beach and go back to the pool, I decided that we should walk down to the other end of the beach just to see what was down there. At the very end, I saw a Macaque monkey running near the tree line. Then, seemingly out of nowhere, there were TONS of them running around! People started swarming in and feeding them everything from bread to bananas to crisps.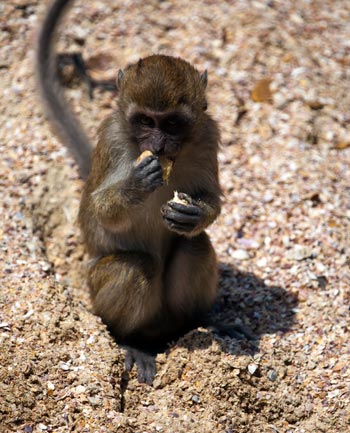 Stump tailed Macaque monkey eating a biscuit – Ao Nang Beach, Thailand


Click for larger, higher-quality image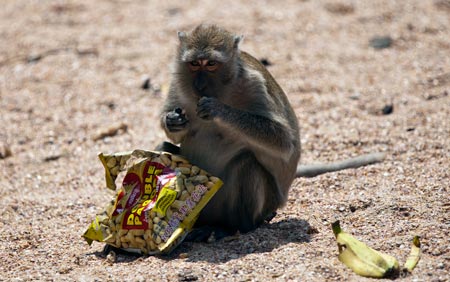 Macaque monkey eating some peanuts – Ao Nang Beach, Thailand


Click for larger, higher-quality image



We spent a while watching the monkeys, and then one decided to lie right on top of our bag and dig through it. For a moment, I thought that Deb was going to lose another pair of sunglasses, but this time to a monkey instead of a baby elephant! 😉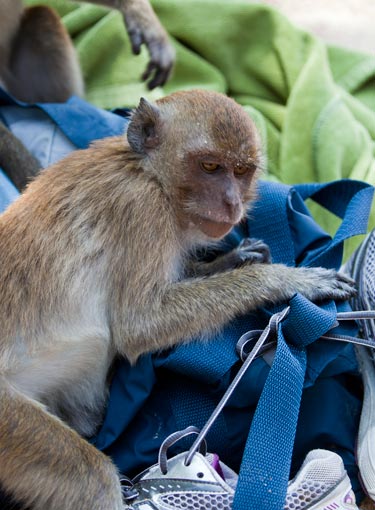 A Macaque monkey raiding our beach bag – Ao Nang, Thailand


Click for larger, higher-quality image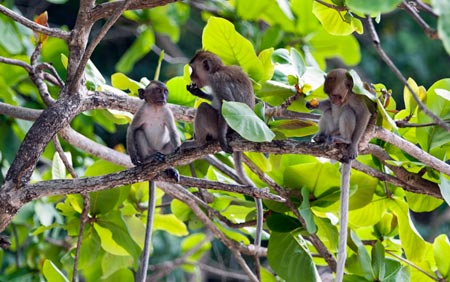 Macaque monkeys sitting in a tree on Ao Nang Beach


Click for larger, higher-quality image



This family with a little boy in a stroller came by as well. One of the monkeys jumped up on his stroller, and just sat on the handle bar. I'm guessing this startled the little guy, because he jumped out of the stroller. Just then, another monkey walked up to him. He just sat there staring inquisitively at the monkey. He didn't know what the monkey was, but he knew that he had better give up his stroller if that's what the monkey wanted. 🙂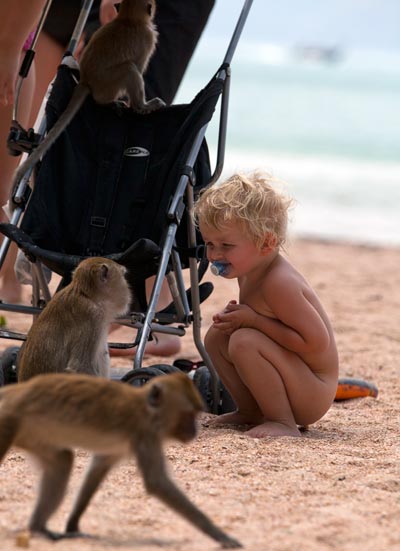 Little boy looking at a Macaque monkey – another one laid claim to his stroller


Click for larger, higher-quality image



We headed back to the hotel, and laid out at the pool for about an hour before heading back into town for our massages (again at Ao Nang Haven). This time, I went for foot reflexology and a milky cream massage (for a total of two hours). They were both nice, but I've found that I actually prefer Swedish massages (or deep tissue ones) over Thai massages. That being said, Ao Nang Haven offered an incredible environment that was completely professional and relaxing!
After our massages, we went for dinner at the Massaman Restaurant. I had the pumpkin curry, which was delicious, but to me, it wasn't nearly as good as Ao Nang Boat Noodle, and it was more expensive. There are some good Thai places in Ao Nang, but if you find some that you like, I recommend that you stick to those. Feeling overly indulgent, we walked from the Massaman Restaurant over to the Mercure Krabi Deevana's Kingfisher Restaurant (at our previous hotel) for dessert. They had some of the best ice cream (New Zealand Natural) that I have had in a long time, so we made the trip especially for it! I really loved the cookies and cream, so I got a few scoops of that. Surprisingly, so did Deb (even though that's generally not her favourite flavour).
We then strolled along the main Ao Nang strip, walking in and out of shops looking at the various trinkets and such that the vendors had for sale. We weren't really looking for anything in particular, but it was neat to see everything that was available (from scarves to jewelry to bespoke clothing and more).
Lastly, we stopped back in at The Diver's Inn and had some wine. We talked for quite some time with the owner (Jürgen) about the trials that he had endured with owning a restaurant in the area for fourteen years. His story was fascinating, and his business model of providing excellent service and great value for quality European cuisine is one that has been and will likely continue to be highly successful in the area! After our nice relaxing time at the Diver's Inn, we walked back to the hotel and called it a night.