Tek Gear is a brand of athletic apparel that is sold exclusively at Kohl's. I started buying the brand a while back because it is significantly cheaper than other, larger brands like Adidas, Nike, and even Reebok (which used to be one of my favourites for athletic clothing [especially generalist shoes]). A few weeks ago, I was in the market for some new shirts for running. I had been wearing the Adidas Climaspeed shirts, but the price was a bit steep. I also found that they weren't really repelling the sweat like they claimed. After about 8-10 km into my run, the back of the shirt would be drenched and would stick to me, which is a feeling that I really can't stand.
So while at Kohl's one day, I decided that I should look to see if Tek Gear made any shirts that would work for me. I found the Tek Gear performance sleeveless shirts, and though that they looked well-made. I tried one on for fit, and it was pretty good. I wear a small or extra-small in just about everything athletic, but they don't come in XS. As far as fit is concerned, the only thing that I don't like is that they run a bit long for my liking. I'm not short (177cm), but the shirt extends a good 12-13cm below my waist. Anyway, I bought a few of them and started wearing them on my daily runs.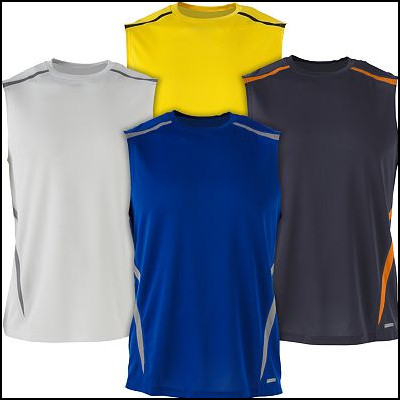 They do seem to pull heat away from my body significantly better than did the Adidas shirts, and they dry incredibly quickly! I really like the feel of the shirts, and how lightweight they are. Not to mention, they come in a variety of colours instead of just the typical black, grey, and white. I've never really understood buying a white athletic shirt anyway, but that's a different story altogether. Anyway, I've been wearing them for a few weeks now, and I can say that they hold up nicely after a few washings as well.
So if you're looking for some good athletic shirts (or any workout clothes for that matter), I would suggest you try ordering some items from Tek Gear. You'll probably be surprised at the quality of manufacturing, especially for the price!
Cheers,
Zach